HEAVEN 17 started as a pop subsidiary of BRITISH ELECTRIC FOUNDATION, a production company signed to Virgin Records formed after Martyn Ware and Ian Craig Marsh left THE HUMAN LEAGUE in 1980.
With Glenn Gregory as lead singer, the trio eventually became almost as successful as their former sparring partners Philip Oakey and Adrian Wright who had recruited Ian Burden, Jo Callis, Susanne Sulley and Joanne Catherall to score a chart topper in 'Don't You Want Me' on both sides of the Atlantic. THE HUMAN LEAGUE had a huge selling hit album as well in 'Dare', for which Ware and Marsh received a small royalty as part of the original divorce settlement.
Whereas at the time, THE HUMAN LEAGUE had a purer synthesizer vision, Ware had been keen to incorporate his love of soul and disco into proceedings. "We wanted a little distance between what THE HUMAN LEAGUE had been and probably were still going to be, and what HEAVEN 17 were about to become.." remembered Glenn Gregory, "The balance in any group is obviously changed when anyone leaves or joins… things were naturally heading in a different direction just by the very fact that the dynamic of the group had changed, I suppose the real turning point was when we had written 'Fascist Groove Thang' (only about ten days after THE HUMAN LEAGUE had split) and Martyn had suggested we put a bass guitar solo in the middle breakdown…"
Featuring young Sheffield bassist John Wilson who also turned out to be a master on rhythm guitar and powered by Simmons SDS-V drums, '(We Don't Need This) Fascist Groove Thang' was a salvo of urgent electronic funk that won the support of the serious music press, but got a ban from the BBC due to its Ronald Reagan baiting lyrics and warnings about the resurgence of extreme right wing ideology. It only fired the trio up even more!
The resultant 'Penthouse & Pavement' album was released in Autumn 1981. It was a landmark achievement, cleverly combining electronics with pop hooks and funky disco sounds while adding witty social and political commentary. It fell into two halves, the 'Penthouse' side being more electronic avant pop like an extension of THE HUMAN LEAGUE's 'Travelogue' while the other 'Pavement' side was aided and abetted by a game changing piece of digital technology; "The Linn Drum became within a day, the new direction" recalled Martyn Ware, "that and discovering John Wilson were the two things that defined 'Penthouse & Pavement'."
In a mood of buoyant optimism, 'Play To Win' celebrated aspiration, while the title song with its blistering burst of guitar synth by Wilson wittily captured the greed of yuppie culture during the Thatcher era. But on the other side of the coin, 'Let's All Make A Bomb' and 'Height Of The Fighting' reflected The Cold War and the horrifying spectre of Mutually Assured Destruction. The album fittingly ended with 'We're Going To Live For A Very Long Time', a humourous ode to the dangers of religious fundamentalism that had a connected end groove on its original vinyl to ensure it went on for infinity…
With electronic music technology becoming more sophisticated while affordable and user friendly, Ware upped the ante with its production values; "We'd moved on by then to programming using the Roland MC4 Microcomposer so there was a lot of numeric programming on that album." he said, "That drove my System 100 and Ian's System 100M. The original demos are really just the programmed parts which then got layered over with real instruments."
Securing the talents of notable session musicians such as Ray Russell, Simon Phillips and Nick Plytas as well as retaining John Wilson, 'The Luxury Gap' had a glossy sheen which combined synthesizer programming and digital drum computers with orchestrations, brass, jazz piano, rhythm guitar and guitar synths.
The first single 'Let Me Go' with one of the first uses of the Roland TB303 Bass Line sequencer was a striking slice of art funk, offset by deep delayed thrusts of Jupiter 8 but again failed to be a Top40 hit.
Interestingly, its recording had concocted a few conundrums in the studio. "When we finished 'Let Me Go'" remembered Gregory, "we realised we'd lost the original beauty of the demo so we did it again…so basically, 'The Best Kept Secret' is 'Let Me Go' but redone with an orchestra. So we got two songs out of it."
More obviously pop oriented than its predecessor 'The Luxury Gap' hosted two international hits. 'Temptation' was euphoric soul fusion of epic proportions utilising strings and the voice of Carol Kenyon. "Martyn had the idea for the Motown backbeat but it's still very electronic really… there was this part that built and we decided to try an orchestra." Gregory explained, "So we were in the studio with this massive orchestra and it was like 'oh my god', it was amazing because it was so different. It was a complete game changer."
Meanwhile 'Come Live With Me' was a heartfelt cinematic ballad with no instrumental break which was delivered so sincerely, that it veiled its origins as an inter-band joke. "I was at that time I wrote it, seeing a young girl and I was getting a few jibes" recollected the HEAVEN 17 front man, "The words were making us laugh! It was all messing around! That's where it all came from and we were quite surprised we'd written quite a beautiful song by the end of it because we were laughing like mad."
'Crushed By The Wheels Of Industry', 'Who'll Stop The Rain' and 'Key To The World' pointedly explored the themes of 'The Luxury Gap' and maintained HEAVEN 17's socio-political consciousness despite their entry into the mainstream. But there were other highlights; 'Lady Ice & Mr Hex' provided a weird fusion of jazz piano, polyrhythmics, Linn Drum and acid squelches while the frantic energy of 'We Live So Fast' presented what it said on the tin.
Success brought money and this was reflected in Autumn 1984 with the Fairlighted jamboree of third album 'How Men Are'. "The operational reasons for moving to the Fairlight were that Ian had bought one without asking anyone and with his own money… £40,000!" affirmed HEAVEN 17's musical director of their newly accquired workstation, "I was going 'Are you sure about this Ian?', it seemed a little extreme but he was keen".
The results were mixed and the many options provided by the computer from Sydney, Australia led to the start of HEAVEN 17's artistic confusion.
But without doubt, 'Five Minutes To Midnight' was an outstanding opener. Referencing The Doomsday Clock and following on from 'Let's All Make A Bomb' to highlight the absurdity of Mutually Assured Destruction, it used and abused the Fairlight, throwing in 'Protect and Survive' styled civil defence announcements, deathly whoops and a doomy orchestral crescendo bringing a frightening finality to proceedings…
"I'm a big fan of 'How Men Are' looking back on it" said Ware, "I think it's an underrated album and that was when we were probably in our most daring and creative phase." That daring creativity manifested itself on the sub-ten minute closer 'And That's No Lie', an ambitious adventure in sound that threw in everything from abstract sonic experiments, jazz piano, Fairlight samples, gospel voices and an orchestra, plus some excellent live bass and guitar work from John Wilson and Ray Russell respectively.
Although there were hits in 'Sunset Now' and 'This Is Mine', these singles highlighted that with the exception of 'Flamedown', the 'How Men Are' album material was not ultimately as strong as it had been on 'The Luxury Gap'. One case in point was 'The Skin I'm In', an insipid ballad in the vein of SPANDAU BALLET's 'True' although it was partly saved by a plucky acoustic guitar solo created using a Roland System 100!
But the world was changing. Synthpop was falling out of fashion and while potentially there was still success to be had across the Atlantic with the advent of MTV, thanks to the unexpected success of SIMPLE MINDS, British acts were under pressure make themselves more palatable to American audiences.
"So consequently when it came to making 'Pleasure One', we'd lost our confidence a bit because it felt like we were slipping." Ware recalled, "So we started employing more session players and moving towards a more traditional rock sound. And that wasn't a deliberate decision. We lost confidence not in our songwriting but in the sound that we had, so it like really lost a bit of identity… We wanted to move on but there wasn't anywhere to move on to from a sound point of view."
But to be fair, a good number of acts from the school of Synth Britannia like THE HUMAN LEAGUE, OMD, ULTRAVOX and BLANCMANGE were having something of an existential crisis and even those who had tasted major success in the US like DURAN DURAN were falling apart.
Released in Autumn 1986, the conventionally band driven 'Pleasure One' which also saw the return of Carol Kenyon was given a lukewarm reception. Highlights included the groovy call for world unity 'Contenders' and the LEVEL 42 aping 'Trouble', while 'If I Were You' brought in an unexpected influence from THE BEATLES. But overall, HEAVEN 17 had lost momentum.
Ware's success as a producer for acts like Tina Turner and Terence Trent D'Arby was perhaps placing his artistic focus elsewhere, but when Glenn Gregory appeared on the album cover of 1988's 'Teddy Bear, Duke & Psycho' wearing a Stetson and cowboy boots, the writing was on the wall.
"'Teddy Bear, Duke & Psycho' was the nail in the coffin; we'd completely lost our way by then as far as I was concerned! We were retreading some ideas and some of the things we were doing were not working. I think we all knew it had run its course at that point" lamented Ware, "But ironically, it wasn't that we'd run out of musical ideas, it was just that vehicle because at that time, I was doing Terence Trent D'Arby album which showed myself, Glenn and Ian that we'd still got creative ideas but we'd lost focus on what HEAVEN 17 should be at that point."
'Teddy Bear, Duke & Psycho' were the affectionate nicknames given by Terence Trent D'Arby respectively to Ware, Gregory and Marsh, but the album possessed none of the enthusiasm or spirit of the former GI who Ware had been working with on 'Introducing The Hardline According To…'. 'The Ballad Of Go Go Brown' was the cue for some fans to exit, although 'Train Of Love In Motion' was a better single.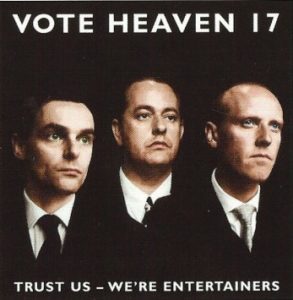 Meanwhile 'Big Square People' was as good as some of blue eyed soul of the times. But with mainstream audiences finding younger acts such as WET WET WET, HUE & CRY and JOHNNY HATES JAZZ more to their liking, HEAVEN 17 effectively went on hiatus between 1989 to 1995, although a dance enhanced Brothers In Rhythm remix of 'Temptation' became a surprise UK Top5 hit in 1992.
Then in 1996, the trio reunited to re-explore their electronic roots with a new album 'Bigger Than America' and in 1997 toured as the opening act for ERASURE whose 1993 album 'I Say I Say I Say' had been produced by Ware.
Although there has only been one further album 'Before / After' in 2005 and the departure of Ian Craig Marsh not long after, HEAVEN 17 have been regulars on the live circuit since 2008, often showcasing 'Penthouse & Pavement' and 'The Luxury Gap' in full where their political commentary still remains sadly relevant in the modern world.
'Play To Win – The Virgin Years'
captures the glorious imperial phase of HEAVEN 17 and the developmental pace of music technology through these five albums. Featuring a 36 booklet with new interviews and archive photos, the CD version is particularly desirable with its plethora of extended mixes, radio edits, instrumentals and non-album tracks such as the standalone single 'I'm Your Money' and its B-side 'Are Everything' plus the brilliant and very different demo version of 'Temptation' which took its lead from SOFT CELL's cover of 'Tainted Love'.
Gregory, Ware and Marsh's ultimate legacy is being able to use music to deliver socio-political statements with good tunes and a sense of humour while also applying a juxtaposition of programmed technology with live musicians to provide a unique sound for the times.
"Some things will always be relevant" summarised Gregory, "We wrote about subjects that touched our lives and our souls, things that mattered not just to us as individuals but also to us as a part of a political or social system. We never preached and always (I hope) ranted with wit and humour".
As the band once stated during their 1996 return: "TRUST US – WE'RE ENTERTAINERS".
---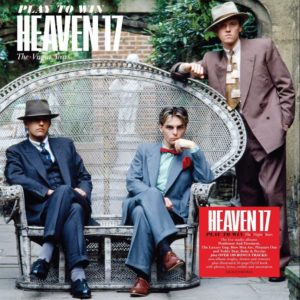 'Play To Win – The Virgin Years'
is released by Edsel Records as a 10CD or 5LP coloured vinyl 12" x 12" boxed set on 29th March 2019
https://www.facebook.com/heaven17official/
https://twitter.com/heaven17bef
https://www.instagram.com/heaven17official/
---
Text and interviews by Chi Ming Lai
12th March 2019