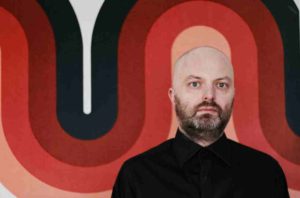 Like the sound of GIORGIO MORODER played through a Soviet Foxtrot submarine intercom system, 'Comrades' is the brand new single from RODNEY CROMWELL.
The musical vehicle of musician and Happy Robots Records CEO Adam Cresswell, it comes from 'Rodney's English Disco' EP, the first all new material since the critically acclaimed 'Age Of Anxiety'.
Dusting off his Boss DR-55 Doctor Rhythm and what appeared to have become his redundant MicroKorg to use alongside his vintage Moogs, the new RODNEY CROMWELL EP sees Cresswell take on wider issues inspired by the world's confrontational political climate after the very personal lyrical statements of songs like 'Black Dog' and 'You Will Struggle' on his debut long player.
To support the upcoming release 'Rodney's English Disco', Cresswell will shortly embarking on the 'Ohm From Ohm' tour. Adam Cresswell kindly chatted about life, synths and the Happy Robots way…
The new EP is called 'Rodney's English Disco'? Are you leaving the beany hat at home and donning a flared white suit instead?
Ha ha! Not at all. In fact the selection of beany hats has increased. I've not gone any more disco than previously. This record is very much inspired by these strange unsettled times living in England right now, and the juxtaposition of Englishness and Disco seemed to fit. And I would look terrible in a white suit.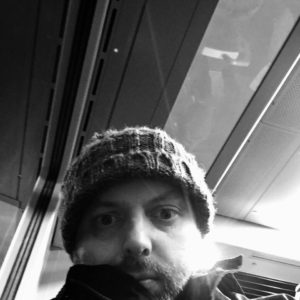 But in many ways, RODNEY CROMWELL has always been disco, just in that detached SECTION 25 kind of way?
Absolutely. I mean 'One Two Seven' on 'Age of Anxiety' was a paean to the disco beat. In fact there is probably more direct GIORGIO MORODER, BLACK DEVIL DISCO CLUB or DIVINE influences in the RODNEY CROMWELL sound than there is DEPECHE MODE or GARY NUMAN. As for SXXV, well you know I've always been a fan; my favourite LP of theirs is probably 'Love & Hate', but 'Dark Light' is a close second these days.
Nearly three years on since its release, how do you look back on 'Age Of Anxiety'?
Well I can't say I've listened to it lately but after our first rehearsal in ages, I felt I probably should have. I still think very fondly of it. If I had known anyone would listen to it, I should have spent a bit longer mixing it, maybe corrected some of the mistakes, but equally that rough and ready-ness added to its honest confessional nature, it was part of its charm. I was incredibly happy how well it was received and I'm still really proud of it.
The vocoder laden 'Comrades' has a really chilling Cold War atmosphere, what inspired that?
I'd written 'Dreamland' but I was struggling with writers block – or at least I wasn't writing anything I liked. One afternoon I ended up thumping at the MicroKorg and came up with the opening riff – I thought it sounded a bit Numan or Foxx-ish and I just built the song around that. Chilling is a good word for it. I wanted this record to be a bit darker and atmospheric – I was probably arguing with some alt-right crackpot on Twitter while recording, so that is likely what inspired it.
'Barbed Wire' appears to continue this sombre Cold War theme?
This was the first track I've ever written inspired by my Facebook wallpaper. I wanted to write something on the bass guitar mainly because I was listening to a lot of BLACK MARBLE at the time. But the track came out sounding much more 'indie' than I wanted. So when it came to producing, we tried to make it as sombre and austere as possible. Lots of reverb and synthy drones with a touch of 'Deutschland 83' vibe.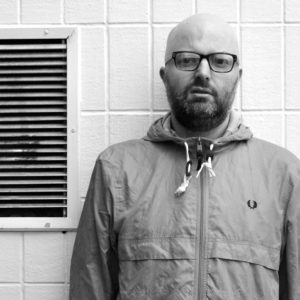 The neo-instrumental 'Technocrats' drops in some quite weird sounding chords?
I have no idea what the difference between a neo-instrumental and an instrumental is – but I like it!
This one started out really poppy and upbeat, in a 'Popcorn' meets 'Pocket Calculator' way; but by throwing in a couple of weird chords, it became a bit more whacky and disconcerting, like the rest of the record. I actually wrote this track really quickly – it went to concept to mixed in about three weeks which is a miracle for me. I have my producer Rich Bennett to thank for that. He described this one as a kraut-jam which sounds about right.
There's a bit of an early OMD feel on 'Dreamland'?
That's probably due to the drums and the Solina strings. This was the first track written for the EP and I decided to dig out the old Boss DR-55 – it's the drum machine on the first NEW ORDER album 'Movement'. And anyway I just loved those sounds, so I decided to build the whole EP around them. 'Dreamland' is ultimately a break-up song and OMD do great breakup songs.
Are there any new synths in your armoury?
Nope. Don't you know, I run a record label – I don't have money for buying new synths. I've have actually succumbed to the convenience of soft synths though. After someone told me one of my very favourite albums LADYTRON's '604' was recorded entirely with soft synths, I got over my innate snobbishness and I use the Arturia Solina String Ensemble soft synth all over this record.
What do you think of those clones that Behringer are attempting to market?
I'm completely oblivious to what new synths are coming to market. But if Behringer want to send me a couple, I will happily test them extensively.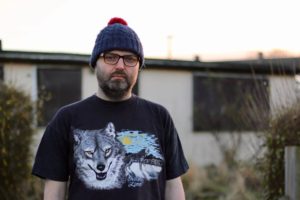 So how have you been juggling making music, along with running Happy Robots Records and releasing acts like HOLOGRAM TEEN, PATTERN LAGUAGE, TINY MAGNETIC PETS and SINOSA? Is this why it's just an EP?
Nah! Even at my most prolific I've never managed more than four or five good songs a year, so a new Rodders album was never going to happen.
Running the label has been great – and it has been awesome working with such great bands. But it is such a lot of work trying to make a success of it – particularly when juggling with a day job. You do sometimes feel trapped in a great endless cycle of work and it starts to make you go a bit crackers to be honest. And obviously, it's even harder financially now that it was even two years ago – when I did the Hologram Teen 7" in 2016, I got 300 units for £700 but now the same is over a grand. It's crazy and likely to get much worse.
'Ohm From Ohm'? But Ohm is where the ARP is?
The ARP is in my new studio room in the loft. Gathering dust. I'm sure someone wrote a song about that once.
What can potential punters expect if they come along to any of your upcoming shows?
From me, three tracks from the new EP, three or four of the big hitters from 'Age of Anxiety', some nice looking visuals and maybe a costume change (or at least a hat change). With four bands, we're going to be running a tight ship, so perhaps you won't get as much banter as some RODNEY CROMWELL shows. It's going to be fun though, all the bands are great and we get on really well (for now).
Where is electronic music heading? Are you happy that CHVRCHES have gone the full Taylor or are you more of a CHRIS CARTER man?
I like pop music, but I'm not a TAYLOR SWIFT fan really. Not enough melody for me, she makes my stuff sound like PAUL McCARTNEY. I read something on Twitter saying she's a Trump supporting neo-nazi, but even I think is going a bit far. I've not heard the new CHRIS CARTER although it's on the list and I'm sure the new CHVRCHES will be good.
As for where electronic music is heading; well it all seems to be getting a bit darker, doesn't it. I listened to the new COMPUTER MAGIC yesterday and even that is a bit dark in places. It's the creatives rallying together. The post post-truth pop revolution has begun.
---
ELECTRICITY CLUB.CO.UK gives its grateful thanks to RODNEY CROMWELL
'Comrades'
is released by Happy Robots Records as a download single including a remix by VIEON via https://rodneycromwell.bandcamp.com/album/comrades
'Rodney's English Disco' EP will be released on 25th May 2018 in a 7" vinyl+CD combo, pre-order from the Botshop at https://www.happyrobots.co.uk/product-page/rodney-cromwell-7-cd-rodney-s-english-disco-bot12
https://www.facebook.com/rodneycromwellartist/
https://twitter.com/robot_rocker
https://www.instagram.com/robot_rocker/
https://www.happyrobots.co.uk/rodney-cromwell
https://www.facebook.com/happyrobotsrecords
https://twitter.com/Happyrobotsrecs
https://www.instagram.com/happyrobotsrecords/
---
Text and Interview by Chi Ming Lai
12th March 2018