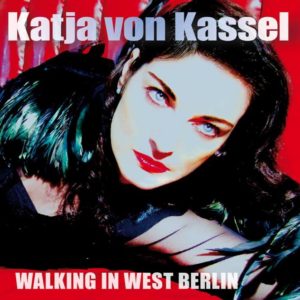 The captivating German songstress KATJA VON KASSEL follows up her debut EP with a three song plus bonus variants compendium entitled 'Walking In West Berlin'.
Having worked previously with LADYHAWKE collaborator Alex Gray, 'Walking In West Berlin' sees a change of direction in a new writing partnership with former Numan keyboardist Chris Payne, fresh from a rebooting of his ELECTRONIC CIRCUS side-project and his successful stint writing with Rusty Egan where his contributions were sung by luminaries such as Midge Ure and Tony Hadley.
"The tragedy of life is always a good inspiration to me" Katja once said and this is none more apparent on the airy magnificence of 'Someday'. Capturing the beautiful melancholy of ASSOCIATES' Billy Mackenzie, the doomed love affair is echoed by the chanteuse's deep forlorn delivery, accompanied by Payne's hypnotic synth bassline and haunting Numan-esque vox humana over a simple but hypnotic rhythmic loop.
And when some gentle piano cascades into the song's second half, it generates an emotional lift which takes 'Someday' into a dreamy stratosphere; a sparse alternate Cinematic take of the song prolongs the song's inherently introspective mood sans percussion.
Exuding purer electro Weimar cabaret with her Dietrich-like overtones, 'Radio Symphony' is more dramatic with a harder percussive edge, but still distinctly European and technolstagic in its Kraftwerkian fascination of the broadcast medium's highly contrasting moods and motivations.
The 'Walking In West Berlin' title track is laced with Europäisch Neu Romantisch, to the point that it almost sounds as it is going to burst into 'Fade To Grey', the German No1 for VISAGE in 1981 which Chris Payne co-wrote with Billy Currie and Midge Ure; there are also hints of Scott Walker in his lonely Jean-Paul Satre phase too within the poetic grandeur of Katja's delivery.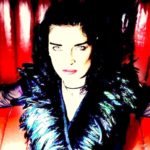 Bolstered by versions of all the tracks in Deutsch, this EP contains a thematically cohesive trio of songs that showcase the best in the musical sensibilities of both Fraulein von Kassel and Monsieur Payne.
If not a full-length album, then a follow-up EP is a must. It really would be a shame if the chemistry and compatibility of the von Kassel / Payne partnership was not artistically furthered.
---
The eight track 'Walking In West Berlin' EP featuring German versions of the songs is available as a download or CD from https://katjavonkassel.bandcamp.com/
https://www.facebook.com/KatjavKassel/
https://twitter.com/katjavonkassel
http://www.electroniccircus.co.uk
http://www.chrispaynemusic.com/
https://www.facebook.com/Chris-Paynes-Electronic-Circus-1871328086461350/
---
Text by Chi Ming Lai
10th March 2018