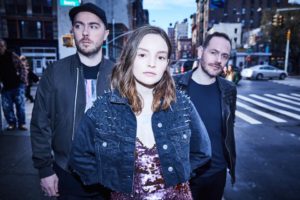 When CHVRCHES released 'The Mother We Share', it was described as "the sound of TAYLOR SWIFT gone electro".
And now with the kaleidoscopic 'Get Out', the bouncy first song to be previewed from CHVRCHES' as-yet-untitled third album, Lauren Mayberry, Iain Cook and Martin Doherty have gone the full Taylor and presented their most overt pop statement to date.
Despite rumours that David A Stewart of EURYTHMICS fame was to produce the next CHVRCHES album, the trio have turned to Greg Kurstin whose credits have included ELLIE GOULDING, SIA, LILY ALLEN, LITTLE BOOTS, LADYHAWKE, MARINA & THE DIAMONDS, KELLY CLARKSON, LANA DEL REY, ADELE, KATY PERRY and yes, TAYLOR SWIFT!
With Miss Swift's CHVRCHES aping 'Gorgeous' hitting the airwaves of late, there has obviously been something of a language exchange between both parties. With a highly infectious chorus and bridge attached to the Glaswegians' usual percussive trademarks, 'Get Out'
is one of those supreme singalongs.
The song's accompanying multi-screen surveillance style video sees Cook pondering over a vintage computer in the studio while Mayberry is captured in a restroom, lipstick drawing a crossed-out heart in what appears to be this album's campaign logo; this is an image that has actually appeared before, having previously adorned the artwork of TRIO, DURAN DURAN and NIGHT CLUB.
And in a move reminiscent of DEPECHE MODE's phoneline promotional campaign for 'Personal Jesus', pay close attention to the video and a phone number appears in one of the screens which when actually dialled, reveals a recording of Mayberry reading some shadowy prose…
CHVRCHES go into this third album phase on an artistic high, having delivered in 'Every Open Eye', a decent second album; this was something that LITTLE BOOTS, LA ROUX, LADYHAWKE or HURTS never managed! So while expectations are high, they have forward momentum.
But a slight word of warning though… more live drums beckon!
---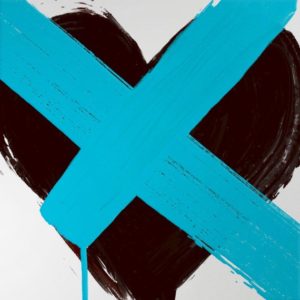 'Get Out'
is released by Virgin Records on the usual digital platforms
https://www.facebook.com/CHVRCHES
https://www.instagram.com/chvrches/
---
Text by Chi Ming Lai
14th February 2018