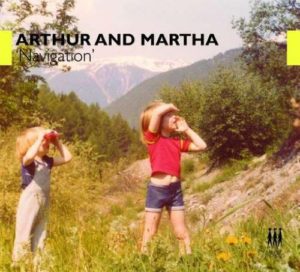 As the first long playing release on Happy Robots Records, from its SECTION 25 inspired artwork inwards, ARTHUR & MARTHA's only album to date was always going to be a bit out of step.
2009 was the year of LA ROUX, LITTLE BOOTS and LADY GAGA, where electronic music returned to the mainstream and went superpop!
'Navigation' was the work of Alice Hubley and Adam Cresswell, an unusual looking couple described as "Gilbert & George, disguised as The Carpenters…"
Cresswell had been a member of the indie combo SALOON who garnered support from John Peel including a 'Festive 50′ No1 in 2002 with 'Girls Are The New Boys'. Meanwhile, Hubley was a DJ and a member of the all-girl trio THE DULOKS. After SALOON split in 2003, Cresswell turned to analogue synths for solace and when Hubley moved to London, they found common ground via the Korg MS10 and NEW ORDER.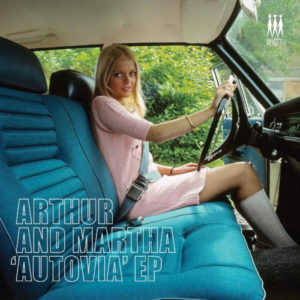 With a Melodica, Stylophone and Theremin also thrown into the playroom, ARTHUR & MARTHA were born.
'Autovia' was the glorious opening track of 'Navigation', shaped by a charmingly nonchalant vocal from Hubley and hypnotically propelled by a synthetic motorik beat.
Coming over like an eccentric English take on STEREOLAB meeting NEU! on the M1 during its closing third wig-out,  the tune got the pair branded as 'cutie krautrock' or 'tweetronica' thanks to the gentle mode of propulsion used for their achingly pretty, minor-chord melodies.
Cresswell recalled: "I was on tour with my previous band SALOON in Spain and I saw the word 'Autovia' on the road; it sounded a bit like 'Autobahn' and so I wrote a song called that. Most of it was recorded in the downstairs toilet of my house!" 
Continuing the mood, 'Music For Hairproducts' placed its melancholic vocals and driving octaves for some mutant robotic disco.
With its acoustic guitar and mournful melodic bass, Cresswell took lead vocals on 'Kasparov', sounding not unlike SECTION 25's Larry Cassidy, in a position now familiar in his more recent acclaim as RODNEY CROMWELL. While almost synth-less until the close, it captured a sign of things to come, especially when the melodica solo kicked in.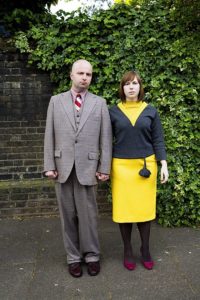 Hubley remembered "Adam didn't really sing much initially. 'Kasparov' on 'Navigation' was the first song Adam did sing, I kind of had to talk him into it, partly because he made it sound more like THE POSTAL SERVICE. He was always in the background with SALOON even though he wrote a lot of the songs".
Borrowing the rhythm from SOFT CELL's 'Sex Dwarf', the organ tones of 'Vallorian' came over like a lo-fi CRYSTAL CASTLES, aided by rugged bursts of Moog and fading on a lovely cacophony of ARP Quartet. On the quaintly sparse 'Navigation' title song, beautiful string machine provided the bed for Hubley's naturally unorthodox delivery before the appearance of clarinet over a clattering collage of percussion and a sudden motorik thrust featuring the entire ARTHUR & MARTHA synth armoury.
The brilliant 'Follow the Path' was the sort of brilliantly quirky instrumental that use to accompany the weird East European animations they used to show on BBC2, an array of pulsing sequences and deep complimentary four string with Hubley's vocal refrain adding naïve charm along with some surprise glockenspiel.
The more avant pop rumble of 'Memory' was aggressive in comparison, with robotic vocoder assisting a Hubley / Cresswell duet resulting in a surreal Factory Records face-off between SECTION 25, NEW ORDER and THE WAKE.
Taking its lead from NEW ORDER's 'Power, Corruption & Lies' album but with brighter bubbling synthy overtones, 'This City Life' charmed over a busy drum machine offbeat, the contrast between light and shade providing a unexpected lift before evolving into a steadfast cosmic romp invaded by squiggly electronics and innocent piano.
Using a brilliant title pun, the LADYTRON go Krautrock of 'Squarewave To Heaven' gave the closing straight some frantic energy before ending with 'Turn to Dust', another lovely mournful tune in the vein of 'Leave Me Alone'.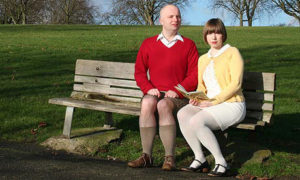 Ten years on, 'Navigation' has stood up remarkably well with its charm and honesty.
And with a live reunion for ARTHUR & MARTHA on SATURDAY 2ND MARCH 2019, it is a perfect opportunity for even the keenest 21st Century electronic pop enthusiast who might have missed it first time to discover this lost long playing synthpop curio.
'Navigation' used the following instruments: Korg MS10, Moog Rogue, Moog Opus 3, Bass, Guitar, Casio DG50, Stylophone, Melodica, Theremin, ARP Quartet, MicroKorg, Casio 1000P, Omnichord, Glockenspiel.
---
'Navigation' is still available via Happy Robots Records on CD or download direct from https://arthurandmartha.bandcamp.com/album/navigation
https://www.facebook.com/arthurandmarthaband/
https://www.happyrobots.co.uk/arthur-and-martha
https://www.facebook.com/happyrobotsrecords/
https://twitter.com/Happyrobotsrecs
https://www.instagram.com/happyrobotsrecords/
---
Text by Chi Ming Lai
18th December 2018, updated 19th March 2020