It's interesting to think that when Bernard Sumner and Stephen Morris were in their 20s, NEW ORDER gigs would be around three quarters of an hour!
But with both now in their 60s, the band are onstage for close to 2 hours and 20 minutes!
The pair with younger founder member Gillian Gilbert and new recruits Phil Cunningham and Tom Chapman played their only UK gig of 2018 at London's Alexandra Palace and delivered a superb show that acknowledged their history, one which a number of their contemporaries could learn from.
Alexandra Palace is an iconic building, full of prestige as a live venue, but its practicalities are hindered by limited public transport access and with a standing capacity of 10000, a stage so low that anyone under 5 foot 11 inches automatically has a restricted view! Luckily, NEW ORDER's live presentation with its vibrant widescreen visuals more than compensated.
Opening with 'Singularity', footage compiled from Mark Reeder's documentary 'B-Movie: Lust & Sound in West-Berlin 1979-1989' complimented the track's rock electro tension before the quintet launched straight into 'Regret'; welcomed back like a lost friend, the 1993 hit single had not been in the NEW ORDER live set during their last UK tour in 2015 or the 'So It Goes..' synth orchestra shows.
Appropriately for Remembrance 100 weekend, a superb 'Love Vigilantes' was dusted off while there were even bigger surprises with 'Ultraviolence' from 'Power, Corruption & Lies'
set to stark images of bullets and a blistering version of 'Disorder', the JOY DIVISION song which opened the now classic 1979 debut long player 'Unknown Pleasures'
.
2001's 'Crystal' naturally came accompanied by the promo video from which THE KILLERS got their name.
Meanwhile a rendition of 'Academic' from the 'Music Complete'
comeback highlighted how impressive the 'Akademixx'
reworking by Mark Reeder for his 'Mauerstadt' collection was, as NEW ORDER's own take now came over as slightly underwhelming.
The glorious 'Your Silent Face' with its serene neo-classicism was a highlight, illustrated by a 'Dallas' style montage which drew cheers as each starring band member's name was flashed onto the screen.
On the whole, the very bright visuals based around geometric shapes and specially filmed life sequences were magnificent, although at times, the unnecessary use of lyrics on some of the projections bordered on karaoke unless they were prompts for Bernard Sumner.
There was the old jibe that Ringo Starr was not even the best drummer in THE BEATLES and Bernard Sumner is known not to be the best singer in NEW ORDER, but he has learnt to use his limitations well over the years. Tonight, his vocals were as wayward and vulnerable as ever; part of the omnipresent charm of NEW ORDER, while there were a few missed cues too, one thing that was obvious was his enthusiasm and that he was throughly enjoying himself.
Introducing the Italo House flavoured 'Tutti Frutti' as "quirky", NEW ORDER launched into a sensational electronic disco extravaganza akin to an over 50s rave, although there were plenty of youngsters in the audience who knew ALL the words!
The baroque sex anthem 'Sub-Culture' combining the best elements of the original 'Low-life'
version and the John Robie remix triggered massed dancing, as did a Richard X assisted update of 'Bizarre Love Triangle' segueing into the dreamily emotive 'Vanishing Point', one of the stand-outs from 1989's 'Technique'
.
The only misstep of a wondrous setlist was an electronic take on 'Waiting For The Sirens' Call', the transformation of a classic NEW ORDER guitar driven number not working at all. But victory was snatched back by 'Plastic', with the hypnotic sequenced influence of Giorgio Moroder reflected by a spectacular road trip of flashing nocturnal illustrations.
The mighty triad of 'The Perfect Kiss', 'True Faith' and 'Blue Monday' rewarded the audience while with a steady introduction comprising of the string quartet motif from Lou Reed's 'Street Hassle', 'Temptation' saw the song's memorable chant reprised by all present like some communal hymn.
It was a long energetic evening that ensured the crowd were exhausted so despite somewhat muted calls for an encore, NEW ORDER returned for a JOY DIVISION triathlon beginning with 'Atmosphere'.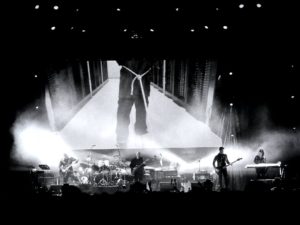 Using David Bowie and Giorgio Moroder's 'Cat People (Putting Out Fire)' as a re-arranged first section, there were roars of approval as the forever looming figure of singer Ian Curtis appeared on the screen.
An emotional 'Decades' from 'Closer'
and its sonic grandeur set to archive footage of Manchester was the evening's pièce de résistance while 'Love Will Tear Us Apart' sent people home with strength through joy, despite the song's sad backstory.
Yet another band who are better than the current live incarnation of DEPECHE MODE, NEW ORDER win on many points thanks to a drummer in Stephen Morris who actually knows how to play along to electronics, a guitarist in Bernard Sumner who can play a variety of styles without lowering to blues noodling plus the use of original sounds synonymous with the songs, like the Oberheim DMX on 'Blue Monday' and the synthetic clap on 'Decades'.
And that's without mentioning an inventive setlist of not just hits and tracks from the most recent album 'Music Complete', but songs from the early days of JOY DIVISION, not just one but four fan favourites from the classic albums, singles that weren't hits and sensational visuals that impacted all of the audience and were not just seen by a privileged few.
Now just imagine for a moment DM actually giving some thought of making that effort and doing the equivalent…
---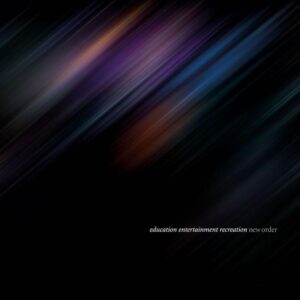 'Education Entertainment Recreation', the live recording of this show is released by Rhino as a Bluray film + 2CD plus audio 2CD, 3LP and download on 7th May 2021
https://www.facebook.com/NewOrderOfficial
https://www.instagram.com/neworderofficial/
https://www.youtube.com/user/neworder
---
Text by Chi Ming Lai
Photos by Simon Helm
10th November 2018, updated 26th March 2021