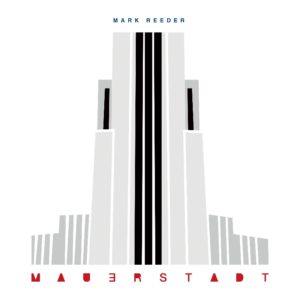 'Mauerstadt' literally translated from German means "wall city" and it's the title of the new album from renowned Berlin based remixer MARK REEDER.
Its release date set is on the day that the French Revolutionaries broke down the walls of the Bastille, so Reeder says the album title is significant "because my album's title / theme is about breaking down the walls in your head and confronting the idea that building a wall to keep your enemies out or your own people in, is starting to become fashionable again and how it really isn't such a good idea".
Reeder adds "It's not a concept album though, it's basically an album full of tragic love songs", but he readily admits "ok, it's basically 'Collaborator' part 2" 🙂
'Collaborator'
was Reeder's previous compendium of remixes and of course, musical collaborations released on Factory Benelux in 2014. Featuring highly on the album with a number of vocals was his long standing friend Bernard Sumner on tracks by BAD LIEUTENANT, WESTBAM and BLANK & JONES.
Despite his association with Factory Records as their German representative in Berlin and NEW ORDER over the years, it was only until recently that Reeder got to work on material from his favourite band when they returned to the fold in 2015 with 'Music Complete'. Invited to remix three of its tracks, two of them appear on 'Mauerstadt'
as the centrepieces of the collection.
The 'Akademix' version of 'Academic' gives the primarily guitar driven anthem a superb sequenced makeover that improves on the original. But with the already quite electronic number 'The Game', Reeder takes a different approach on the 'Spielt Mit Version' by stripping it down and restructuring it with more orchestrated overtones.
Although both previously released on the 'Remix' download EP through Mute, these tracks now get a much requested physical release as part of 'Mauerstadt'.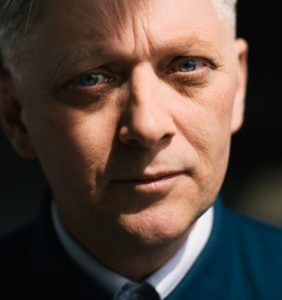 As well as NEW ORDER, Reeder is also known for his love of female fronted electronic pop with MARSHEAUX, MARNIE and QUEEN OF HEARTS among the notable inclusions on 'Collaborator'
. The latter contributes two songs on 'Mauerstadt', the best of which is a mighty extended 'Bonded by Sadness Mix' of 'United'.
Effectively the song with a lengthened instrumental end section, after Queenie coos passionately in Bush-like banshee style, Reeder takes to his guitar for a short solo that is part-Sumner and part-Hooky. Meanwhile, the heart wrenching 'Killer Queen Mix' of 'Suicide' sees more strings added to the QUEEN OF HEARTS fan favourite from her album 'Cocoon'.
But 'Mauerstadt' opens with British duo THE KVB and 'In Sight', their brooding collaboration with Reeder. More accessible than FACTORY FLOOR, this is danceable electro with mood and melody.
The album is also notable for featuring some of Reeder's more recent solo work. There's a tribal filmic quality to 'Giant Mushrooms', while his 'RIAS Mix' of the title track which was originally part of his 'B-Movie – Lust & Sound in West-Berlin 1979-1989' soundtrack, is a cavernous swirl of hard electronics and big beats.
The frantically paced 'Like A Sonic Tonic Remix' of 'You're So Good For Me' for INSPIRAL CARPETS is a fine tribute to their late drummer Craig Gill on one of his last recordings with the band, providing an enticing indie disco hybrid. Continuing the Mancunian theme, 'Mmm Mmm Ahhh' from electro wave duo MFU grooves along with some Cold War inspired drama and a gritty bass guitar line on Reeder's 'Umm & Arrggh Remix'.
Driven by a mighty Linn handclap and an imperial PET SHOP BOYS styled club vibe, the 'Power Surge Mix' of EKKOES' 'Electricity' certainly delivers more bite than their original material on the 'Elekktricity' album, although the Italo House feel of 'Heartbeat' on Reeder's 'Heart Throb Mix' is perhaps less appealing.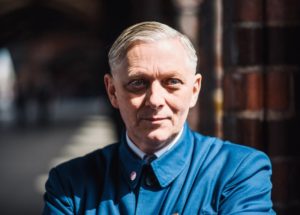 Thrusting with a synthetic bass triplet, 'Broken Hearts' is Reeder's collaboration with Swedish songstress MAJA PIERRO and with its uplifting HI-NRG feel, blips away for the kind of hypnotic dance number that Our Man In Berlin is known and appreciated for. Perhaps coincidentally, the 'Will Love You Tomorrow Remix' of 'If You Love Me Tonight', also featuring Pierro, sounds like a female fronted EKKOES or could that be more that the Reeder sound is actually the identifying factor here?
So MARK REEDER does the trick again with 'Mauerstadt' and ably uses his punk, pop, disco and trance sensibilities to procure another fine collection of remixes that work at home, on headphones, in the car and on the dancefloor. That is no mean feat; as Reeder's friend Rusty Egan once commented about the inane material contained within Beatport: "Name that tune, if you can hear one…"
Luckily, 'Mauerstadt' has the tunes and the beats.
---
'Mauerstadt'
is released in CD and double white vinyl LP formats by Kennen Limited, available from http://www.mauerstadt.com/
https://www.facebook.com/markreedermusic/
https://twitter.com/markreedermfs
http://www.kennen.de/kennen-produkte/produkte-mark-reeder.html
---
Text by Chi Ming Lai
26th June 2017, updated 24th September 2017