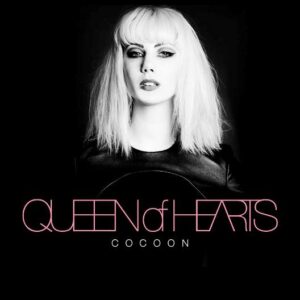 Words like violence, break the silence… QUEEN OF HEARTS thinks that the best pop songs should make you dance and shed a tear or two. Pleasures remain… all you ever wanted, all you ever needed is here…
QUEEN OF HEARTS is the talented young singer Elizabeth Morphew and after a long gestation period, her debut album 'Cocoon' has finally arrived.
Brought up to the sound of the synthesizer and learning to dance to the beat of electronic drums, the young royal grew up on a strict diet of A-HA, DEPECHE MODE, YAZOO and THE HUMAN LEAGUE, thanks to her dear Queen Mother.
She first came to public attention via RED BLOODED WOMEN, a girl group who utilised the template of YAZOO and DEPECHE MODE enough to sound like GIRLS ALOUD produced by Daniel Miller. Following their disbandment in 2010, Morphew became QUEEN OF HEARTS. A debut EP 'The Arrival' was subsequently issued in 2011.
She once said "pop is not a dirty word". And while she could be considered of the pop ilk, 'Cocoon' is not some producer puppet album. For a start, Morphew has co-written all the material while the producers have been sympathetic to the cause and not resorted to dumbing down to the Guetta level. Yes, there are danceable, club friendly beats, but these songs are spared the horribly predictable drops of that over rated chancer Harris! 'Like A Drug' is a good example of this carefully crafted ethos while 'It Isn't Enough' and the frantic 'Overcome By The Rhythm' both extend to being trancey hands-in-the-air moments without the usual bombastic clichés.
But, there are also a variety of other styles thrown into the mix. The rich ballad 'ColourBlind' would be TAYLOR SWIFT if she did something more synthy; here Morphew's voice is gorgeous, honey coated splendour. Another slowie comes in the form of 'Surrender' produced by BRIGHT LIGHT BRIGHT LIGHT while the adventurous 'Angel' explores dubstep rock.
GOLDFRAPP, KYLIE, ANNIE and LITTLE BOOTS are the main influences in QUEEN OF HEARTS' electro wonderland and this is reflected in the album's six key songs. 'Freestyle' takes its leaf from GIORGIO MORODER with DREAMTRAK (aka studio boffin Ollie Horton of TRADEMARK who supported THE HUMAN LEAGUE in their time) thrusting the propulsive pulse into a galaxy far, far away; feel The Force as it is strong on this one! Meanwhile, the ethereally tribal 'Warrior' from the mine of producer DIAMOND CUT sees QUEEN OF HEARTS enter the ice diva stakes by sounding like KYLIE weaned on CLAUDIA BRÜCKEN.
The album's highlight though is undoubtedly the catchy glam stomper 'Neon'. It magnificently manages to out Goldfrapp GOLDFRAPP with some deliciously wired glitterball sparkle. 'Neon' has already achieved a number of synchronisations, most notably on American TV show 'Do No Harm' and while this has the obvious hallmarks of Lady Alison's schaffel laden poise, QUEEN OF HEARTS successfully adds her own cooing allure.
However, the spectre of division floats over 'Suicide', a moodily emotive and chilling collaboration with Berlin based producer MARK REEDER. Introduced to The Haus Of Hearts by ELECTRICITYCLUB.CO.UK, he curated the magnificently epic Electrically Excited Remix of 'Neon' which eventually appeared on his 'Collaborator' CD. Now his portfolio includes PET SHOP BOYS, DEPECHE MODE, JOHN FOXX and MARSHEAUX as well as running dance label MFS, so his experience adds even further dimensions to the QUEEN OF HEARTS sound. Mention must be made of his other production from the sessions 'United' which is sadly missing from 'Cocoon', but is so vibrantly good that it is essential listening if this album appeals.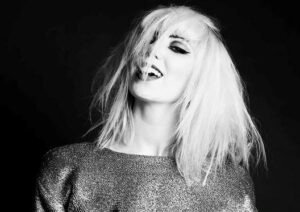 The sizzling co-write with Stefan Storm of Swedish synthpop duo THE SOUND OF ARROWS entitled 'Shoot The Bullet' provides a wonderfully buzzy pop cocktail full of glucose energy but with a touch of melancholy that makes it all the more enticing. And that's is not the last to be heard from Stefan Storm as 'Cocoon' closes with 'Tears In The Rain', another gorgeously atmospheric piece which is crisply Nordic and glacially spine tingling.
'Cocoon' is an enjoyable pop album with many credible foundations. And unlike QUEEN OF HEARTS' more higher profile contemporaries such as KATY PERRY and ELLIE GOULDING, there is not an over reliance on autotune, with as natural a vocal sound as possible being sourced from the classically trained singer. 'Cocoon' is up there with RACHEL STEVENS' wonderful 'Come & Get It' as an inventive but poptastic collection of songs about the important things in life – love, loss, heartbreak, betrayal.
---
'Cocoon'
is released as a download album by Night Moves via Amazon, iTunes and other digital retailers
A deluxe 2CD digipak set with featuring the bonus songs 'Spanish Sahara', 'United', 'Forgive Me', 'Where Are You Now?' and 'Wicked Game' is available direct from http://iamqueenofhearts.bigcartel.com/product/cocoon-limited-edition-2cd-gatefold-digipack-pre-order
http://www.iamqueenofhearts.com/
https://www.facebook.com/QOHofficial/
---
Text by Chi Ming Lai
Photos by Darren Black
5th July 2014, updated 27th November 2014