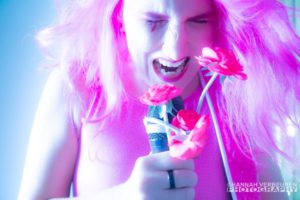 From Orange County in California, PLASMIC describes herself as an "Orange County one-woman dervish" and in a vivid haze that's pretty in pink, "your abused Barbie doll from childhood".
Combining J-Pop with CRYSTAL CASTLES and DEVO, like a deviant West Coast cousin to the wonderful Canadian songstress MECHA MAIKO, Lauren Lusardi is the precocious talent behind PLASMIC.
It could be reasoned that PLASMIC is an artistic consequence of Lusardi reacting to her comparatively conservative surroundings. She studied electronic music at a local community college and with her knack of detonating infectious lo-fi synth bombs while full of femme rage fuelled by childhood anxiety, PLASMIC also adds some political fervour into the equation.
Already a veteran of three EPs releases, the undoubted standout from her latest release 'Validation Nation'
is 'Baby Machine', an immensely catchy feminist electropop anthem utilising a mixture of vintage Casio and Yamaha sounds that challenges the expectations of women to bear children.
Meanwhile, the powerful 'Validation Nation' title track observes how modern society's narcissistic desperation for "being known" has become the dominant motivator in this age of social media and online celebrity…
Also from 'Validation Nation', 'Sister' takes on a more dancefloor friendly template while 'Compliance' is a song confronting the continuing issue of patriarchy in the #METOO era, like BLONDIE meeting NEW ORDER at The Hacienda! Recently, there was the release of a delightful cover version of 'Female Trouble' to celebrate the birthday of the late actor and HI-NRG diva DIVINE.
Lusardi's own favourite song is called 'Revenge', a gritty rallying cry to kill rapists from her self-titled EP released in 2017 which she describes the writing of as being "the most fun and cathartic time of my life".
A feisty performer with a portable Yamaha strapped round her neck and an energetic punk attitude like Siouxsie Sioux genetically mutated with Molly Ringwald if she was into Gothic Lolita fashion, the independently minded art of PLASMIC offers some delightfully odd artistic escapism, but with a mission to deconstruct societies many stereotypes.
---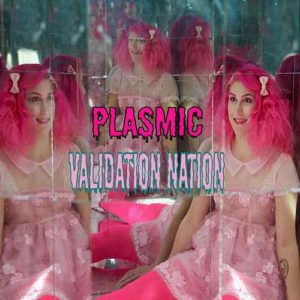 'Validation Nation'
is available as a download direct from https://plasmic.bandcamp.com/
https://www.facebook.com/plasmicpower/
https://www.instagram.com/plasm1c/
https://soundcloud.com/plasmik-1
---
Text by Chi Ming Lai
Photo by Hannah Verbeuren
22nd December 2018