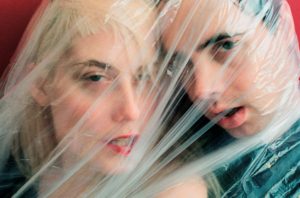 Following up the moody cosmic synthpop of 'Face The Fire', Massachusetts duo BOY HARSHER have issued a second single 'Fate' from their forthcoming sophomore album 'Careful'.
Coming over a bit like ADULT. meeting THE KVB, the pairing of Jae Matthews and Augustus Muller first started working together in 2014 through a need to produce and consume, experimenting with sound, video and text.
Their first full length album 'Yr Body is Nothing' came out in 2016 and featured the gloomy single 'Last Days'. 'Fate' is comparatively brighter but no less introspective, with a spiky electronic hook and hypnotic staccato bass line laced with Matthews' hazy nonchalant vocals and layers of disconcerting synthesizers.
"This song is about how there's no amount of running that will prevent you from your life" the duo explain, "You are raw and beat-down, yet you will continue to behave the same way – Fate is your own trouble, a magnetic force that's stuck on you forever."
With suitably blood curdling horror video directed by Bryan M. Ferguson recalling the Scarlet Johansson art horror flick 'Under The Skin' but without the nudity, it too was also filmed in Glasgow, the city where you go out for a laugh but leave in stiches…
Out in February 2019 via their own Nude Club Records imprint, 'Careful' is said to see BOY HARSHER "use the medium of minimal electronics to create a compelling narrative of a deteriorating family and the reaction to run away from it".
Embroiled in Matthews and Muller's emotional surroundings and potentially self-destructive creative tension, it attempts "to detail the enveloping trauma of loss combined with the fantasy of escape".
---
'Fate'
is from upcoming album 'Careful'
released on 1st February 2019 by Nude Club Records
BOY HARSHER play the following UK dates in 2019: Bristol Lanes (24th February), Leeds Wharf Chambers (25th February), Manchester Soup Kitchen (26th February), London Heaven (27th February)
https://www.facebook.com/boyharsher
https://twitter.com/boyharsher
https://www.instagram.com/boyharsher
---
Text by Chi Ming Lai
Photo by Nedda Afsari
24th December 2018