With the challenges of the past two years, it is perhaps unsurprising with the brooding menacing aura omnipresent in their music that BOY HARSHER have made a short horror movie and a soundtrack to go with it.
Entitled 'The Runner' and written, produced and directed by the duo, it is a classic slasher attached to a meta-style documentary about the BOY HARSHER recording process, so think 'Scream' or 'Fight Club' but with a music studio. The film will premiere on the horror streaming platform Shudder on January 16th with screening events planned across the globe.
The duo Augustus Muller and Jae Matthews see this project as an artistic exorcism rather than their fifth album. The chaos and uncertainty of the times provided the mood, but Matthews was also diagnosed with multiple sclerosis with added anxieties closer to home. This provided inspiration for a sinister character, a woman running through the woods.
The soundtrack stands up as an album in its own right and is their most diverse collection yet, featuring their usual dark and danceable electronic pop with some special guests and alongside eerie instrumentals.
Opening track 'Tower' offers a slow gothic presence with an impending doom though Jae Matthews' distraught vocals although this is offset as often or not with many BOY HARSHER tunes by Augustus Muller's keyed brightness alongside the sombre bass and fierce percussive attack, combining desire with destruction. 'Give Me A Reason' is classic BOY HARSHER and could be from any of the more recent albums, dark but melodic and hooky,
But 'Autonomy' featuring Cooper B Handy from the band LUCY. The track is a surprise, not just vocally but when the pulsing sequences and optimistic synthetic string tones kick in alongside the simulated Hooky bass, it is more reminiscent of NEW ORDER after they ditched the raincoats and started wearing shorts!
By contrast with its foreboding rhythmic mantra, 'The Ride Home' is far gloomier and more expected for a horror soundtrack. Following on, 'Escape' is a midtempo song captures a nocturnal tension that sees Matthews declaring "What's done is done, my old friend" with something of a fatalistic density having already optimistically suggested "Maybe, we can escape?".
Sung in Spanish and English, 'Machina' with Ms. BOAN is aimed at the dancefloor, recalling the Latino electronic disco of Bobby Orlando, particularly PET SHOP BOYS 'A Man Could Get Arrested' with the vocal interplay between the vocodered phrases and Mariana Saldaña being particularly seductive
The wholly instrumental 'Untitled (Piano)' sees BOY HARSHER go ambient and it works brilliantly while 'I Understand' is cut from a similar cloth but with the addition of a resigned and heartbroken Matthews cocooned in a box for a disturbing claustrophobic effect.
A cathartic collection, the duo said on their social media that "BOY HARSHER fans are the clear waves that keep us afloat"; while the soundtrack of 'The Runner' not a traditional album in the vein of 'Careful', they will not be disappointed.
---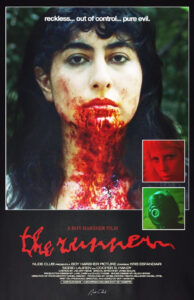 The official soundtrack of 'The Runner' is released on 21st January 2022 via Nude Club / City Slang in vinyl LP in various colours, CD, cassette and digital formats, pre-order available direct from https://boyharsher.bandcamp.com/album/the-runner-original-soundtrack
Information on independent screenings and streaming at https://therunner.film
http://facebook.com/boyharsher
http://instagram.com/boyharsher
---
Text by Chi Ming Lai
17th January 2022