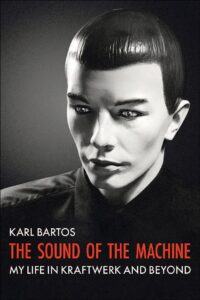 Originally published in 2017, 'Der Klang Der Maschine' was the detailed autobiography of electronic pioneer Karl Bartos. Best known for his role in the classic line-up of KRAFTWERK with Ralf Hütter, Florian Schneider and Wolfgang Flür, 'The Sound Of The Machine' is the English translation written in collaboration with Katy Derbyshire. It includes extra material not included in the German edition, adding up to a hefty total of 634 pages.
Born in 1952, Bartos was a happy child and his optimistic disposition is a key aspect of this book. While the bitterness that was apparent in Peter Hook's NEW ORDER book 'Substance' is largely absent, 'The Sound Of The Machine' is also not the laugh aloud read that Stephen Morris' two memoirs or the "sex und synths und schlagzeug" romp of Wolfgang Flür's 'I Was A Robot' were.
What 'The Sound Of The Machine' has is informative breakdowns of how iconic pieces of music were constructed, commentary on the frenetic pace of technological development and confessionals on band dynamics. It also documents a very human group of men enjoying football, champagne, dancing, cycling and even taking time out to see THE EAGLES. The book is weighty and contains discussions about music theory, philosophy and German history, so those who just want the gossip may find some sections heavy reading.
Despite having co-written many of their best known works such as 'The Model', 'The Robots', 'Neon Lights', 'Spacelab', Computer Love', 'Pocket Calculator', 'Computer World', 'Tour De France' and 'Numbers', the KRAFTWERK brand has become so strong that Bartos' significant role remains widely under appreciated, apart from within the electronic music cognoscenti.
Recruited in 1974 to augment the live shows following the international success of 'Autobahn', Bartos was studying to be a symphony orchestra percussionist at the time and had to occasionally commute across the Atlantic to complete his exams while on tour in the US. But Bartos began his youth as a fan of British beat music, particularly THE BEATLES who were introduced to him via the album 'A Hard Day's Night' by his future brother-in-law Peter Hornshaw, then a Lance-Corporal serving with the British Army based in Düsseldorf.
The experience inspired him to take up the drums. Despite securing a telecoms engineering apprenticeship, he saw his future in music. Luckily, his firm wanted to assemble a band of apprentices who could play cover versions at corporate events; Bartos signed up and he was even released from workshop duties to rehearse.
A now-iconic appearance on 'Tomorrow's World' in 1975 showcased the future of music when KRAFTWERK demonstrated their customised instrumentation while dressed smartly in suits and adorning short hair. Performing 'Autobahn', Bartos and Flür punctuated the pioneering technologically enhanced sound with a distinct uncluttered percussive snap on their electronic drum pads.
Embracing science and rail transport, KRAFTWERK made major artistic leaps with the 'Radio-Activity' and 'Trans-Europe Express' albums. By 1978, Bartos had risen to the ranks of co-writer having pointed out to Hütter that his electronic vibraphone solo on 'The Hall Of Mirrors' from 'Trans-Europe Express' amounted to a more significant contribution than that of a hired hand. So from 'The Man-Machine' onwards, his input would involve all parts of the musical content including drums, bass, sequencer, chords, melody, voice and lyrics.
But KRAFTWERK's Generalleutnant was already displaying his control freak tendencies that would eventually drive all three members of the classic line-up out; Hütter bagged 50% of the publishing for the lyrics of 'Spacelab' and 'Metropolis' despite the tracks only containing one word, thus reducing Bartos' musical share. Meanwhile on a German TV appearance performance of 'The Robots', Hütter insisted on co-miming the lead vocal despite the fact that it had been provided solely by Schneider via his vocoder on the record.
1981's 'Computer World' saw a new piece of equipment enter Kling Klang in the shape of the Triggersumme. Built by the makers of the Synthanorma sequencer that had been crucial to the sound of 'Europe Endless' and 'The Robots', the Triggersumme was effectively a drum machine with five rows of 16 switches controlling electronically generated beats that could be manipulated by hand while running in a precise loop.
It was with the Triggersumme that Bartos came up with the iconic rhythmic mantra of 'Numbers'. Perhaps unexpectedly, it had been inspired by the four bar drum intro of 'Do You Wanna Dance?' by Cliff Richard but as it was a subconscious interpretation rather than a copy, something much funkier prevailed! However, on reflection, Bartos concludes in his book that "the advent of sampling has made us largely forget exactly this kind of process".
'Computer World' was KRAFTWERK's masterpiece that predicted the future; it was a conceptual work that looked at police surveillance, portable office technology, online dating and home entertainment. Meanwhile, as the UK was catching up with RFWK, 'The Model' from 'The Man-Machine' belatedly became a UK No1 in 1982. Later, Bartos' own contributions were interpolated by Afrika Baambaata with Arthur Baker for 'Planet Rock' and more recently, COLDPLAY for 'Talk'.
Despite the machinery, KRAFTWERK demonstrated 'It's More Fun To Compute'; on 'Pocket Calculator', Hütter, Schneider and Bartos had jammed together respectfully on hand-held devices such as the Mattel Bee Gees Rhythm Machine, Texas Instruments calculator and a Stylophone to create a lively polyphony. But this approach with a distinct sense of humanity and looking into each other's eyes became sidetracked as KRAFTWERK purchased an Emulator and Yamaha DX7 for their next album 'Techno Pop'.
With KRAFTWERK about to capitalise on the recognition they had been accorded by the success of synthpop throughout the world, Hütter had a near fatal cycling accident. The single 'Tour De France' has already been issued but the release of 'Technopop' was postponed and the tracks were slowly reworked using state-of-the-art digital and sampling technology before being released as the disappointing 'Electric Café' album in 1986.
In a sign of his own future, Bartos took the lead vocal on 'The Telephone Call' but Hütter refused to let him lip-sync on the video, although ironically, it was Flür who got to mime a single phrase while cast in shadow. It was to be the last time that the classic KRAFTWERK line-up were seen publicly together.
KRAFTWERK had clearly lost their way and Flür was the first to leave in 1987. Bartos soldiered on and worked with Hütter, Schneider and new recruit Fritz Hilbert on a remix album entitled 'The Mix'. But as Bartos highlights, Schneider was now specialising in speech synthesis rather than music. Meanwhile Hütter seemed more focussed on cycling but had purchased a rather expensive Synclavier. It led to getting sidetracked by technical rather musical possibilities to keep up with the production standards of others; "The dancefloor led the way" Bartos lamented, "We became music designers manufacturing consumer music oriented only towards 'winning' against other contestants".
Frustrated by the drought of new material following 'Electric Café', Bartos played his last concert with the band in 1990 and handed back his keys to Kling Klang not long after. But despite having already put several years into the project, his name was missing in the credits… the finished produkt itself sounded dated by the time it hit the stores in 1991 and lacked the magic that had made KRAFTWERK great. The prolonged digitisation for Bartos meant "The songs lost their aura, their poetry, they lost precisely what can't be captured in words…"
Wasting no time, Bartos formed ELEKTRIC MUSIC with Lothar Manteuffel from RHEINGOLD and released the album 'Esperanto' in 1993 which was enthusiastically welcomed by fans desperate for the void in new KRAFTWERK material to be filled. After so many years in Kling Klang, he also needed to find out what "Karl Bartos actually sounds like". However, he was not quite yet ready to take on a front man role as Manteuffel took the lead vocals on the singles 'Crosstalk', 'TV' and 'Lifestyle'.
Freed from the shackles of Kling Klang where Hütter had imposed a ban on work outside of KRAFTWERK, Bartos was open to collaboration and the first was with longtime KRAFTWERK fan Andy McCluskey from OMD who sang on the brilliant 'Kissing The Machine'. Quite possibly the best song that both parties were involved at the time of its release, 'Kissing The Machine' was so good that it merited an updated version reconfigured by Paul Humphreys, included 20 years later on the OMD album 'English Electric'.
With the anti-synth backlash that came with Grunge and Britpop, the guitar dominated environment of the era led to rather strange happenings with Bartos and McCluskey. In McCluskey's case, it was forming ATOMIC KITTEN with Bartos suggesting that a girl group would be the ideal vehicle for the OMD front man's future songs! The thought of Kerry Katona being part of Kling Klang's lineage is quite amusing in hindsight!
Meanwhile at the instigation of Mark Reeder, Bartos went to Manchester to work with Bernard Sumner and Johnny Marr on ELECTRONIC's 'Raise The Pressure' album. Eventually released in 1995, it was reported at the time that Bartos had become disillusioned with music technology; the more guitar based collaborations 'Forbidden City' and 'For You' were among the results. While 'If You've Got Love' and 'How Long' from the album were the more typical of the KRAFTWERK influenced tracks that fans were expecting and the B-side 'Imitation Of Life' later morphed into the 2013 solo track 'Musica Ex Machina', Bartos effectively returned to Germany with a Rickenbacker strapped to his back!
The resultant 1998 album was 'Electric Music', a first solo record of sorts which Bartos himself described as "guitar pop out of the computer". Although a song originally written for KRAFTWERK entitled 'The Young Urban Professional' was the first single, the album was not particularly well received by fans! As Bartos himself confesses, "I was evidently too unknown as a person for anyone to take an interest in the depths of my sound biography. My guitar experiment was doomed to fail. Mea Culpa".
Following a request for a re-recording of 'Tour De France' in 1998, Bartos made tentative steps to revisit the electronic past he was known for.  Dipping his toe in with the single '15 Minutes Of Fame' in 2000, he made a triumphant comeback with his first proper solo album 'Communication' issued in 2003. The opening track 'The Camera' was a successful updating the of 'The Robots' for the new Millennium while 'Life' lamented about his time with KRAFTWERK in a NEW ORDER styled guitar number reimagined with electronics and 'I'm The Message' presented Bartos "In Bild und Ton"…
But just as 'Communication' hit the shelves, an elephant entered the room in the shape of his former band; with Hütter and Schneider finally delivering neu Kling Klang Produkt in the shape of 'Tour De France Soundtracks', fans and press predictably focused their attention on KRAFTWERK.
This was a shame as 'Communication' was a far more vibrant and melodic work than KRAFTWERK's offering which for an album about cycling was strangely pedestrian. Bartos' own solo live show mixed new material with updated versions of his classic KRAFTWERK co-writes in a striking but intimate audio / visual extravaganza. Sadly though, average ticket sales for the UK tour were disappointing and the European tour was cancelled.
Bartos became a visiting Professor at the Berlin University of the Arts having founded its Master of Arts course in 'Sound Studies – Acoustic Communication' while digitising his musical archive of rhythmical and melodic sketches made since he was in KRAFTWERK. Within a 21st Century setting, twelve developed and recontextualised tracks became his second solo album 'Off The Record' in 2013.
Just as the 'Off The Record' tour was about to begin in Cologne on 26th January 2014, that red and black elephant re-entered the room. KRAFTWERK were to be presented with a Lifetime Achievement Award on the same night at The Grammys in Los Angeles. As German TV descended on the Live Music Hall to speak to Bartos prior to the show, all they wanted to know about was his period in Kling Klang. Bartos' own reflections on never escaping KRAFTWERK's shadow came in an 'Off The Record' song entitled 'Without A Trace Of Emotion'. Poignantly in a vocodered voice, his robot Herr Karl wryly declares: "Every single day I am here to let you know, Whatever happens to you – I won't let go, I won't let go…"
In 2013, Herr Bartos said to ELECTRICITYCLUB.CO.UK: "Sometimes we all love nostalgia because it's safe. One interesting point; the process of listening to music incorporates what we have learned before, all our lives, what we know. If you listen to a track in a club, or at home, or a concert, it doesn't matter where, always what our brain does is we remember what we have learned about music, then we have this very second, this very moment, and our expectations about how the music will evolve in the future. Listening to music incorporates all three times."
Karl Bartos has generally been seen as a beacon of hope for KRAFTWERK enthusiasts, what with 'Der Katalog 1-2-3-4-5-6-7-8' 3D shows and the like offering no new material. What fascinated him about the possibilities of electronic music was the creation of a closed system, to be able to disregard tradition, to offer different forms of expression on the basis of unique characteristics, to be able to compose and record while alone and to bring all manners of culture into pop.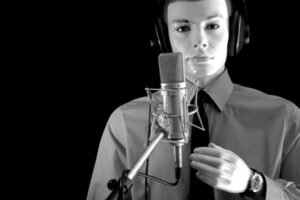 With words of wisdom towards the end of his autobiography, Bartos surmises: "A society's history is absolutely necessary for its orientation. After all, we can only tell who we are if we know where we come from. And that's why the past should always be present at least in our minds".
Dress code: red shirt, black tie, you're history…
---
'The Sound Of The Machine' is published in hardback by Ominbus Press
https://www.facebook.com/OriginalBartos
https://open.spotify.com/artist/5tJ5CFnO4JQmLXaarEyHKt
---
Text by Chi Ming Lai
Photos by Markus Wustmann
31st July 2022