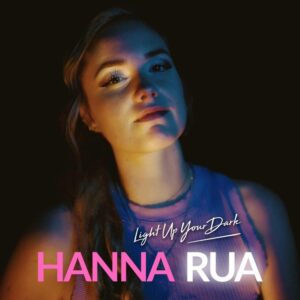 'Light Up Your Dark' is the debut EP from Swedish songstress Hanna Rua. Released on Aztec Records, the one-time home of BRIGHT LIGHT BRIGHT LIGHT and NINA, is the native from Östersund the next artist from the roster set for bigger things?
Certainly Hanna Rua has a dreamy immediate electronic pop sound with the emphasis on the pop, but this EP also demonstrates her scope and capability using darker aesthetics. Currently based in the creative South Coast seaside hub of Brighton, she launched with the deliciously uplifting debut single 'Don't Cut Your Angels' in Autumn 2021.
Included on 'Light Up Your Dark', the infectious optimism of 'Don't Cut Your Angels' provided a YOLO anthem with shades of ABBA and yes, THE SEX PISTOLS! The warbling electronic bassline at points recalled the punk trailblazers but then 'Pretty Vacant' did actually borrow from 'SOS'!
Continuing the supreme Scandipop template with a call to "get up again", her next single 'Tears On Your Pillow' continued the good work at a more cruising pace. It was the sort of classic melodic synthpop that fellow Swedes Max Martin and Oscar Holter had producing with THE WEEKND. Acting as Hanna Rua's own Max Martin is near namesake Sam Martin, a producer who served his studio and songwriting apprenticeship with XENOMANIA who worked with PET SHOP BOYS and GIRLS ALOUD.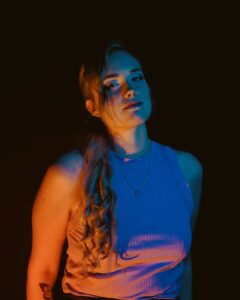 Of the three new tracks on the EP, the 'Light Up Your Dark' title song is the best; with a wonderfully gritty austere, it plays with gothier influences, coming over like a Nordic NINA in her more recent work but remaining melodic. The brooding presence recalls unga moderna veterans LUSTANS LAKEJER and their 1999 single 'Cynisk' in particular and grows in stature with each play. It's a battle against the demons where our heroine declares that she "Danced to your darkness, there in your arms, I told you, I told you, I'll light up your dark".
With its exotic piping moods, the breezy and serene 'Hold The Light' offers more encouraging messages to grow as souls and to experience love, while 'Hear Me Now' is airy angelic pop that allows Hanna Rua's bright scaling vocal style to shine.
Overcoming life's curveballs, Hanna Rua is a beaming new talent out to encourage the light within us all with her catchy tunes and positive personality. A fine debut, 'Light Up Your Dark' is a perfect pop collection for the summer.
---
'Light Up Your Dark' is released as a digital EP by Aztec Records, available now from https://hannaruamusic.bandcamp.com/releases
https://www.facebook.com/hannaruamusic
https://twitter.com/Hannaruamusic
https://www.instagram.com/hannaruamusic/
https://open.spotify.com/album/3ZcifuP5TRKg3YRPec3fwz
---
Text by Chi Ming Lai
29th July 2022