"Someone sneers at all you love… this is how I learnt to hate rock-and-roll!"
Neil Tennant and Chris Lowe first met in an electronics shop on London's Kings Road in August 1981; a shared love of dance music led them to form PET SHOP BOYS, named after friends who worked in an Ealing pet retailer while also sounding like an English rap group.
Bridging the gap between Synth Britannia and acid house via HI-NRG and Italo disco, PET SHOP BOYS first found international success with 'West End Girls', a UK and US No1 single in 1986.
At the time of their meeting, the trombone playing Lowe had been studying to become an architect at Liverpool University while Tennant was deputy editor of 'Smash Hits'. Known for his witty if sometimes cutting reviews as well as coining entertaining phrases such as "imperial phase", "down the dumper", "like punk never happened", "pur-LEASE!", "pass the sickbag, Alice", "uncle disgusting" and "back, back, BACK!!!!!", Tennant's observations on the music business were more often right than wrong.
Tired of writing about things he could probably do better, Tennant became music's ultimate poacher-turned-gamekeeper. The North London Polytechnic history graduate utilised his experiences as a journalist to plot PET SHOP BOYS' ethos, a dialectic of "east / west. Posh / rough. Irony / sincerity. Pop / anti-pop". Taking inspiration from SPARKS and SOFT CELL, that dialectic also became the image.
With a voice that sounded like a cross between Al Stewart and Marc Almond, Tennant was the talkative one while the moody Lowe stood behind him, scowling like Ron Mael and seemingly doing nothing apart from occasionally staring at a TV screen. Interestingly, while it was often assumed that the North Shields-born Tennant was the posh one, it was actually Lowe who was educated at the selective Arnold School in Blackpool which had also been attended by Dave Ball; its direct-grant status meant it was just shy of being a public school with fee payers and boarders while a small number of local children were selected via the 11+ grammar school system.
It was while at 'Smash Hits', when he was despatched to New York to interview THE POLICE, that Tennant knocked on the door of Bobby Orlando, producer of electronic disco records by DIVINE, THE FLIRTS and BOYTRONIC as well an artist in his own right. This led to the original recording of 'West End Girls' released in April 1984 by Epic Records in the UK and while it wasn't a huge commercial success, it was an American club favourite while being a minor hit in Belgium and France.
'West End Girls' proved to be the perfect show reel and a deal was signed with EMI via Parlophone Records after their bullish manager Tom Watkins brought them to the attention of Dave Ambrose, a founder member of FLEETWOOD MAC who had become a renowned A&R man, notably signing SEX PISTOLS, DURAN DURAN and TALK TALK.
Tennant departed 'Smash Hits' and at his leaving party, his colleagues presented him with a mocked-up front cover which read: "HOW I LEFT BRITAIN'S BRIGHTEST MAGAZINE TO FORM MY TRAGIC POP GROUP, WENT DOWN THE DUMPER AND ASKED FOR MY JOB BACK" – little did they know that Tennant would grace their front cover within 9 months!
Tennant and Lowe presented themselves with an enigmatic Northern English contrariness that was the antithesis of WHAM! and more Gilbert & George. Tom Watkins was dismayed by his charges' first 'Top Of The Pops' appearance with the re-recorded version of 'West End Girls' in late 1985, recalling "They don't do anything. How are people going to go for this?" – but go for it they did and in large numbers! It started an imperial phase for PET SHOP BOYS when it reached No1.
But following the success of 'West End Girls' which later netted a BRIT award for 'British Single of the Year', Tennant's own journalistic words came to haunt him as the dumper beckoned when the wonderful follow-up 'Love Comes Quickly' only reached No19 in the UK singles chart. But the B-side indicated PET SHOP BOYS were going to be around for a while and not just a flash in the pan; 'That's My Impression' was menacing as opposed to melancholic, combining SOFT CELL with DIVINE, establishing their reputation for quality non-album bonuses.
The debut album 'Please' primarily produced by Stephen Hague was impressive although not perfect and hit the UK Top3. Songs such as 'Tonight Is Forever' and 'Later Tonight' highlighted the range and quality of the Tennant / Lowe songwriting partnership from elegiac if euphoric dance anthems to melancholic but hopeful ballads, often sung from a character rather than a personal viewpoint.
Meanwhile on 'Opportunities (Let's Make Lots Of Money)', PET SHOP BOYS showcased irony and humour. Like with HEAVEN 17 before them, the joke passed over the heads of the yuppies who had adopted the song as a mission statement but failed to realise it was sending up their own greed, delusion and lack of ethics.
PET SHOP BOYS ended 1986 with another Top10 hit single in 'Suburbia', a good if slightly underwhelming album track from 'Please' that got transformed into a more fully realised epic in a re-recording produced by Sarm West graduate Julian Mendelson. It underlined Tennant's clever social commentary as working class communities became marginalised under the Conservative government led by Margaret Thatcher.
Fully embracing the creative experimentation and development allowed for by more under-the-radar B-sides, 'Suburbia' featured not one but two non-album extras. 'Jack The Lad' exuded the influence of Erik Satie and Ennio Morricone, but 'Paninaro' was an absorbing dance number that displayed an affinity with Italy and one of its fashionable youth movements.
Additionally, 'Paninaro' summed up PET SHOP BOYS' attitude with a middle eight breakdown that featured a nonchalant Chris Lowe on the US talk show 'Entertainment Tonight' declaring "I don't like country & western, I don't like rock music… I don't like rockabilly! I don't like much really do I? But what I do like, I love passionately!!" – PET SHOP BOYS' B-sides and bonus tracks would later be collected on 'Alternative' and 'Format', two double compilation sets that were equally as valid as their best albums.
To open their 1987 account, PET SHOP BOYS issued their most striking single yet in the mighty gothic disco of 'It's A Sin'; reflecting on Tennant's catholic school education, the backdrop threw in the kitchen sink with Fairlight orchestral hits, Apollo 10 launch messages and an extraordinary chord change from Cm to E♭ m7 into the middle eight. A happy accident with the bassline and drums restarting provided the cavalry charge towards the lightning climax for a second No1.
But PET SHOP BOYS weren't done yet; the follow-up 'What Have I Done To Deserve This?' sounded like three songs morphed into one, because that was what it actually was. Lowe and Tennant did their respective pop art sections while Allie Willis who co-wrote 'Boogie Wonderland' came up with the rather blissful chorus. The song went into another sphere once Dusty Springfield was brought out of semi-retirement to add her voice and ad-libs. The smoothness of Stephen Hague's production provided the perfect backing.
The success of 'What Have I Done To Deserve This?' showed PET SHOP BOYS willingness to collaborate and there would be productions on new solo Dusty hits with 'Nothing Has Been Proved' and 'In Private'. Tennant and Lowe's later involvement in ELECTRONIC with Bernard Sumner and Johnny Marr illustrated that work outside of the nest was not out of bounds either.
The second album 'Actually' opened with a new more percussive version of 'One More Chance', a song dating back to the Bobby Orlando sessions while 'Shopping' dealt with Thatcherism's obsession with privatising publically owned utilities, hence the line "We're buying and selling your history!". Continuing Tennant's social commentary on the undermining of the working class, 'Kings Cross' presented the railway station as a metaphor for morally questionable capitalism, although the line "Dead and wounded on either side, you know it's only a matter of time" chillingly resonated later in the year when an underground fire claimed the lives of 31 people.
A solemn song written about a friend who had been diagnosed with AIDS, the mournfully brilliant 'It Couldn't Happen Here' adapted the Ennio Morricone composition 'Forecast' from the 1983 Jean-Paul Belmondo movie 'Le Marginal'. 'Blue Velvet' composer Angelo Badalamenti provided an orchestral arrangement but due to scheduling issues in completing the recording before the album's deadline, the instrumentation was eventually created on a Fairlight CMI out of necessity.
With its provocative title, 'Rent' presented a narrative on the kept woman and reached the UK Top10. But two successive No1s were added to PET SHOP BOYS portfolio in the frenetic cowbell dominated cover of 'Always On My Mind' which upset music purists when it denied a Christmas chart topper for THE POGUES and a remixed syndrum heavy version of 'Heart' which Tennant and Lowe had written with Madonna in mind. On a roll, PET SHOP BOYS deservedly won the 1988 BRIT Award for 'Best British Group'.
Despite their seemingly unstoppable success and forward momentum, PET SHOP BOYS took a slight misstep with the release of their art film 'It Couldn't Happen Here' directed by Jack Bond; an exercise in seaside surrealism and featuring Joss Ackland, Barbara Windsor, Neil Dickson and Gareth Hunt, the bizarre scenes set to the music of Tennant and Lowe baffled audiences. It would be decades before it would be reissued in DVD formats.
Cracks were also beginning to show in their relationship with Tom Watkins whose view was that the next single 'Domino Dancing' with its AIDS narrative and sexually ambiguous promo video would stall momentum in the US. While the brass laden Latin tinged song did not hit the commercial heights of previous singles, it remained a favourite among fans. PET SHOP BOYS parted ways with Watkins when Tennant and Lowe opted not to renew his contract.
The third album 'Introspective' in 1988 featured a different approach with six extended length songs in the same manner as their 1986 remix collection 'Disco'. At the time of its release, four of the six tracks had already been available including 'I'm Not Scared' which had been written and produced for Patsy Kensit's EIGHTH WONDER. But of the two previously unheard numbers, the most striking was 'Left To My Own Devices'.
Taking in acid house influences, 'Left To My Own Devices' was co-produced by Trevor Horn who coined the phrase "Che Guevara and Debussy to a disco beat" as a way of conceptualising what PET SHOP BOYS were all about. Incorporating a dramatic string arrangement by Richard Niles and the opera stylings of soprano Sally Bradshaw, it had been intended to programme the synthesizers and record the orchestra in one day… six months later the track was finished!
Despite their initial refusal to play gigs, PET SHOP BOYS embarked on their first tour in the summer of 1989, opening in Hong Kong. Although the show featured striking visuals directed by Derek Jarman, choreography by Geron 'Casper' Canidate and tightly sequenced electronic backing rather using a conventional live band, Tennant and Lowe felt they could take theatrical anti-rock live presentations further.
Decamping to Munich to work with Harold Faltermeyer, a former Giorgio Moroder apprentice who had his own soundtrack hits with 'Axel F' and 'Top Gun Anthem', their fourth album 'Behaviour' in 1990 presented a more reflective demeanour, despite the throbbing lead single 'So Hard' about an unfaithful couple catching each other out.
With the fall of The Iron Curtain in Eastern Europe, the beautiful soulful groove of 'My October Symphony' looked at the viewpoint of a Soviet composer questioning whether to opt for revolution or revelation in their upcoming work. Meanwhile, inspired musically by Bobby Brown but inspired lyrically by BROS, 'How Can You Expect to Be Taken Seriously' took a dig at the pomposity and arrogance of pop stars in their mission for validitation.
Inspired by a quotation on a Zelda Fitzgerald party invitation, 'Being Boring' remains one of PET SHOP BOYS most complete songs ever, reflecting on the aspirations of youth, the inevitable passage of time and the mourning of dear departed friends. Although it wasn't a huge hit as a single, Chris Lowe later remarked "It just shows that chart positions aren't the be all and end all".
Rumoured to have been written as a James Bond theme, 'This Must Be The Place I've Waited Years To Leave' expressed Tennant's dislike of school while written in 1982, the impassioned orchestrated closer 'Jealousy' recalled a friend of Tennant who had been unhappy about his developing friendship with Chris Lowe.
With 1991's 'Performance' world tour, PET SHOP BOYS took theatrical to the next level and changed the whole concept of concert presentation by effectively removing from the stage, that one consistent element in the history of rock 'n' roll… the live musician! Chris Lowe kept his keyboard playing to a minimum, preferring to be part of the dance troupe and even busted his own disco moves while in a pair of boxers shorts during 'We All Feel Better In The Dark'.
In support of the tour and continuing their penchant for eyebrow raising cover versions, PET SHOP BOYS' HI-NRG reinvention of 'Where The Streets Have No Name' was a cheeky send-up of U2 in an attack on rock pomposity. The cause was aided by an amusing segway into 'Can't Take My Eyes Off Of You', a Frankie Valli song made famous by Andy Williams but also covered by acts as diverse as BOYS TOWN GANG and MUSE.
Originally to be named after the 'Actually' track 'Hit Music' until artwork concepts showed that the typography could be misread as "PET SHOP BOYS Shit Music", the duo's career to date was documented on 1991's 'Discography'. Gathering all of their singles in their correct versions, the faultless collection earned the right to be called one of the best greatest hits records ever.
Preferring to "dance to disco" because they "don't like rock", 1993's 'Very' was the antithesis of the downbeat demeanour of 'Behaviour' as their most up pop statement to date, something that had been signalled on the defiantly optimistic 'Was It Worth It?', the closing track from 'Discography'.
With 'Very' came a range of looks projecting a post-modern artifice detached from the real world. Tired of their classic naturalistic personas, the geometric digitised imagery was also a reaction to the unkempt authenticity of baggy and grunge that was rife at the time. A cyberspatial computer-generated video accompanying 'Liberation' shown in IMAX theatres took things to another out-of-this-world dimension.
In this freer mood, Tennant also sang of being naked in 'I Wouldn't Normally Do This Kind Of Thing' and 'Dreaming Of The Queen', but weightier social commentary loomed on 'The Theatre' which discussed the plight of the homeless as a legacy of massed council house sales under Thatcherism.
Then there was the speedy techno madness of 'Yesterday When I Was Mad' with its collection of tour anecdotes and back-handed aftershow comments such as "You have a certain quality, which really is unique – expressionless, such irony, although your voice is weak – it doesn't really matter 'cos the music is so loud – of course it's all on tape, but no one will find out!"
Included as its closer, the utopian 'Go West' had been due to be released in Christmas 1992 as a single, but PET SHOP BOYS bottled it when it was pointed out a VILLAGE PEOPLE cover would look like the duo were aping ERASURE's 'Abba-esque'.
'Go West' was based on Pachebel's 'Canon' and its elegiac quality was particularly poignant with AIDS still very much in the news at the time. The 'South Pacific' male choir styled key change and a middle eight added by Tennant gave the song a resonance that was never apparent in the original. Only Will Smith as 'The Fresh Prince Of Bel-Air' prevented them from netting a fifth No1.
It would be fair to say that 'Very' is often seen as the end of PET SHOP BOYS' imperial phase. While 1996's 'Bilingual' presented an interesting diversion on 'Se A Vida É (That's The Way Life Is)' and 'Single' with the women's drumming ensemble SHEBOOM providing the propulsion, 'A Red Letter Day' was a not entirely successful attempt to recreate 'Go West' while two tracks with the Brooklyn-born club DJ Danny Tenaglia fell short of expectations.
Already getting signs that 'Bilingual' was not selling as well as previous albums, Tennant and Lowe wrote the B-side 'The Calm Before The Storm' in anticipation of their first week chart position as "round the bend" was "a rocky lane"; 'Bilingual' entered at No4 which was a comparative disappointment after 'Very' had gone straight into the top spot.
1999's 'Nightlife' featured collaborations with Rollo from FAITHLESS, noted orchestrator Craig Armstrong and Kylie Minogue on the duet 'In Denial' but it included their least convincing single to date in the David Morales produced 'New York City Boy' which continued the VILLAGE PEOPLE obsession and was by now was wearing thin.
With pun totally intended, 2001's 'Release' was marred by the input of THE SMITHS' famed guitarist Johnny Marr as PET SHOP BOYS attempted a collection of strummed understated songs such as the camp OASIS of 'I Get Along'. Although 'The Night I Fell In Love' with an amusing story about EMINEM having a gay fling with a fan and the uptempo 'The Samurai In Autumn' were listenable highlights, the album's mostly plodding six-string led numbers were devoid of the mastery that made PET SHOP BOYS great; Tennant and Lowe were wearing someone else's clothes and they didn't fit.
On paper, the 2006 Trevor Horn helmed 'Fundamental' should have ensured that PET SHOP BOYS were "back-back-BACK!" with a vengeance but other than the political satire 'I'm With Stupid' and the opening electro brilliance of 'Psychological', overall the album was below par with the Diane Warren-composed 'Numb' being a particular low point.
A renaissance did not come to fruition until 2009 with the XENOMANIA produced long player 'Yes' being a return to form of sorts as a spiritual follow-up to 'Very'. 'All Over The World' lifted from Tchaikovsky's 'Nutcracker Suite' for some stately pomp and circumstance while 'Pandemonium' was a rousing interpretation of the 'Dr Who Theme'. 'More Than A Dream' presented a big pop chorus that was very now and Xen, but the highlights were again the more melancholy moments.
'The Way It Used To Be' offered continental wistfulness à la 'Voyage Voyage' with its simple rhythmic pulse, but the best moment came with the 'Yes Etc' bonus track 'This Used To Be The Future', a dream trioet featuring Tennant, Lowe and Phil Oakey of THE HUMAN LEAGUE grunting in his distinctive disappointed tone that things didn't quite turn out how Raymond Baxter predicted on 'Tomorrow's World'!
The rejuvenated profile netted PET SHOP BOYS an 'Outstanding Contribution to Music Award' at the BRIT Awards, although they snatched defeat from the jaws of victory with their least satisfying album to date in 'Elysium'. While the amusing irony of 'Your Early Stuff' and 'Ego Music' provoked a laugh, there was laughter for perhaps the wrong reasons on 'Hold On' which sounded like it was written for Disney! However, with LOVE UNLIMITED ORCHESTRA styled backing and bouncy Latin percussion, 'Requiem in Denim & Leopardskin' was the album's standout and showed PET SHOP BOYS still had the ability to knock out a good tune.
With an appearance at the 2012 London Olympics Closing Ceremony alongside Ray Davies to affirm that PET SHOP BOYS were now a quintessentially English part of popular culture as much as THE KINKS, the elder statesmen of danceable synthpop had a rethink and presented their Stuart Price trilogy. After an album about being old, it was time again for PET SHOP BOYS electronically. With echoes of 'Introspective' and the 'Very' bonus album 'Relentless', 'Electric' was in Tennant's words "pretty banging" with some lengthier song constituents. 'Axis' took a risk by being virtually instrumental while 'Bolshy' exhibited the dog's Balearics.
Best of all was 'Fluorescent', a powerful dancefloor makeover of VISAGE's 'Fade To Grey' attacked by synth sirens like a Martian invasion. There were songs too as 'Thursday' captured the vibrant excitement of the new Friday aided by Fulham rapper Example while the exhilarating club friendly 'Vocal' noted "I like the singer, he's lonely and strange – every track has a vocal… and that makes a change".
A natural progression of 'Electric', 2016's 'Super' album was more song-based and despite their age, PET SHOP BOYS still wanted to be 'The Pop Kids' and 'Twenty-something' ones at that. However, 'The Dictator Decides' returned to the subject of world politics with an amusing surreal narrative of a tyrannical politician bored of his outright power and seeking a normal life.
2020 saw PET SHOP BOYS enter Hansa Studios in Berlin to record their fourteenth album 'Hotspot' for the final volume of the Stuart Price trilogy. The immediately appealing 'Dreamland' featuring YEARS & YEARS crossed generations and still plugged into the classic PSB sound while 'Monkey Business' got the glitterball funk while encompassing the sparkle of TOM TOM CLUB. Best of all, the astute intelligence of Neil Tennant and Chris Lowe saw Medieval folk mythology referenced for 'Will-O-The-Wisp', a fabulous electro-disco tune with catchy hooks and a dry monologue.
Having carried on the mantle of SOFT CELL to prove that there indeed was mileage in the concept that Marc Almond and Dave Ball had pioneered, 2022 saw it all came full circle for Neil Tenant and Chris Lowe in the 'Purple Zone'; Tennant had said to 'Smash Hits' in 1986: "I see the PET SHOP BOYS as one of the last surviving synth duos like SOFT CELL".
PET SHOP BOYS' collaborations and remixes are another story entirely but they have been very much part of the duo's remit, including artists as diverse as Liza Minelli, Boy George, David Bowie, Tina Turner, Yoko Ono, Pete Burns, Robbie Williams, Lady Gaga and Jean-Michel Jarre over the years. Their versatility has also seen projects such as running their own Spaghetti Records which boasted a hit single 'Love is Everywhere' for their protégé David Cicero to composing scores for the silent film 'Battleship Potemkin', 'The Most Incredible Thing' ballet and most notably, a West End musical entitled 'Closer To Heaven'.
PET SHOP BOYS set themselves apart and never bothered themselves with fitting in or belonging. They persisted with synthesizers when everyone else thought they were passé, they embraced the divas of the past when the industry told them they were mad to do so and said they were "pop" while the establishment considered it a dirty word.
But PET SHOP BOYS have jumped on bandwagons too; "When we started off we really did think we were going to create our own world that might reference other things" said Neil Tennant to The Guardian's Alexis Petridis in 2020 while also joking that "the acoustic guitar should be banned, actually". As a result, their back catalogue has featured diversions into rock, indie, folk, theatre, drum 'n' bass, jazz and breakbeat with varying degrees of success although thankfully, PET SHOP BOYS have avoided the dreaded dubstep!
As the most successful British synthpop duo of all time, from 'Please' to 'Hotspot', Messrs Tennant and Lowe have maintained their position as exemplary English songsmiths; as MY ROBOT FRIEND once articulated by way of a musical tribute, "I feel you touch me and it's 1984, I know what you will say before you start in my heart, we're the PET SHOP BOYS…"
---
PET SHOP BOYS 2022 'Dreamworld – The Greatest Hits Live' UK tour includes: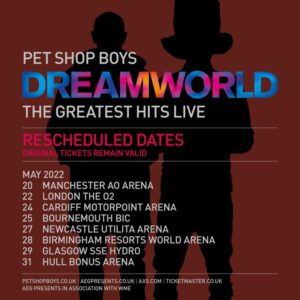 Manchester Arena (20th May), London O2 Arena (22nd May), Cardiff Motorpoint Arena (24th May), Bournemouth BIC Arena (25th May), Newcastle Utilita Arena (27th May), Birmingham Resorts World Arena (28th May), Glasgow SSE Hydro (29th May), Hull Bonus Arena (31st May)
https://www.facebook.com/petshopboys/
https://twitter.com/petshopboys
https://www.instagram.com/petshopboys/
---
Text by Chi Ming Lai
Photo by Eric Watson
16th April 2022