Secrets of a Rich, Fat, Gay, Lucky Bastard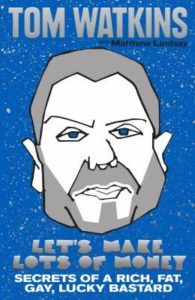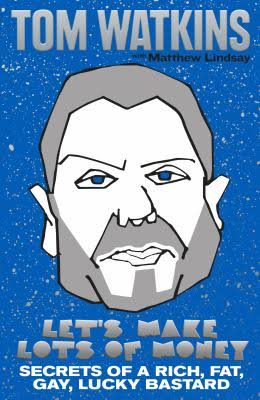 "I told a TV Crew it was 'an absolute fallacy that we tell people what to wear and do'. Guess what? I lied. That was exactly what we did.": TOM WATKINS
'Let's Make Lots of Money: Secrets of a Rich, Fat, Gay, Lucky Bastard' is the frank autobiography of Tom Watkins, the Pop Svengali best known for managing PET SHOP BOYS, BROS and EAST 17.
Co-written with Matthew Lindsay, the title is provocative. But then, Watkins has always been that kind of a personality. Called "A big man with a loud voice" by Neil Tennant, his high profile as a manager came with a bolshy ability to extract favourable deals, whether it was for his various charges or himself; it is rumoured that Watkins took 20% commission on gross income from PET SHOP BOYS and BROS.
With his earlier success founding the design agency XL, it could be argued that Watkins helped shaped an era in modern pop. Watkins first met the future PET SHOP BOYS vocalist at Marvel Comics, before Tennant moved on to become Deputy Editor of pop rag 'Smash Hits' in 1982.
In the book, he recalls gleefully about hearing how Tennant got into an argument with then-NME journalist Paul Morley at the launch party of Dave Rimmer's book 'Like Punk Never Happened: Culture Club and the New Pop', and settled the dispute by kicking the belligerent scribe in the shins!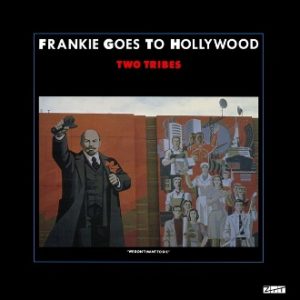 Watkins was to cross paths himself with Morley. Having spent his younger years as a design student, later working under Terence Conran and Rodney Fitch, he eventually established XL.
Their artwork adorned the sleeves of KIM WILDE, OMD, NIK KERSHAW, WHAM! and most famously Zang Tuum Tumb (ZTT), the label founded by Paul Morley, Trevor Horn and Jill Sinclair with which THE ART OF NOISE and FRANKIE GOES TO HOLLYWOOD shot to stardom. XL were later to employ a junior designer named Mark Farrow.
Of his relationship with ZTT, Watkins says Trevor Horn was "an adorable space cadet" while Paul Morley was patronising, rude and miserable. Back in 1983, there was no Google so eager to learn, Watkins asked what Zang Tuum Tumb actually meant; Morley's sneering answer was "It's the sound the snare drum makes" before sniggering at him. So when Watkins eventually found out about its origins with the Italian Futurists, he felt humiliated, with the assertion that "Only a real prick ridicules someone for asking a question…" – Watkins had the last laugh though when Sinclair and Horn commissioned him to design the interior of Sarm West Studios.
In hindsight, the two brash characters were unlikely to have ever got on and Watkins concedes now "Maybe Zang Tuum Tumb was supposed to be like the sound of a drum machine as well. Maybe I was just being a big, pretty diva…" – but the strange thing is today, even with Google to hand, there are still music journalists who can't tell their tape recorders from their drum machines.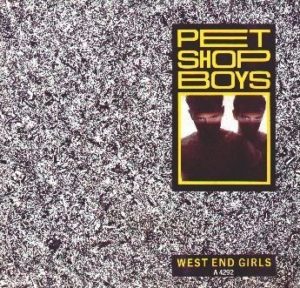 It was under the XL umbrella that Watkins began his professional relationship with PET SHOP BOYS, designing the sleeve of the original Bobby Orlando produced version of 'West End Girls' released by Epic Records in 1984.
But after it flopped and PET SHOP BOYS were dropped, Tennant asked Watkins to manage them, impressed by his FRANKIE GOES TO HOLLYWOOD associations. Watkins loved 'West End Girls' and in particular, a sweeping piece of grandeur entitled 'Jealously' which Tennant had written in response to a friend who had resented the time he was spending with musical partner Chris Lowe.
Watkins happily accepted, safe in the knowledge that WHAM! and JAPAN manager Simon Napier-Bell had already declined to listen to a demo tape Tennant had given him containing 'Opportunities (Let's Make Lots Of Money)', 'West End Girls' and 'It's A Sin'.
One of Watkins' best lines in the book is "you can't make chicken soup out of chicken sh*t" and he was well aware that a unique selling point was vital to an act's success. Reflecting one of the issues that could be applied to today's UK electronic music scene, EMI A&R man Dave Ambrose told Watkins of GIGGLES, his previous foray into band management: "There isn't anything wrong with them. But there's not a lot right with them either".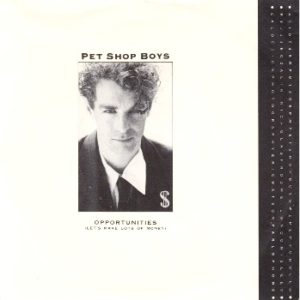 Despite having some killer songs, Watkins now had the dilemma of how to sell PET SHOP BOYS visually. The first PSB gigs in 1984 at Brixton Fridge and in Luxembourg saw Tennant trying to do his best Bowie impression, while Lowe gyrated and pelvic thrusted his keyboard; neither were particularly comfortable with their actions.
Meanwhile as the "mean (if hardly lean) bullsh*t machine", Watkins went back to Dave Ambrose with 'West End Girls' as the perfect show reel. The man who had signed SEX PISTOLS, DURAN DURAN and TALK TALK to EMI welcomed PET SHOP BOYS into the empire.
Tennant departed 'Smash Hits' and at his leaving party, his colleagues presented him with a mocked-up front cover which read: "HOW I LEFT BRITAIN'S BRIGHTEST MAGAZINE TO FORM MY TRAGIC POP GROUP, WENT DOWN THE DUMPER AND ASKED FOR MY JOB BACK" – little did they know that Tennant would grace their front cover within nine months!
Watkins' attempts to get PET SHOP BOYS to "sex it up" fell on deaf ears though. Tennant and Lowe wanted to be enigmatic; they exuded a Northern contrariness that was the antithesis of DURAN DURAN, SPANDAU BALLET and WHAM! Still not entirely convinced, Watkins recalls the horror of seeing their first 'Top Of The Pops' appearance in late 1985: "They don't do anything. How are people going to go for this?" – but go for it they did!
Despite realising he had a phenomenon on his hands, Watkins did exert his management veto on a few occasions, notably when the duo had the rather pretentious idea of issuing a manifesto called 'Two In A Million' to the UK press in Italian! His defensive response in these situations was to become his catchphrase "What would Edna in Huddersfield think?"; but quite what Edna made of the 1988 art movie turkey that was 'It Couldn't Happen Here' is debatable.
PET SHOP BOYS' dialectic of "east / west. Posh / rough. Irony / sincerity. Pop / anti-pop" led to what Tennant himself would later call their imperial phase, which included four UK chart topping singles and a US No1 in 'West End Girls'. But despite their seemingly unstoppable success, Watkins' assessment is that 'Domino Dancing' with its AIDS narrative and sexually ambiguous promo video was what stalled Tennant and Lowe's Stateside momentum.
Just one listen to the 'Discography'
singles collection is a timely reminder of what PET SHOP BOYS achieved under Watkins' stewardship. But his contract was not renewed and while he states in the book he was gutted at the time, Watkins admits that he has missed working with Tennant and Lowe, even though in his words: "Unlike Neil Tennant, I could mould Matt Goss and his brother with complete control".
And so it was that Watkins continued on, looking after ELECTRIBE 101 whose high point was supporting DEPECHE MODE on the 'Violator' tour. Fronted by Billie Ray Martin, they split due to good old-fashioned musical differences, but Watkins found success masterminding the careers of BROS and EAST 17, before eventually both acts imploded too.
Misguided self-delusions of talent plagued the former, particularly as Watkins co-wrote all of the BROS hits with producer Nicky Graham under the pseudonym of The Brothers. Indeed, the episode was amusingly documented by PET SHOP BOYS on 'How Can You Expect To Be Taken Seriously?'.
Meanwhile the low brain cell count of Brian Harvey sealed the fate of EAST 17. Some have considered band management to be akin to looking after children and whatever one's feelings on Watkins, he certainly earned his commission dealing with these Primadonnas.
Undeterred, Watkins persevered with FAITH, HOPE & CHARITY, 2WO THIRD3, NORTH & SOUTH, DEUCE, THE MODERN and even an animated character named KULKARNI who couldn't answer him back! However, while these acts were not themselves successful, they did spawn TV presenter Dani Behr, songwriter Richard 'Biff' Stannard and retro flavoured electro artist KID KASIO, so he must have spotted something…
But the pop world was changing and now occupied by reality TV talent shows (Watkins amusingly describes 'The X Factor' as like "a Nuremberg Rally on pink drugs"!), bland indie rock and brainless dance music, Watkins' loud and proud approach no longer had a home. For him, that was it as far as the music business was concerned.
While not for everyone, 'Let's Make Lots of Money: Secrets of a Rich, Fat, Gay, Lucky Bastard' is an amusing and entertaining account of an excessive, yet innovative period when mavericks were embraced and the bland were shunned. In today's world, the opposite is true.
The music industry is not what it was and while Watkins is a polarising character whose career path has been seemingly driven by a combination of shouting, artistic nous, lust and low self-esteem, he has certainly achieved much more than most.
---
'Let's Make Lots of Money: Secrets of a Rich, Fat, Gay, Lucky Bastard'
is published on 7th July 2016 in hardback by Virgin Books
https://www.penguin.co.uk/books/1096752/let-s-make-lots-of-money/
---
Text by Chi Ming Lai
2nd July 2016, updated 19th January 2017