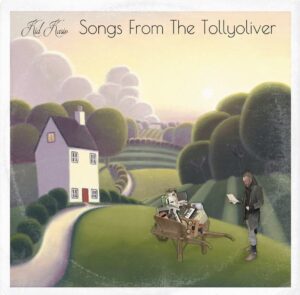 'Songs From The Tollyoliver' is the recently issued third album from KID KASIO.
It comes after a period of uncertainty for mainman Nathan Cooper, once of THE MODERN. This experience has resulted in some of his most introspective work yet as KID KASIO but it hasn't all been doom and gloom.
He married his long time sweetheart and despite the possibility of the impressive Fiction Studios complex he co-founded with his brother Dominic closing at one point, he has remained resilient and maintains his enthusiastic pop heart.
Nathan Cooper spoke to ELECTRICITYCLUB.CO.UK about the long gestation period for 'Songs From The Tollyoliver' as well as what the future holds for KID KASIO and Fiction Studios…
From its title to its artwork, 'Songs From The Tollyoliver' indicates your third album is a mature work, so is this like your Howard Jones 'One To One'?
I'm not sure it's purposefully more mature, I certainly didn't set out to do that. Like my other albums, the gestation period has been ridiculously drawn out. Most of the writing was done between 2016 and 2018, and I originally intended to release it in 2019 but then a load of stuff happened and so then I decided I'd release it in 2020, and we all know what happened then!
I had around 20 songs to choose between, and it seems the more introspective tracks stood the test of time better, while some of the poppier stuff fell by the wayside. There are a couple of more lightweight pop numbers on there still, but the moodier stuff has outnumbered the rest. I think we've all been living in fairly dark times over the past year or so, and maybe people gravitate towards that stuff, and can relate to darker music more at the moment. Around 5 of the songs were originally written for a film which was quite dark in its content, so I think that may have skewed the album in that direction too.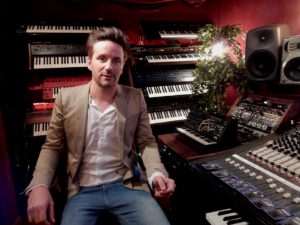 You've got the luxury of running your fully equipped Fiction Studios in London and being able to record during its downtown, but what's the reality versus fantasy?
It's nice you call it a luxury! The reality is, that while I now have my dream job, it's definitely taken its toll on the time I have to do my own stuff. In fact I'd go so far as to say, had a worldwide pandemic not happened, I may never have found the time to finish this album at all!
The great thing about running Fiction Studios is it gives me the opportunity to work with some fantastic new up-and-coming artists, as well as getting the chance to meet some of my idols! Dave Ball from SOFT CELL was in last year, as was Gary Kemp of SPANDAU BALLET.
Working alongside such a variety of artists and producing such a wide range of genres has really opened my horizons, and I think that comes through a bit more on this album. My heart will always be with synthpop though of course! It's a continuous mystery to me that I don't get more synthpop and electronic artists to use the space, what with our incredible collection of analogue synths.
Of course, you've had the trauma and anxiety of having to uproot Fiction Studios to a new location and then the Covid crisis hitting?
We were told in October 2019 that the landlords wanted to kick us out of our original studio to make room for a gym (I'm sure that's gone really well for them!) and I honestly thought about giving up. The task just seemed so daunting. The removal and re-building of the entire live area of the space, including a staircase and 6000 books, not to mention the costs involved with soundproofing a new venue and the hassle of rewiring and fitting out a state of the art recording studio. It just seemed like an insurmountable proposition. Thank god we eventually found an amazing new location in what I have to say is one of the most incredible streets in London. We moved in on 1st March 2020 and then about 3 days later a certain virus took hold!!
The one upside was that during the first lockdown, I had time to get the space soundproofed and built exactly how I wanted it, but nothing could have prepared me for the shock that came when we finally opened the doors in June… and no one came!! It was very tough indeed.
Luckily as the year went on things picked up and the kind of work began to change. We've had a massive upsurge in bands that haven't been able to gig for a whole year, coming in and doing filmed live sessions so that's been really fun. I even managed to get round to doing my own KID KASIO session the other week which was a great chance to showcase some of the new material.
The opening song 'East Of Eden' seems to capture a more introspective mood and it seems something was bothering you?
On first listen, the song appears to be written from the perspective of someone in a relationship that's not working. The protagonist is being hounded by an ex who is showing up at his gigs and causing problems. I think however that it can also be taken less literally. The line "Your name's not down for a reason, your name's not down on the door" could be applied to mean a situation where someone is having to push someone away. A friend was in a destructive relationship at the time and the lyrics reflect that kind of situation where someone needs to cut ties with someone because the relationship has become toxic.
I'm happy to report it wasn't specifically about me! Certainly not at the time I wrote it anyway! I don't know where the line "you sold my heart East Of Eden" came from, but as soon as it popped into my head, it seemed apparent it was the most important line in the song. In many ways it dictated a direction for much of the rest of the album. I was listening to the 'Songs from the Big Chair' album by TEARS FOR FEARS a bit and wanted to recreate that grand expansive sound.
There is more uptempo pop in 'The Everlasting Flame' but the approach here is different from your earlier uptempo material, yes there's the exotic electronically derived colours but there is live bass, sax, piano and more prominent guitar?
I have actually used live bass before. I've always loved the mix of live bass and synth bass. Nothing works better than some DX7 bass doubled up with the low end of the Roland SH101 and then some live bass slaps and tops thrown in for excitement. Piano definitely isn't my normal go to sound for keyboards but I'd been listening to the Nile Rogers produced 'Why' by Carly Simon when I was writing that, and there's some incredible use of piano in that song.
The sax line was originally performed on the DX7 Sitar patch (The same as used on Moroder and Limahl's 'Never Ending Story') but weirdly when I began to mix it, it kind of sounded a bit like a sax line! So I stuck a sax over the top of it, playing the same part and it seemed to work better.
There's a great guitar solo in the song performed by my friend Benjamin Todd. The inspiration for that actually came from the guitar solo in 'Together In Electric Dreams'! Which I think may even be a synth guitar?? I'm not entirely sure. But I do love a good guitar solo!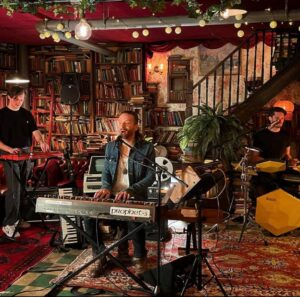 Talking of sax, you have always loved an interpolation and on 'Vagabonds Theme', you've borrowed a section from DIRE STRAITS 'Your Latest Trick' off the 'Brothers In Arms' album and sing of "the sound of the saxophone"…
I've always loved 'Your Latest Trick'. It's just such a great sax riff. There was an emergence of a new genre during 2017-18 called Tropical House, which used lots of great plucky synth sounds and was essentially music made for lying on a beach and sipping a cocktail! I wanted to do something in that style and I just thought that sax line would work so well.
Someone has since said to me the song sounds like the musical equivalent of an Edward Hopper painting, which I really like! It started as something that was supposed to be a summery Balearic type thing and ended up being the story of an alcoholic down and out!
My favourite line is "The band in the corner is counting in as a figure steps up to the stage", which has strains of another Knopfler classic 'The Sultans Of Swing'. Except in my song there's definitely some dry ice on the stage that the saxophonist appears through, which I'm sure didn't happen on that rainy night in 1978 when Knopfler walked into the White Swan in Deptford and heard "a band playing Dixie double four time".
The weird thing about this song was that a few months after I wrote it, I was tidying up in the studio, and a book fell off the shelf and landed in front of me, and it was called 'The Vagabonds Story'!! I swore I had never ever seen this book before! I must've somehow taken the title in on a subconscious level… Who knows!
With all those synths at Fiction Studios, were you not tempted to go even more electronic like OMD did on 'The Punishment Of Luxury'. Which ones did you end up using in the end?
It is always my intention to write a completely electronic album but I get bored easily! I feel like I covered that ground during my time in THE MODERN. I'm actually much more interested now in replicating the period in music in the mid-to-late 80s and early 90s where music was being made entirely on synthesisers but didn't specifically sound like it was. You had synthesizers like the DX7 and the Roland D-50 making what at the time people thought were great representations of real instruments but in retrospect sound nothing like the instruments they were trying to recreate. They're certainly of the time and sound great now.
I have a Prophet 5 (rev. 2 for the purist geeks!), a Juno 60, Roland SH101, Crumar Performer, Prophet T8, Oberheim OBXa, Korg DS8 and Yamaha DX7 all are used extensively all over the album, and a Roland Boutique D-05 for those D50 sounds. I think the SH101 is there doing the bass in practically every song. Same for strings and the Crumar Performer. The SH101 is on loan from the very kind Chris Smith from MANHATTAN CLIQUE and the T8 and Oberheim from the lovely Ian Merrylees.
There's a simple but effective synth solo on 'Tell Me Why'?
It's a sound on the Korg DS8 which is not a synth I use an awful lot. I recognised the sound from a James Ingram/Michael McDonald track, 'Yah Mo Be There' perhaps? The song was co-written with an artist called JUNO CRISIS who I co-wrote 3 songs on the album with. Like many collabs these days we've never actually met! He lives in France and contacted me with some MIDI files. I really understood his reference points and when I listened to his arrangements, I really got a spark of inspiration for songs.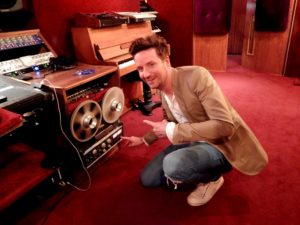 Anyone who knows your previous work might be surprised by the ballad 'Moved On', it's almost Moby-like and there are even some esoteric shades of Brian Eno?
Like a couple of songs on the album, this song started life as a pitch for a film that my brother was in called 'Miss You Already'. The pitch was that we came up with something that sounded a bit like Moby. It's kind of about growing up and moving on and losing touch with people.
It was absolutely not going to be on the album until the very last minute, I'd compiled about 20 songs and was asking a few friends what ones they thought should go on the album and my good friend William Robertson who plays keys for me suggested that one. I was gobsmacked at first, because no one had ever paid that song any attention. But weirdly, it seems this is the song that everyone hearing the album is mentioning. I feel like burying it at the end of side one was maybe not the best idea!
It definitely uses a few musical ideas I wouldn't normally entertain. A very 90s almost breakbeat drum pattern that reminds me of both Moby and Bruce Springsteen's 'Streets of Philadelphia'. It also utilises a much heavier sampled type orchestral string pad sound than the thinner disco type string pads I normally use. The song's greatest asset is the fluid fretless bass line by Glenn Bridges. That makes the song for me, and the baritone guitar part by Benjamin Todd.
'Always' is one of the more dancey numbers, a bit like SAINT ETIENNE 'He's On The Phone'?
I'm a huge fan of 'He's On The Phone'. It's just a perfect record. I was massively into Euro dance in the mid-90s and living in the UK and particularly London, I felt really outcast from that scene. I felt like SAINT ETIENNE somehow created a really British take on that sound with that particular record. This song again definitely has a 90s feel. I wrote it for my wife and performed it for her for the first time on our wedding day so it means a lot to me that one.
'Holla Holla' is an interesting hybrid of styles but is still very you?
I'm glad you said that because I was nervous about putting this on the album. I was worried people would just say "what the f*ck is this?!" I mean it even has a rap on it! But I'm glad it still sounds like me. The lyrics are absolute gibberish. I was trying to capture the essence of a record called 'Turn Me On' by Kevin Lyttle which is an interesting record because it sits firmly in the genre of dancehall, but is covered in these completely insane little synth riffs played on what sound like really cheap home Casio keyboards. Yet it was a huge European hit.
I used a fairly crappy synth I've got called the Korg Poly 800 for these really cheap synth sounds. It was written when a friend Liam Hansell sent me a carnival drum pattern. It's a drum part which I would never ever have programmed myself which is great because that will always send me off in a direction I never normally go in. And that is where the best songs usually come from.
What is the solemn closing number 'Gunshot' referring to?
A few years ago I suffered a night terrors panic attack type thing. It felt like I had someone pressing down on my chest. It was pretty horrific. I think some of the lyrics deal with that incident. I tried to go much more down a Le Bon type route with the lyrics of that one, where they are much more obscure and symbolic. I can sometimes tune in to that side of my psyche quite easily and other times when I try and do it, I end up with some embarrassing 6th form poetry garbage. I don't know what the line about being in someone's room is about. It's actually quite sinister.
Which are your own favourite numbers on 'Songs From The Tollyoliver'?
It's virtually impossible for me to choose at this stage, having been so immersed in it for so long. I like the key changes in 'Everlasting Flame'. 'Seventeen' I think is an important song to me, it's kind of about growing up and being in a band as a teenager. 'Sanctuary' is probably the one I'm most proud of lyrically, and as a song it just sits together well and was written really easily.
How have the past 18 months changed your perspective on music and life in general?
I've been lucky in that I never stopped throughout the whole thing. I was driving into town throughout the first lockdown every day, building the studio and I've kept busy ever since. I think if I'd had to sit at home throughout the whole thing I would've gone completely insane!
I hope if it's taught us anything, it's that we can find a more workable solution to the daily rat race 9-to-5 thing, as people work from home and stuff. I think it's also shown us that the UK government doesn't seem to have much time for the music industry and the arts, who have really been the losers in all of this.
---
ELECTRICITYCLUB.CO.UK gives its warmest thanks to KID KASIO
'Songs From The Tollyoliver' is available as a CD or download from the usual digital outlets including https://kidkasio.bandcamp.com/album/songs-from-the-tollyoliver
https://www.facebook.com/kidkasio/
https://www.instagram.com/kidkasio/
http://www.fictionstudioslondon.com/
https://open.spotify.com/album/7c7ut1cH8SFW6YE0jxoJIX
---
Text and Interview by Chi Ming Lai
28th June 2021, 9th July 2021