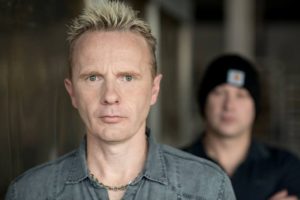 Often described in the electronica circles as "Bristol's Finest", MESH have been creating their very own kind of synthpop since 1991.
With the strong core of passionate lyricist Mark Hockings on vocals and Richard Silverthorn in charge of programming, keyboards and guitar, the duo have gone from strength to strength, to achieve cult status in Germany.
Despite being a comparative secret in the UK, Robbie Williams is a noted fan while MESH continue to gain new followers with every release, charting high in mainland Europe thanks to their gripping sound and Hockings' vocal wizardry.
Having been producing their magnificent material for over 25 years, the twosome who can "mend hearts" embark on a journey down memory lane in 2018, with MESH's second album 'The Point At Which It Falls Apart' being re-released on Dependent Records, as well as a string of live performances.
'Involved – The MESH Retrospective Tour', named after the opening track of their first album 'In This Place Forever', will take place in chosen venues in Germany and promises "singles, B-sides, rarities and more". Richard Silverthorn talked about the past, present and future of MESH.
1991… a long time ago… although your early fans had to wait till 1996 for the first long player, the five years in between were spent on making sweet creations, which were later released under the name 'Original 91-93'. Why such a set up? Maybe you just didn't think there was "time enough to"? 🙂
When we first started, we were just trying to find our way. Just writing songs and doing our best to establish some kind of sound for ourselves. In those very early days, we wrote lots of demos and ideas which probably never ended up as full songs or productions. When we eventually decided to make our first CD and release it ourselves, we started by writing new material. The 'Original 91-93'
is pretty much a collection of all those lost recordings and demos.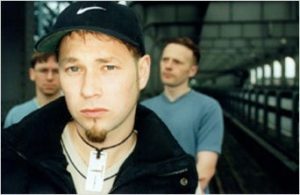 Around that time, you produced 'My Perfection'…
Yes, there are a few little gems on there 🙂
To be fair some of the songs were ok, but maybe our production skills were still in their infancy.
Did you have high expectations for 'In This Place Forever'?
I think with every release, the expectations are high. It was our first full album on a record label, Momento Materia from Sweden – I think that album got us quite a lot of press coverage at the time and made a few ripples in the scene. Tracks like Confined' are still huge favourites with fans across the world so from that point of view, it done its job.
'The Point At Which It Falls Apart' brought a plethora of magnificent tracks with even more electronics. Clearly nothing "fell apart" at that point?
For me personally, I think this is the album that had some kind of sound uniformity. We started to sound like us. We knew at this point how we wanted to sound (although limited by technology) and started to understand our audiences. We had already started touring Europe and had an idea of what was going on outside the mainstream UK charts, which was all we knew at the time.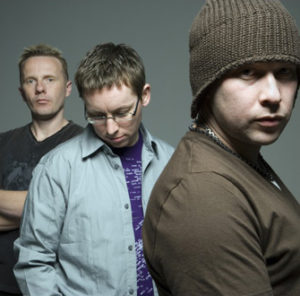 How did you decide which direction to take with your musical creations after the success of the first album?
I'm not sure we ever really had a plan. It was just 3 guys with synthesizers and different musical backgrounds and tastes trying to write songs. Our only middle ground was the fact we like electronic music.
Neil was very much into THE KLF and dance music, Mark and I was listening to similar music like YAZOO, OMD, DEPECHE MODE and the less mainstream stuff like DAF and FRONT 242 etc. It was pretty much a combination of influences with Mark reluctantly taking on the role as lead singer.
How did the collaboration with MARK 'OH come about? A handful of Brits know the man and his notable successes in German dance charts, whether on his own or in tandems with the likes of John Davies?
'Scares Me' was picked up by a dance producer Christian Cambas and he done a club / dance track with a huge sample taken from that track. I think MARK 'OH had heard of us and had heard that track. He somehow talked his record company into tracking us down and asked if Mark would like to provide vocals on one of his projects. When we were asked, we had no idea who he was or his popularity in Germany at the time.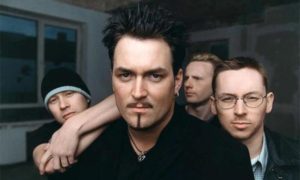 Who chose BLANCMANGE's 'Waves' as the song to cover?
It was a track that MARK 'OH wanted to do and had recorded a version of it with The London Session Orchestra. He was looking for the right person to provide the vocals. Mark was asked and it went from there.
And it came with a video too…
Yes! Haha… We were flown out to Fuerteventura where the locals had made us this makeshift raft. We were towed out to sea and filmed by a speed boat circling us. It was one of the funniest and bizarre experiences ever. I had a broken arm at the time and had the cast removed for the video. Neil couldn't actually swim so the look of terror in his eyes is real. At one point the boat broke down and we were left drifting out to sea. I'm surprised we survived 🙂
Then came 'Who Watches Over Me' with the massive 'Friends Like These', which is still a firm live favourite…
Yes, this felt like a huge turning point for us. We had just signed a major record deal with Sony Music and gave up our day jobs to embark on a full-time music career. We found ourselves in Home Studios Hamburg (formally Chateau De Pape where DEPECHE MODE's 'Songs Of Faith & Devotion' was mixed and produced) with Peter Schmidt, a former Hansa Studio engineer.
It all of a sudden felt very real and expensive. We spent 3 weeks mixing at £1500 per day. It was a very expensive album with big budgets. 'Friends Like These' and 'Leave You Nothing' came from that album and became very well played tracks across Germany. 'Leave You Nothing' ended up on many radio stations and was even played regularly on a Germany soap opera.
'We Collide' brought more crowd pleasers such as 'Open Up The Ground'. It's as if you write songs that you know will be huge live?
Who knows…? We just write at the best of our ability at the time and hope for the best.
On 'We Collide' you went the whole hog, inviting Gareth Jones, known for having worked such legends as ERASURE, DEPECHE MODE, NICK CAVE and JOHN FOXX to name a few. And it was big…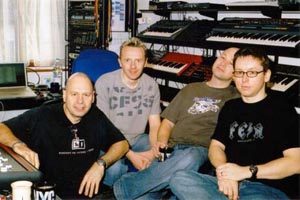 Yes, that was a strange experience. Our record company really pushed for Gareth to be involved in the production, but us as a band were a little hesitant and reluctant because of the whole DEPECHE MODE thing.
We had spent years trying to shrug off the DM comparisons, so the last thing we wanted was the guy who shaped their sound working with us. As it happened, he was a really nice guy.
He actually rocked up at our studio in Bristol armed with a MacBook and a few other outboard boxes and we spent about 10 days locked in eating Chinese food, laughing and mixing 'We Collide'
. He was a very focussed engineer and brought out a lot of what we thought were quite incidental bits of music to the foreground and made them the hooks. We learnt quite a lot.
Any favourites from that opus?
'Petrified', 'What Are You Scared Of?' and 'This Is What You Wanted' all left their mark I think. It was quite a dark album from its lyrical content, but maybe doesn't come across like that on first listen.
Around that point Neil Taylor decided to part ways with MESH. Were you very impacted by his departure?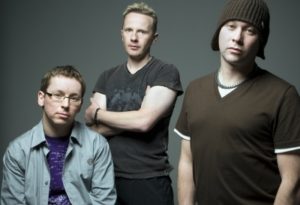 Yes definitely. Mark and I thought it was the end. I think we both thought "where do we go from here?" We had had the major record deal and done all the big studios etc, what was left? We found ourselves with no deal at the time and a band member missing. It took a few weeks of pondering before we both realised that we just enjoy writing and producing music at any level. So we dusted ourselves down and started writing again.
Olaf Wollschläger took the production reigns on 'A Perfect Solution' and the perfect working relationship was established…
I knew of Olaf from other bands and his work with them. Our new label Dependent suggested him, so we thought "yeah why not?"
We hit it off straight away. I think Olaf was really in tune with what we were trying to achieve with each album. His mixing and production skills are second to none.
How did it feel to be placed around other "legends of synthpop" for a string of US gigs, accompanying DE/VISION and IRIS?
Oh I cringe at that title… legends? It was a great experience. We travelled right across America doing a show every night. It was like starting again for us. No real roadies or tech crew, just 3 bands, a few crew members and a cowboy driving the bus. We played some really big shows and some downright awful small shows, but the whole thing was so good. It really does take experiences like that to establish you as a band. We came back with a new lease of life and a whole lot of respect of what we actually had in Europe.
'Automation Baby' came out with a bang and to many, it's the most definitive MESH album to date… 'Looking Skyward' raced up the German charts, reaching No 12 which is your highest to date. That must have felt good?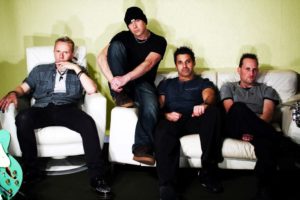 Yes indeed. We are both very proud of what we achieved with these albums.
We never in our wildest dreams expected things to take off like they did with both of these albums.
To enter into the mainstream album charts was quite an experience. To see yourselves up there in the charts with people like Adele or whoever was completely mad.
In the meantime, you enjoyed playing with a full orchestra for 'Goth Meets Klassik'…
It was an evening of a lifetime. To hear a full orchestra play something you had written was breathtaking. I remember Mark and I looking at each other in disbelief. It was a very emotional night and one I will never forget. 2000 people giving you a standing ovation was something very special.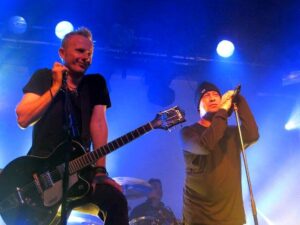 Currently you are preparing to embark onto a retrospective tour, and some B-sides and rarities are promised. Does it mean that 'My Perfection' could find its way to the set?
Who knows… watch this space 😉
Yes, the plan is to play a load of songs that we don't usually play or something that hasn't even been played before live. In the beginning, we were a little reluctant to do a tour like this when it was first suggested.
We didn't want to dwell on the past but always saw ourselves as a band that keeps pushing forward. After a bit of time to contemplate this, we thought "hey this could be ok"
We are doing new versions of the old material. Trying our best to keep the original feeling but bringing it up to date. It's a lot of work and I'm sure there will be a lot of thought going into the visuals too, so it should be fun. I know that tickets sales are going exceptionally well so…
Do you set out to perform the crowd pleasers while preparing set lists, and who makes the final decision?
Yes, it's a balancing act really. You have to throw in all the old favourites but you have to make it interesting too. There was a Facebook poll on our page recently which was surprising. Songs that we had kind of forgot about were mentioned and voted for, so we will have to see what we can do.
You also have to pace the setlist so you get a balance of different styles and tempos finishing in a big track.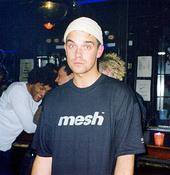 Will UK dates for 'Involved- The MESH Retrospective Tour' be added at some point?
We are still at the negotiating stages with some venues here in the UK, but I'm sure there will be something announced soon.
We are headlining the Infest Festival in Bradford on 25th August and playing The Watchet Festival in Somerset the day after. There is also talk of an interesting London show / festival soon, so we will see.
When can we expect to hear brand new MESH material?
We will start writing again very soon. Things are a little busy here with the tour prep, but as soon as that settles down we will be back in the studio.
---
ELECTRICITY CLUB.CO.UK gives its sincerest thanks to Richard Silverthorn
The remastered edition of 'The Point At Which It Falls Apart' with extras tracks will be released by Dependent Records, selected items from the MESH back catalogue are available from http://en.dependent.de/artists/mesh/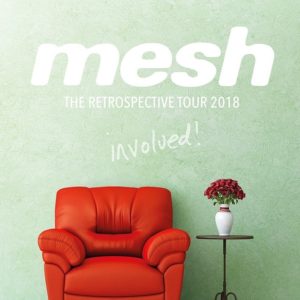 'Involved – The MESH Retrospective Tour' 2018 live dates include:
Bradford Infest Festival (25th August), Watchet Music Festival (26th August), Hamburg Mojo Club (14th September), Oberhausen Kulttempel (15th September), Erfurt HSD Gewerkschaftshaus (21st September), Berlin Columbia Theater 22nd September), Munich Backstage (25th September), Frankfurt Das Bett (27th September), Braunschweig Lokpark (28th September), Dresden Reithalle Strasse E (29th September)
MESH also perform at 'Black Celebration' as very special guests of DAF at The Forum in London on Sunday 28th October 2018, tickets available from https://www.ticketmaster.co.uk/Black-Celebration-tickets/artist/1994037
https://www.facebook.com/meshtheband/
https://twitter.com/meshwecollide
https://www.instagram.com/meshwecollide/
---
Text and Interview by Monika Izabela Trigwell
27th February 2018, updated 9th August 2018