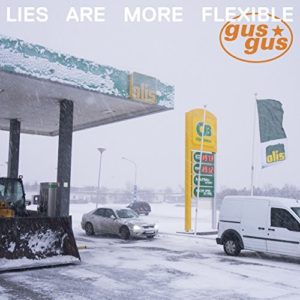 GUSGUS started within cinematography but gained international acclaim for their electronic productions.
As an eclectic troupe, with various members weaving in and out of the collective over the years, the Icelandic duo of Daniel Ágúst Haraldsson and Birgir Þórarinsson have been the only constants.
Taking their name from a mispronunciation of "cuscus" in a German film 'Ali: Fear Eats The Soul', the Reykjavik sound manipulators have always marvelled at being able to play with various styles and genres, mainly producing dance pieces spanning from Euro-disco, through ambient to house.
Whatever the description, the quality of GUSGUS' fruit has shone brightly over the last nine studio releases and number ten, 'Lies Are More Flexible' is no different.
A collection of four vocal and four instrumental tracks is as eclectic as any previous work from the talented bunch, seeing the two founding members hard at work to showcase their ever changing, yet familiar sound.
Starting with stunning synth arpeggios on 'Featherlight', bringing back the good old memories of classic ambient dance tracks, the atmosphere is set on cold and icy with occasional specks of warming hope. If they 'Don't Know How To Love' in its progressive house alignments, maybe John Grant, who Þórarinsson once produced, could help on backing vocals? The track is a desperate plea to be taught "how to love", over a stencil of found sounds and haunting synth.
But now comes the 'Fireworks', enveloping the club feel of a perfect dance track, followed by 'Lifetime', which is equally bouncy and grabs with its sweet synth punches and exquisite melody. From the word full to word none, 'No Manual' offers life affirming capabilities with an equivocal undercoat, while the title track reminisces the familiarity of vintage video games.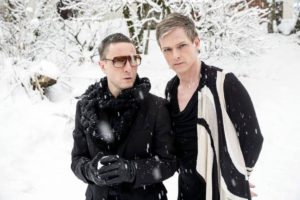 'Towards Storm' ebbs and flows endlessly, with the album closing on 'Fuel', continuing to carry the light and warmth of hope, peace and weightlessness, so consistent in GUSGUS' offerings.
It is refreshing to listen to a shorter product, where the length of the opus means no lesser amount of work and no compromise in the quality of the recordings.
Those who marvel at Haraldsson's voice will enjoy their treat, while the others lose themselves in the appreciation of the instrumental only pieces. Both match the high quality that GUSGUS have been known and loved for many years now. Maybe 'Lies Are More Flexible', but the truth is the duo are hitting new levels of brilliance with their latest offering.
---
'Lies Are More Flexible'
is released by Oroom in digital formats
https://www.facebook.com/GusGusOfficial/
https://twitter.com/GusGusOfficial
---
Text by Monika Izabela Trigwell
1st March 2018