CREEP SHOW sees a dream team collaboration between US singer-songwriter and professed synth-lover John Grant with the established experimental electro triad of Stephen Mallinder, Benge and Phil Winter, collectively known as WRANGLER.
The two parties started to develop a working relationship after the latter remixed Grant which then lead onto live dates at The Barbican and The Royal Albert Hall.
The resulting link-up has since given birth to the 'Mr Dynamite' album.
It's a meeting of minds that in the words of Mallinder is: "…a Hydra. A beast with multiple heads and voices, so no one is quite sure who is saying and doing what. Everything is permitted and everything is possible"
CREEP SHOW spoke about the gestation of the album, the impact of Benge's studio relocating to Cornwall and some of the tech involved in the making of 'Mr Dynamite'.
WRANGLER opened for John at The Royal Albert Hall, was this a calculated attempt by John to engineer a collaboration between both parties? 😉
Mal: Well, we'd already collaborated by this point as John and myself had been talking and WRANGLER had done a remix of 'Voodoo Doll' from the 'Grey Tickles, Black Pressure' album. It was around the time of the Albert Hall show that we'd been asked to work together and play at the Barbican, so the Albert Hall was just a nice cherry on the cake of us joining forces. We were very chuffed being asked to play, it was a lovely gesture by JG and all the team.
Phil: I just remember it being a very surreal evening, but we were made to feel very welcome.
Benge: I think at the time it was the biggest gig we had done – and certainly the poshest! It doesn't get much posher than the Royal Albert. We even got to meet The Queen (Kylie Minogue)!
JG: Everything I do is carefully calculated which is why I am also a real estate magnate.
With John involved, how did this change the working dynamic of WRANGLER?
Mal: I don't know if anything had to change too much as we all integrated so well; we worked in the studio with consummate ease. It was just nice to have another element, another tangent to go to, another voice – quite literally when John did vocals. But we all worked on every aspect of the tracks together, no roles were defined which is exactly how WRANGLER work anyway. It was fun though, so just a case of going from being a wonky tricycle to being a wonky car… the fourth wheel was very handy.
Phil: Yeah, nothing really changed, we just had another pair of hands (that could even play chords) and another mouth to feed !
Benge: It was good to find out that John is as up for experimenting with sounds and ideas as we all are. We deliberately don't usually have many boundaries when we work together as WRANGLER, so I guess it could have been problematic adding in another personality to the mixture, but John is so open minded and up for experimenting that it felt really natural.
JG: It's always the perverts who are up for "experimenting" – I'm calling my solicitor!
Were they any prior decisions on the direction for the album or did things evolve organically?
Mal: Well the three of us did some preliminary sketches, as John was on tour, but they were very broad ideas that quickly changed when we got together. Plus John had already sketched out the ideas for 'Mr Dynamite'. After that, it was just all hands on deck but there was no prior discussion about what it should sound like … apart from f*cking great.
Phil: Even if there were, they disappeared very quickly once we realised we were heading in roughly the same direction .
Benge: Before we started, I was asking myself, how is this going to work vocally as Mal and John are stylistically polar opposites – there was a lot of room for it to go horribly wrong! But the interesting thing was that the addition of John's new dynamic, lyrically, vocally and musically mutated what we do as WRANGLER into something completely new and unique. Originally we weren't going to have a new band name, we would have been called "Wrangler featuring John Grant" or "John Grant featuring Wrangler". But we felt we had created something that had its own strong personality
JG: I felt it was very organic and soon we had settled into a comfortable atmosphere of resentment, competitive pettiness and sardonic laughter.
How did the songwriting process work on 'Mr. Dynamite'?
Mal: We were backstage after his show at the De La Warr Pavilion and John played me the ideas of rhythms for 'Mr. Dynamite' that he'd done. We took it all into the studio and then began working on it.
Phil: Do you mean the track, or the album as a whole? Either way it was pretty much the same, get a load of sequences, a beat , and then play and sing over the top .
Benge: And then shove it all through a pitch shifter and flanger.
JG: For my part, Benge and I sampled every single word into an old Akai sampler from the 80s and then played them at different pitches on a keyboard.
Whose idea was the big girlie backing vocals on 'Endangered Species'?
Mal: I'll let JG answer that one, but suffice to say we were all happy with it. John and I sat in the studio with the girls and let them rip through it. It was great as they all loved the tracks… when we got to sing on 'Modern Parenting', they made the right connections to George Clinton and FUNKADELIC so we knew it was going to work.
Phil: John's… great call, we'd never do anything like that, love it!
Benge: I think originally John had put some backing vocal parts in at the end of that one, then he casually said "why don't I get Culture Club's original backing vocalists to redo them?" – when we realised he wasn't joking, it was a no brainer.
JG: I don't mind taking credit for this one. Mary Pearce, Maria Q and Zee Asher have worked with CULTURE CLUB for yonks and I just wanted an excuse to be in the same room with them again as they have toured with me and they are fantastic as you can hear.
Alongside the obvious CABARET VOLTAIRE influence, much of the synth bass on 'Mr Dynamite' is reminiscent of classic electro like 'Bassline' by MANTRONIX, how much of an influence is era this on your work?
Mal: That period is so important to us all. Technology-wise Benge's studio is massively invested in that sound and we all love that period as it represents a very dynamic collaboration between machines and people. The whole idea of drum machines, synths and basslines all talking to each other in a very live way. We all grew up with that sound, and on opposite sides of the Atlantic, so it is an important way for all four of us to connect. Phil and I have been friends, and worked together, for years and the whole electro period is our provenance – put on an Oberheim DMX drum machine and Juno bassline and we turn to liquid.
Phil: I guess if we have a default setting it's that sound, but I'd like to think there are wider aspects to our sound.
Benge: Yes, but when you walk round the studio and you are confronted by a corner of the room that has a DMX, a Roland SH101, Oberheim 4-voice and a Claptrap all connected together, it's hard not to slip into electro-mode, even just a little bit.
JG: Yeah, that's just part of my DNA, the synth basses of the 80s – the SH-101 from Roland is beyond all human understanding.
MemeTune studio and its synths has now relocated down to Cornwall, has the change of location had any effect on the music making process?
Mal: Well, it takes a little bit longer to get to, but once we're there it means we have no distractions. When MemeTune was in Hoxton, there were too many people and places to tempt us out so the working process different. But wherever it is we'll go and work – I think using 'Space 1999' as an inspiration, we need to have a MemeTune Moonbase.
Phil: Obviously, it's a very different experience to working in a studio in London. But as mentioned, it's all about the people really (and the dog).
Benge: What's nice now is when people come down here, it's a total lock-in. No-one can escape for days on end! It's a good focus. And yes, even Rothko (my dog) gets involved.
JG: I always feel completely invigorated and inspired by the beauty of Cornwall and Benge's amazing studio, so it certainly affects me. Sadly, I never saw the London MemeTune studios 🙁
John's professed love of the Roland Juno 106 is well-known, how well-used was this synth on the album?
Mal: Not at all!
Phil: I think the CS80 has taken his heart ❤
Benge: Or was it the Sequential Prophet VS?
JG: It is indeed the CS80 (the greatest synth of all time) and the Prophet VS which have stolen my heart. But the Juno 106 is still precious to me.
So were there particular go to synths on this album?
Mal: There is always 'synth of the week' – usually the one that's just come back from the Keith the Synth Cobbler – but that's always changing. There's a particular little Akai machine that's been made to work its socks off in the last few sessions.
Phil: I seem to remember the Roland SH2 and the Minimoog providing a lot of the basslines .
Benge: As always at MemeTune, there's a lot of interplay between all the instruments. Keyboards, drum machines, effects units, analog sequencers, modular systems all get connected together in millions of ways. It's impossible to keep track of it all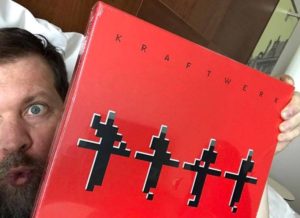 'Fall' in places is akin to a lost 'Autobahn' era KRAFTWERK track, do you think electronic artists will ever stop paying homage to the German meisters?
Mal: Who? Never heard of them!
Phil: Why would you?
Benge: I've heard of an English band called Craftwork
JG: My mother did a lot of craft work as well and there were latch hook rugs all over the place. But to answer your question: I hope not.
'Safe & Sound' is a wonderful mix of old-school crooner vocals and analogue electronics and is ELECTRICITYCLUB.CO.UK's favourite track on 'Mr Dynamite', can you each select a favourite from the album and why?
Mal: 'Endangered Species'
Phil: Impossible, sorry!
Benge: I like the way 'Fall' turned out – I think it's got a simplicity and beauty and groove that I'm into at the moment
JG: 'Endangered Species' for me too. Loved doing that vocal and lyrics and the combo of bassline and pad makes my legs go all rubbery.
So… 'Mr Dynamite' a glorious one-night stand of an album or the start of a continuing meaningful relationship between all the parties involved?
Mal: It would be so rude not to call after such a memorable night!
Phil: And I need my scarf back!
Benge: It wasn't goodbye, it was au revoir.
JG: What they said…
---
ELECTRICITYCLUB.CO.UK gives its sincerest thanks to CREEP SHOW
Special thanks to Danielle Carr at Bella Union
'Mr Dynamite'
is released on 16th March 2018 by Bella Union in CD, vinyl LP and digital formats
CREEP SHOW 2019 live dates:
Sheffield The Foundry (5th October), Liverpool Arts Club Loft (6th October), Bristol Trinity Centre (8th October), London Scala (9th October), Hove Old Market (10th October), Newcastle Boiler Shop (12th October), Glasgow Art School (14th October)
https://www.facebook.com/creepshowmusic/
https://twitter.com/CreepShowMusic
https://www.instagram.com/creepshowmusic/
https://www.facebook.com/mallinderbengewinter/
---
Text and Interview by Paul Boddy
21st February 2018, updated 16th June 2019