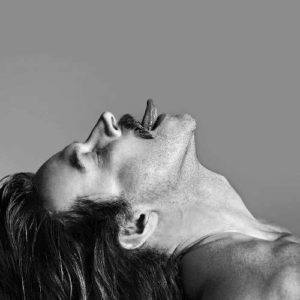 Having started as a group of performers, the enterprise that is now FISCHERSPOONER consists of core members Warren Fischer and Casey Spooner, who are joined by a troupe of dancers and singers.
Fischer is a classically trained musician, while Spooner has his fingers in many pies, including performing in experimental theatre, fashion and producing various types of art.
Their first album came in 2001, named '1'
, cleverly released on many labels, to be followed by 'Odyssey'
With their third opus, 'Entertainment', the duo went to Jeff Saltzman to aid the production and the current offering 'Sir'
is being produced by none other than Michael Stipe from REM.
'Sir' follows Spooner's art exhibition of the same name, which centres around nudity, featuring himself and many of his former partners, friends and lovers in assorted sorts of nakedness. "We're living through this sexual revolution. Everyone has a camera. People are redrawing their boundaries of what they share and what they don't" claims Spooner, introducing his saucy enterprise, to which the newest album is a perfect accompaniment.
With the tone being "aggressively homosexual", with love moans being used as part of the soundtrack, Spooner showcases the liberated states of today's society.
'Have Fun Tonight' heralds the album as the first single, and what an entrance it is! Big, bold, full of defined synth but not devoid of good melody and sexually charged vocals by Spooner. Mantric drum rolls and arpeggiated electronic elements flow freely throughout this sublime dance track, leading into sweet oblivion.
'Togetherness' with CHAIRLIFT's Caroline Polachek, sounds like vintage PET SHOP BOYS meets GOLDFRAPP, with love pains present. 'Butterscotch Goddam' describes the vocalist's long standing relationship which ended, resulting in Spooner's liberation and the discovery of endless sensual possibilities.
The apparent sleazy Brazilian trysts are being described in ear-ringing 'Top Brazil', which marries marvellous synth a la DEPECHE MODE with filthy lyrics, as one can never have enough of gay sex! 'Stranger Strange' with its offbeat tribal simplicity boils up to a hallucinating psychedelic plea to be "fixed up", while 'Everything Is Just Alright' brings a heavier synth line into play.
Multiple vocals on 'Discreet' frolic within the realms of simple melody depicting the urgency of "now" in sexual relations, leading gently onto 'Strut' with its club feel euphoria and contributions from Juho Paalosmaa of VILLA NAH and SIN COS TAN. While Spooner admits: 'I Need Love', he also needs to 'Get It On'.
Andy LeMaster joins in on 'Try Again'; an arpeggiated gem full of sadness in the lyrical content, where the desperate cries for "everything I ever wanted, everything I ever needed" prevail.
'Oh Rio' with Holly Miranda closes the opus with an alternative twist to wrap up the record of sexual freedom, the power of choice and the beauty of partying and being able to do what one wishes, no strings attached.
Spooner muses: "When I started, the record was optimistic because I was in a happy, open, long-term relationship", but it wasn't to be; otherwise the eclectic, sex laden product would never surface. Fischer agrees with "The best thing that happened to this record is you getting dumped."
'Sir' marks the time to play and explore and Spooner is grabbing the opportunities with both hands: "Everyone thinks I'm having a midlife crisis, and maybe I am"…
And if it wasn't for his midlife crisis, we wouldn't be listening to the marvel that 'Sir' is!
---
'Sir'
is released by Ultra Records
https://www.facebook.com/FischerspoonerMusic/
https://twitter.com/fischerspooner
https://www.instagram.com/fischerspooner/
---
Text by Monika Izabela Trigwell
20th February 2018