Less than a year after their eponymous debut, SIN COS TAN are back with another quality collection of emotive songs reflecting further broken dreams but in a slightly lighter setting where there are "spirits awoken".
With a surplus of material from those first sessions, Juho Paalosmaa and Jori Hulkkonen have capitalised on the momentum of their working chemistry in the studio by recording a swift follow-up.
Entitled 'Afterlife', this second volume expands the instrumental palette and this is signified by the album's opening gambit 'Limbo'.
With its conventional bass guitar mantra, prominent ivories and staccato organ lines, it has the air of BRYAN FERRY who coincidentally had a song with the same name. But despite the musical shift, as ever with Hulkkonen's work, he can't help slipping a classic PET SHOP BOYS styled middle eight into proceedings. Meanwhile, Paalosmaa is a little more relaxed than before, resulting in their most defined pop statement yet.
Although initially a more of a classic synthpop pairing with Paalosmaa handling the majority of the lyrical chores and Hulkkonen focussing on production, 'Afterlife' sees the duo combine their roles in a more collaborative fashion with a much looser feel than its predecessor. The opening third is delightful with 'Part Of Me' being a natural progression of sunnier tunes such as 'Calendar' from the SIN COS TAN debut while 'Ritual' gives an interesting Nordic interpretation on how to use a Latin shuffle while dressing the structure with pretty but understated melodies that recall CHINA CRISIS.
Despite this being a less nocturnal offering, darkness does have its place on 'Afterlife' and the middle section adopts a much sombre shade. The sparse 'Heat' premieres this darker side but it doesn't go the full hog until 'Destroyer' which amusingly appears to have borrowed its verse vocal topline from JUSTIN TIMBERLAKE's 'Sexy Back' or LADYHAWKE's 'Professional Suicide', depending on your mindset! 'Fair Rewards' continues this maturer pace while 'Heart On A Plate' adopts a beatier groove.
The next trio of numbers however spring the album back to life. Hulkkonen first found fame as part of TIGA & ZYNTHERIUS back in 2001 at the height of the Electroclash movement; partly recalling that era, 'Avant Garde'features Casey Spooner from the scene's flag bearers FISCHERSPOONER. One of the album's key tracks, it's a moment which Paalosmaa described as "a very cool honour". 'Avant Garde' itself though is not club oriented at all though, much more like THE CURE being produced by PET SHOP BOYS with Spooner providing a suitably cynical snarl to contrast Paalosmaa's lost boy cry.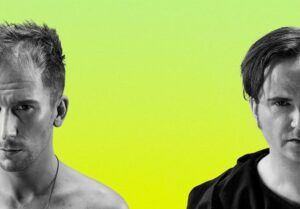 Meanwhile, the wondrous 'Television' intros with some Hooky six string bass and jumps into a danceable number that wouldn't sound of place on NEW ORDER's 'Technique' with CHIC-styled rhythm guitars syncopated against Moroder-esque sequencers.
The following 'Moonstruck' ends this marvellous trilogy with a gorgeous ballad in the Tennant/Lowe tradition, smothered in synthetic strings while driven by a steady drum machine.
To close 'Afterlife', there is the building drone drama of 'Burning Man', probably the starkest thing Paalosmaa and Hulkkonen have attempted together so far. It would be fair to say that while there isn't a track like 'Trust' on the album, 'Afterlife' is a colourful but no less impassioned body of work.
Paalosmaa still sounds emblazoned in sorrow but the adoption of more live instruments adds some brightness to the SIN COS TAN sound. While the spectre of PET SHOP BOYS looms, CHINA CRISIS and post-Roxy BRYAN FERRY are pointers to this more organic but still synth-friendly record.
---
Special thanks to Tom Riski of Solina Records
'Afterlife'
is released by Solina Records in Europe and Sugarcane Records for the rest of the world on CD, vinyl and download with a street date of 22nd November 2013 for the UK
https://www.facebook.com/homeofsincostan
---
Text by Chi Ming Lai
28th October 2013