One of Australia's best acts of the post-punk era ICEHOUSE have been comprehensively collected on a 2CD+DVD compilation 'White Heat: 30 Hits' released by Repertoire Records for European consumption, having already been available in Oz since 2011.
Part of a reissue campaign for the ICEHOUSE catalogue, the label also recently reissued the SPARKS and GIORGIO MORODER back catalogues. Officially sanctioned by ICEHOUSE's mainman and vocalist Iva Davies, it documents ICEHOUSE's recorded career from late 1980 when they started out as FLOWERS. They were forced to change their name due to an American act having the same moniker; so for a new name, Davies chose the striking title track of FLOWERS' debut album 'Icehouse'.
Often overshadowed internationally at the time by INXS and MEN AT WORK, ICEHOUSE were however far more interesting, blending an artful European aesthetic with the Aussie love of more straightforward rock 'n' roll.
ICEHOUSE's early cinematic videos were directed by Russell Mulcahy who also worked with ULTRAVOX and DURAN DURAN on their iconic promos before going on to make the film 'Highlander'. Meanwhile ICEHOUSE's 1986 album 'Measure For Measure' featured notable guest musicians such as Brian Eno and JAPAN's Steve Jansen.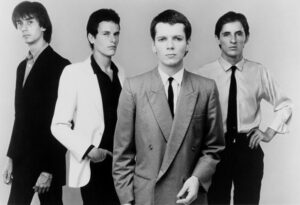 ICEHOUSE were one of the first acts to employ Moroder apprentice Keith Forsey as a producer before his massive success with British acts who broke America such as BILLY IDOL, THE PSYCHEDLIC FURS and SIMPLE MINDS. Indeed, it was SIMPLE MINDS who gave ICEHOUSE their UK break by inviting them to be their support act in 1981 while later on, Davies and Co supported DAVID BOWIE on the European outdoor leg of the 'Serious Moonlight' tour in 1983.
Featuring the line-up of Iva Davies, John Lloyd, Anthony Smith and Keith Walsh, the quartet's first single 'Can't Help Myself' was a bizarre but enjoyable mix of THE EAGLES and ULTRAVOX. The follow-up 'We Can Get Together' had more of an new wave vibe to it, but the song which got ICEHOUSE noticed by a wider audience in the UK was the chilling, synth laden 'Icehouse'.
With the misty video's premiere on youth arts TV show 'Riverside', 'Icehouse' added a strange offbeat and the mannerisms of GARY NUMAN before Blitzing out for the song's flanged guitar climax. With its Eurocentric overtones, 'Icehouse' was easily as good as anything on VISAGE's eponymous debut.
Despite the new found profile in Europe, Davies dissolved the band and decided to record the second ICEHOUSE album 'Primitive Man' essentially as a solo project in Los Angeles with Keith Forsey in 1982. With the accessibility of new digital technology such as the Linn Drum Computer, his songs started to change with a more precise sensibility creeping in. The first single from these sessions was the magnificent 'Hey Little Girl'.
Echoing the popularity of New Romantic styled acts such as JAPAN and the programmed pop of THE HUMAN LEAGUE, 'Hey Little Girl' polarised listeners with some accusing it of being a lavish ROXY MUSIC rip-off while others praised it for its evocative, dancefloor charm. While the single was perfection in itself, the 7 minute 'Australian Disco Mix' on the 12 inch (featured on Repertoire's 'The 12 Inches' compendium) was a delightful addition and pushed its Mick Karn styled bass playing and Sylvian-esque backing vocals to the forefront. Although it made the UK Top 20 singles chart, it deserved to be a far bigger hit!
With the success of 'Hey Little Girl' in the UK, Chrysalis Records swiftly reissued 'Primitive Man', but with a new cover and re-titled it after the interim single 'Love In Motion' to reflect the altered tracklisting. While the album was very much of its time, 'Primitive Man' aka 'Love In Motion' contained some of ICEHOUSE's best work.
'Street Café' was an excellent single but did little to dispel the Roxy rip-off accusations…  it actually chucked more wood on the bonfire by sounding even more like Bryan Ferry than 'Hey Little Girl'! There was also the quirky ADAM & THE ANTS gone electro of 'Glam' but the grandest gesture came from the epic 'Great Southern Land'.
Written as a response to the horrible 'Down Under' by MEN AT WORK, Davies had been particularly dismayed by the "ain't we wacky?" portrayal of his homeland by his fellow Aussies. Not included though on 'White Heat: 30 Hits' but also worthy of mention from 'Primitive Man' is 'Trojan Blue'. Never released as a single, the song captured the stylish drama of ICEHOUSE which set them apart from their contemporaries.
The album led to the call from Mr Bowie and the recruitment of a new ICEHOUSE live band featuring noted bassist and stand-up comedian Guy Pratt. With 'Hey Little Girl' becoming a significant European hit and interest in Antipodean music at an all time high with the likes of MIDNIGHT OIL and SPLIT ENZ (soon to mutate into CROWDED HOUSE) also on the scene, 1984 should have been time to capitalise.
But instead, ICEHOUSE released the dreadful 'Taking The Town' as the calling card for the new long player 'Sidewalk'. One disgruntled hack called it "WANG CHUNG meets JAPAN!" and although it was intended as an ironic commentary on hooligan culture, the in-yer-face yobbish chorus did not appeal after the reflective overtones of 'Primitive Man'. The sombre ballad 'Don't Believe Anymore' was unable to halt the downward spiral.
After the disappointment of 'Sidewalk', ground needed to be recaptured and with the enlistment of noted British producers Rhett Davies and David Lord, this was achieved with the more esoteric and expansive 'Measure For Measure'. From it was the superbly atmospheric lead single 'No Promises', effectively a rework of Bowie and Metheny's 'This Is Not America'. Again wearing his influences on his sleeve, Davies clearly referenced his contemporaries but put his own stamp on proceedings.
Also from the album, 'Cross The Border' managed to sucessfully combine SIMPLE MINDS with DURAN DURAN. Co-written with regular guitarist and collaborator Bob Kretschmer, the song began as a rhythmical programming error on the Fairlight which in turn triggered off a Prophet 5; and to complete the experimental circle, there was Steve Jansen on drums and Brian Eno on backing vocals to boot!
'Measure For Measure' set the scene for a big international breakthrough. From ICEHOUSE's fifth album 'Man Of Colours', the anthemic 'Crazy' took the lead from SIMPLE MINDS' 'Don't You (Forget About Me)' and roused the senses via a thoroughly brilliant chorus. Meanwhile 'Electric Blue', co-written with John Oates of HALL & OATES fame was simply tailor made for American FM radio.
But it was the beautiful 'Man Of Colours' title track that was the centrepiece of the album, combining electronics with woodwinds (Davies was an oboe player with the Sydney Youth Orchestra) in a song that could have easily come from the 'Measure To Measure' sessions. Overall, the album was certainly ICEHOUSE's most universally accessible and led to them touring the world throughout in 1988; 'Man Of Colours' is still the highest-selling album in Australia by an Australian band.
With no new album forthcoming, the next single was the straightforward rock pop of 'Touch The Fire' and issued to promote an ICEHOUSE best of 'Great Southern Land' in 1989. Another song recorded for the compilation 'Jimmy Dean' followed a similar line but then after that, ICEHOUSE lost momentum with 1990's 'Code Blue' and 1993's 'Big Wheel' albums only appealing to their hardcore fanbase.
However, 1997's 'The Berlin Tapes' unplugged covers project (from which no songs feature on this collection) recorded for the Sydney Dance Company provided an interesting showcase tribute to Davies' influences ranging from ROXY MUSIC, DAVID BOWIE and TALKING HEADS to LOU REED and FRANK SINATRA to PUBLIC IMAGE LIMITED, THE CURE and KILLING JOKE.
Since then, Iva Davies has recorded a number of solo albums and scored the soundtrack for the Russell Crowe film 'Master & Commander' in 2003.
But more recently, ICEHOUSE have enjoyed a renaissance in Australia following a return to live performance with the 'Primitive Colours' retrospective shows.
Very much under rated in the UK, 'White Heat: 30 Hits' is a great way of discovering ICEHOUSE's fabulous music from an era when people were far too interested in the macho posturing of INXS' Michael Hutchence and Sting-isms of MEN AT WORK as far as Australian acts were concerned to have noticed the songcraft of Iva Davies.
As the man himself sang: "I am a man, a simple man… a man of colours"
---
'White Heat: 30 Hits'
is released in Europe as a 2CD+DVD boxed set by Repertoire Records
http://www.icehouse-ivadavies.com/
https://www.facebook.com/Icehouse/
https://twitter.com/Icehouseband
https://www.instagram.com/icehouseband/
https://open.spotify.com/album/7Izb3IWa0ghuCrdA0iXVs0
---
Text by Chi Ming Lai
26th October 2013