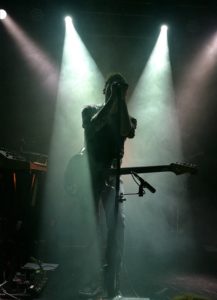 With fourth album 'Criminal' now doing the rounds, The Dome in Tufnell Park was filled to the brim as Oakland's THE SOFT MOON performed the only UK date on their current tour.
Essentially the one-man project of Luis Vasquez, their live line-up is expanded with the addition of Luigi Pianezzola on bass / synths and Matteo Vallicelli on live / electronic drums including a nifty four pad retro Simmons combo.
Vasquez started the show solo with a rendition of the dark Numan-esque title track from his new album before being joined by his two sidemen. What initially hits home most about THE SOFT MOON live experience is the clarity of their sound; on record they have (at times) an impenetrable and murky aesthetic.
But here in the live arena, there is a much more muscular delivery with the superb PA system at The Dome proving transformational sound-wise for the band. On stage, Vasquez showcases himself as a really accomplished musician, effortlessly flipping from guitar to a Moog Sub 37 synth and then to live percussion; he is an artist that holds the audience transfixed, combined with a low down (head bowed) signature synth playing posture.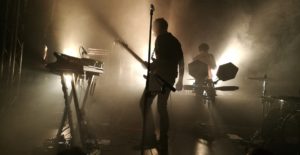 Special mention must also be given to percussionist Vallicelli; combining the tom-driven style of NEW ORDER's Stephen Morris and the motorik beat of Krautrock, there was never any unnecessary overplaying and when a song needed electronic drums, he switched to his stand-up Simmons set-up instead.
With a set combining an even balance of tracks from THE SOFT MOON's four albums, there was plenty here to please both old and new fans alike, with the newer material from 'Criminal'
slotting in effortlessly with cuts from 'Deeper'
, 'Zeros'
and their eponymous debut
long player. Standout track 'Give Something' from 'Criminal' proved a mid-set highlight and showed off Vasquez's wide vocal range, whilst from the same album the EBM bass-driven 'Father' got The Dome crowd moving.
'Wrong' from 'Deeper' gave Vasquez a chance to showcase his percussive skills with an improvised trash can drum played almost Batucada-style plus additional hi-Q synth drums overlayed by Pianezzola on a Roland trigger pad. 'Tiny Spiders' was one of many songs in the set to feature the classic Post-Punk flanged guitar sound much beloved of SIOUXSIE & THE BANSHEES' John McGeoch and PUBLIC IMAGE LIMITED's Keith Levine and in places, the spirit of Crawley's finest THE CURE was also summoned.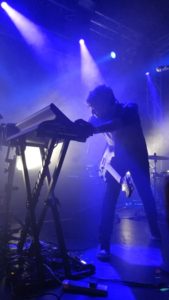 After a set which seemed to cruise by, the band came back for two encores of 'Black' and 'Want' (with one word titles being a signature thing for the band).
With 'Criminal' picking up some really stellar reviews and the band selling out venues effortlessly, it is surely only a matter of time before THE SOFT MOON shift up to a higher level of exposure and popularity.
In the wrong hands, this kind of material has the potential to fail live, but Vasquez and co show how nihilistic anthems of despair and alienation can be truly engaging when performed. At the risk of being overtly pun-tastic, it really would be criminal to miss this band live… highly recommended.
---
Special thanks to Frankie Davison at Stereo Sanctity
'Criminal'
is released by Sacred Bones Records in CD, vinyl LP and digital formats
THE SOFT MOON 2018 European Tour dates include:
Yverdon Les Bains L'Amalgame (20th February), Milan Magnolia (21st February), Rome Monk (22nd February), Napoli Lanificio (23rd February), Bologna Covo (24th February), Munich Kranhalle (7th March), Leipzig UT Connewitz (8th March), Hamburg Hafenklang (9th March), Cologne Gebäude 9 (10th March), Saarbrucken Garage Club (11th March), Nijmegen Doomroosje (13th March), Lille Les Paradis Artificiels (14th March), Nantes Stereolux (15th March), Lyon Epicerie Moderne (16th March)
https://www.facebook.com/thesoftmoon/
https://twitter.com/thesoftmoon
https://www.sacredbonesrecords.com
---
Text and Photos by Paul Boddy
19th February 2018