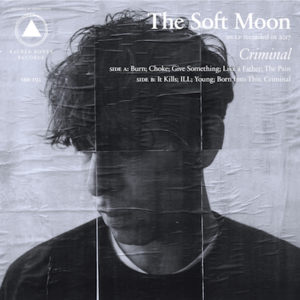 THE SOFT MOON is essentially a one-man project comprising of multi-instrumentalist and producer Luis Vasquez.
Hailing from Oakland in the USA, THE SOFT MOON gained wider exposure when they supported DEPECHE MODE on the EU leg of their 'Delta Machine' tour.
With a sound that distills both synth-heavy Krautrock and dark Post-Punk guitars+bass, 'Criminal' is the outfit's fourth album following their emergence in 2010 with their eponymous debut.
Opening track 'Burn' is a take no prisoners kind of track, combining a lo-fi electronic kick with a flanged guitar sound favoured by John McGeoch from SIOUXSIE & THE BANSHEES; the guitar riff itself helps differentiate the track from your typical angsty NINE INCH NAILS fare and 'Burn' provides a strong opener to 'Criminal'.
'Choke' slows the tempo with a vocal buried in a fuzz of what could be synths or guitars, the mixed up wall of sound obscuring the detail in the individual elements. Dirty, but hypnotic, the three minute track doesn't outstay its welcome and signals to the listener that 'Criminal' isn't going to be an easy ride…
'Give Something' is a reverb drenched piece with the first real slivers of a more melodic vocal line from Vasquez; showcasing a bass part which recalls Simon Raymonde from COCTEAU TWINS, the song features a nifty gliding synth solo. The dark and twisted chorus hook "Give, give me something, when I give nothing" is wonderfully catchy and pinpoints 'Give Something' as a real highlight here and a certainty to be a candidate for a future single.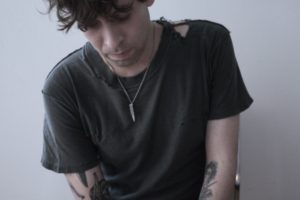 'Like A Father' initially revolves around a filthy EBM bass synth sequencer part, live / electronic drums and another densely textured vocal / guitar wall. The main elements which save the track from being one chord repetitive filler is the mix of time signatures which keeps the listener on their toes and a middle eight breakdown which takes 'Like A Father' on a welcome diversion with a driving live bassline entering the mix.
'The Pain' takes you on a cathartic journey with another bass heavy delivery, a self-doubting Vasquez intones "How can you love someone like me?" and climaxes the piece with a drum-less MY BLOODY VALENTINE-inspired ending.
'It Kills' is a dense tom-driven piece with another Banshee-inspired guitar line and a fuzzed-up chorus which recalls mid-period NINE INCH NAILS, the synth-based finish to the piece provides a welcome respite from the full-on assault of distortion.
'ILL', 'Young' and 'Born Into This' all mine a similar sound to their predecessors, before the title track 'Criminal' shares some welcome musical DNA with the direction that GARY NUMAN is currently following. The usage of a Roland CR78 loop and bolt-like shots of distorted noise help to reinforce this and a more melodic vocal from Vasquez brings the album to an epic close.
Ultimately it's the live guitar and bass sound here which saves 'Criminal' from sounding overtly like a NINE INCH NAILS pastiche; but this aside, if you are a fan of the UK Post-Punk scene and favour flanged / reverbed guitars, then there is plenty to lap up here.
Another couple of tracks along the lines of 'Give Something' would have been welcome, but for fans of the darker side of electronica combined with live instrumentation, 'Criminal' would be a welcome addition to their musical collection.
---
With thanks to Frankie Davison at Stereo Sanctity
'Criminal'
is released by Sacred Bones Records in CD, vinyl LP and digital formats on 2nd February 2018
THE SOFT MOON 2018 European Tour dates include:
Baden One of a Million Festival (2nd February), Marghera CS Rivolta (3rd February), Copenhagen Pumpehuset (6th February), Gothenburg Pustervik (7th February), Stockholm Slaktkyrkan (8th February), Oslo Bla (9th February), Berlin Urban Spree (11th-12th February), Paris Le Trabendo (14th February), Amsterdam, Paradiso Noord (15th February), London The Dome (16th February), Brussels Orangerie Botanique (17th February), Luxembourg, LU – De Gudde Wëllen (18th February), Yverdon Les Bains L'Amalgame (20th February), Milan Magnolia (21st February), Rome Monk (22nd February), Napoli Lanificio (23rd February), Bologna Covo (24th February), Munich Kranhalle (7th March), Leipzig UT Connewitz (8th March), Hamburg Hafenklang (9th March), Cologne Gebäude 9 (10th March), Saarbrucken Garage Club (11th March), Nijmegen Doomroosje (13th March), Lille Les Paradis Artificiels (14th March), Nantes Stereolux (15th March), Lyon Epicerie Moderne (16th March)
https://www.facebook.com/thesoftmoon/
https://twitter.com/thesoftmoon
https://www.sacredbonesrecords.com
---
Text by Paul Boddy
17th January 2018