Canadian synthpop trio PARALLELS rode on some well-deserved international momentum in 2017 following the release of their third album 'Metropolis'.
Championed by the likes of Rusty Egan, the Toronto combo formed in 2008 and released the 2010 debut long player 'Visionaries'
.
However, PARALLELS went through some personnel changes prior to the recording of their sophomore offering 'XII'
.
In 2018, the line-up comprises of Holly Dodson, her brother Nick and one-time CLIENT collaborator Oliver Blair. With their catchy sweetly flavoured songs like the 'Metropolis' title song, 'Catch' and 'Heart Of The Wild', PARALLELS' third long player was an audio document of how "we travelled… fell in and out of love… rediscovered the places we call home…", with the end result sitting down well alongside the likes of PURITY RING, CHVRCHES and AVEC SANS.
Singer, songwriter and synthesist Holly Dodson took time out from rehearsals to chat about the continuing progression of PARALLELS and their first live appearance in London which is happening alongside German songstress NINA in March…
Canada appears to have become a centre for modern electronic pop with the likes of PURITY RING, ELECTRIC YOUTH, GRIMES, AUSTRA and TR/ST. What inspired you to head in this direction as PARALLELS?
Starting out, we were very inspired by Italo disco and synthpop from the 80s. Piano was my first instrument, so synthesizers were sort of the next step for me when I got more into production. I love the colour that synths add. And we wanted to make upbeat dance music with pop vocals… plus we didn't know how to play guitar so it was partly a matter of circumstance 🙂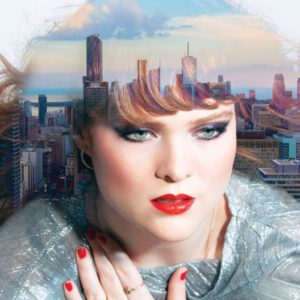 Your third album 'Metropolis' appears to have been your breakthrough internationally, how has the reception looked from your end?
I'm really truly grateful for the reaction it's gotten so far! I'm usually most nervous to find out what our long-time fans think of new stuff… I really just want them to be happy and excited from the getgo.
Thankfully it *seems* like it was well received. It's been an introduction for new fans as well, which is wonderful. As long as it's connecting on some level… any level… I'm thrilled.
How have you viewed the band's progression over the years since your 2010 debut 'Visionaries'?
Seems like yesterday! I've sort of ended up being the thread that's tying it together – which I didn't anticipate. We went through some line-up changes that at the time were pretty emotionally challenging, but so many bands do. For me, it's always been about making music and playing shows… so I wanted to keep focus on that. The seeds were planted so let's grow the garden. It's been truly rewarding on many levels, creatively, and I'm really looking forward to going deeper.
Your lovely version of 'Moonlight Desires' on your second long player 'XII' points to perhaps a youth possibly spent watching John Hughes and Brat Pack movies?
So happy you like it! I'm a child of the 80s, so naturally, yeah… plus GOWAN is Canadian. We hear the original version it all the time in Canada. It's always fulfilled all the necessary criteria – incredible hooks, the moon, magic melodies, nostalgia 🙂
I just recently learned that GOWAN's actually heard the cover… and approves!! Which is SUCH a relief haha… you never know.
Do you feel any affinity with North America's current interest in the Synthwave sub-genre?
It definitely seems to be having a moment right now – it feels very buzzy and grassroots which is wonderful. It also seems like a bit of a gateway for new listeners to get into synth music and an excuse for long-time listeners to get re-excited. I love knowing these communities are forming and have some dear friends involved in the scene – so it's inspiring to see it coming together.
The 'Metropolis' title track does have a CHVRCHES vibe, has the success of Glaswegians been an indicator that a potential worldwide audience is out there?
I'm definitely a big fan of CHVRCHES – it's so cool to see synthpop rise to that level! I'd love to write with them one day. Yes, I'm a firm believer that synthpop is for everyone whether or not they know it 😉
In 2016 – the year everyone wants to forget – I had a big binge on PRINCE's music, which inspired 'Metropolis'.
Actually, until the last minute, it didn't have bass on it because 'When Doves Cry' doesn't, but I realized I was just grieving and so recorded the bass… it brought a bit closure 🙂
There's a hint of 'Running Up That Hill' in 'Catch', how important has KATE BUSH been in shaping your take on music?
'Running Up That Hill' is one of my absolute favourite songs of all time – KATE BUSH is my home for inspiration. If I have insecurities or self-doubt, I put on her records. When I first played my demos to a family friend of ours, when I was 17 or so, he said my voice reminded him of KATE BUSH… and at that time I had no idea who she was. So I went and listened to the 'Hounds Of Love' album and, I'm not joking, everything made sense.
She changed how I understood creativity and represents freedom of expression in its truest form. Some people spend so much time trying to fit in that they forget to find their own voice. With KATE BUSH, it seems like she knew – and wasn't afraid to experiment and take risks, push boundaries with grace. And I love and admire that so much. I could talk about this for hours… obviously.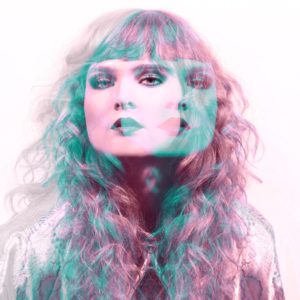 You're releasing a great new RADIO WOLF remix of 'The Last Man' as the new PARALLELS single. It's quite different from the album version, what was the thinking behind having the track reworked?
Our good friend (turned band mate) Oliver Blair had wanted to do a remix – he said he wanted to speed it up and "paint it red". I love what he did with the remix. He really brought out the edge in that song. The song is about holding ourselves accountable for our actions toward the earth and each other… which is becoming more and more urgent. So I think he really picked up on that with his interpretation.
So which have been your own favourite songs on 'Metropolis' and why?
Well in case the songs are listening, I love them all equally. But… Isadora' is one of my favourites – it's sort of a séance song. I've never been a part of one but would love to at some point.
'Tell The World' and 'Metropolis' are ones that mean a lot to me. They remind me of home, my family and friends. 'Tell The World' is about story-telling, learning from the past and how stories connect us. It makes me emotional when I hear it, but I'm really happy with how it turned out.
PARALLELS covered NEW ORDER's 'Age Of Consent' for the 'Civilisation' EP in 2015, what made you choose that and do you have any other songs you would be interested in reinterpreting?
There's a list! I'm working on one now but want to keep it a surprise. We used to jam to 'Age Of Consent' during practises and it's one of my favourite NEW ORDER songs… it reminds me of being a teenager and not having the words to express my emotions. I'd just say… listen to this song… this is how I feel.
Electronic music appears to have more sister / brother combinations eg THE KNIFE, XYLO, FAKE TEAK than say in rock, why do you think that might be and how is your creative relationship with your sibling Nick?
True, I never realized that. Nick joined in 2011… I said "I'm looking for a drummer… want to join PARALLELS?" and he said "well, I play metal but I guess I could play your stuff" 🙂
He's a true talent and one of my best friends – always there for a critical critique, and I trust his opinion.
PARALLELS are coming to London in March 2018; as well as the gig with NINA, what else are you hoping to do while you're here?
We are! It's our UK debut – we're so thrilled to be playing with NINA. Would love to see Abbey Road, Soho… our band mate Oliver lived in London for years, so we're hoping he will be our tour guide. Any insider advice?
---
ELECTRICITYCLUB.CO.UK gives its warmest thanks to PARALLELS
The RADIO WOLF remix of 'The Last Man' is released on the usual digital platforms, available as a download from https://parallels.bandcamp.com/track/the-last-man-radio-wolf-remix
'Metropolis'
is available as a CD or download from https://parallels.bandcamp.com/album/metropolis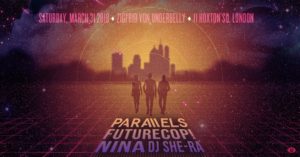 PARALLELS play Zigfrid von Underbelly, 11 Hoxton Square, London N1 6NU with NINA on SATURDAY 31ST MARCH 2018
http://www.iloveparallels.com/
https://www.facebook.com/Parallels/
https://twitter.com/iloveparallels
https://www.instagram.com/iloveparallels/
https://soundcloud.com/parallels
---
Text and Interview by Chi Ming Lai
19th January 2018, updated 7th February 2018