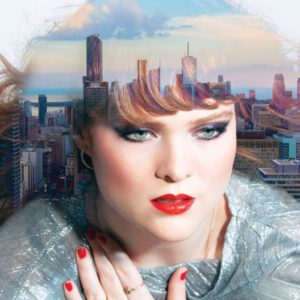 Canada often treats the listener of electronica to some sparkling gems, including GRIMES, DELERIUM, FRONT LINE ASSEMBLY or RATIONAL YOUTH, and PARALLELS are now one of them.
The Toronto based trio consisting of the siblings Holly and Nick Dodson plus Artem Galperine, topped the electronic charts in 2015 and have toured extensively since.
Known for their use of vintage synths, including the Korg PolySix and Juno 60, the self-confessed fans of DEPECHE MODE, KATE BUSH and NEW ORDER have now released their third opus 'Metropolis'
.
The claim that "PARALLELS has been more than just a music project to us – it's something we've lived, breathed and dreamt about for many years now" proves that the passion to make music is deeply ingrained in the trio, who joined many other artists to present their work through Pledge.
The synthy and dishy title track, which also opens the long player, has been featured as Song Of The Week on CBC Radio 1's 'Here & Now'. It's all about high energy, wholesome songs, sung in a stunning voice, which at times recalls MADONNA in her prime. Apart from the mellower pieces, there are some Eurovision worthy anthems, like 'Civilisation'.
There's also something dark lurking behind the candied front, which represents itself beautifully on 'I.R.L'. The hounding vocal leads the elusive melody, studded with perfect electronica and that bass, as if taken from the soundtrack to 'Twin Peaks'.
'Ocean, Moon & Tide' sounds like a female-led ERASURE and 'Catch' has the urgency found in the familiar tracks by ROBYN, with synth lines of AND ONE.
The exuberant synth is joined by soft rock elements in 'The Kids Will Save Detroit', which also featured on 'Civilisation' EP. This tune could truly pass as a something from a film soundtrack. Similarly, 'Technicolor' has those larger than life BON JOVI or BRYAN ADAMS guitar riffs, before a more contemporary sound comes back on 'The Last Man'. The lineal, almost tribal textures here, together with gentle synthesis and subdued lead, close the production.
While the sugar-coated vocal may not appeal to some listeners of the genre, it has to be said that PARALLELS have done their homework and produced an excellent dance album once again. Dodson's voice has a luscious quality, without being too sickly, and it corresponds with the poppy electronica beautifully. Could she be the female Andy Bell? Sure so!
---
'Metropolis'
is available as a CD or download via Marigold Productions from https://parallels.bandcamp.com/album/metropolis
http://www.iloveparallels.com/
https://www.facebook.com/Parallels/
https://twitter.com/iloveparallels
---
Text by Monika Izabela Trigwell
17th February 2017