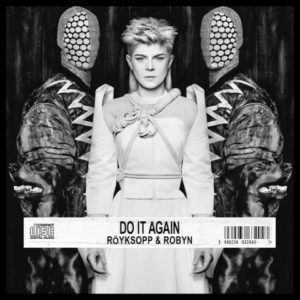 The dream team of RÖYKSOPP & ROBYN have worked together before with ROBYN guesting on the 2009 single 'The Girl & The Robot' and then the Norwegian duo produced 'None Of Dem' for her 2010 'Body Talk' project.
This time around there are five new tracks to appreciate which range from the more adventurous/experimental ('Monument') through to out-and-out dancefloor electronica ('Do It Again') and with two tracks clocking in at nearly ten minutes, you are given value for money with the music on offer here.
The mini-album opener 'Monument' is an epic and lush introduction, the track starts in a fairly traditional electronic song format, a two chord pattern building hypnotically with ROBYN imploring a lover to "make a cast of my body", and then seven minutes in, like a film with a major plot twist, the track takes an unexpected detour – rolling live drums and a live saxophone (which recall French act AIR) come centre-stage and take the track to an atmospheric conclusion.
'Say It' starts more like a traditional dance-floor electronica track, based around a rising, almost Kraftwerkian bassline with sharp as a knife 909 hi-hats driving the track along. Nowhere near as song-based as 'Monument', 'Say It' comes across more like a remix, at its heart an intriguing conversation set up between ROBYN and what sounds like a vintage Speak and Spell unit. This dialogue transforms what could have been a pretty standard electronic dance track into something which has a much greater depth and substance.
Standout track and new single is 'Do It Again, this is the sort of electronic dance pop track that MADONNA would give her muscular right arm for, the MADONNA comparison goes a bit deeper with lyrics suggesting an almost updated 'Into the Groove' concept with ROBYN intoning "Wait for the build-up" before we "Do it again", lyrically suggesting the scenario of a typical club track. The song also sees the welcome return of a retro-vibed gated synth chord stab which recalls the classic Jam and Spoon remix of 'The Age Of Love'.
'Every Little Thing' and 'Inside The Idle Hour Club' slow the tempo down after the more energetic earlier numbers. The latter is an entirely instrumental piece with almost classical MICHAEL NYMAN-style textures on top of an extended ambient piece.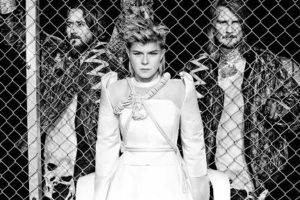 In a climate jammed full of identikit female-fronted electro-pop, ROBYN still has an instantly recognisable vocal and the link-up with RÖYKSOPP really makes this an irresistible combination.
Both the music and vocal production are faultless throughout and the only real shame is that this just a mini-album rather than a full-length one.
Those left wanting more can console themselves with the possibility of seeing both acts on their upcoming co-headline tour which the official RÖYKSOPP website promises will give each act a separate spot and then join each other on stage for their collaborative works.
---
'Do It Again'
is released by Dog Triumph through Wall Of Sound and Cooking Vinyl in CD, vinyl and download formats.
---
Text by Paul Boddy
24th May 2014