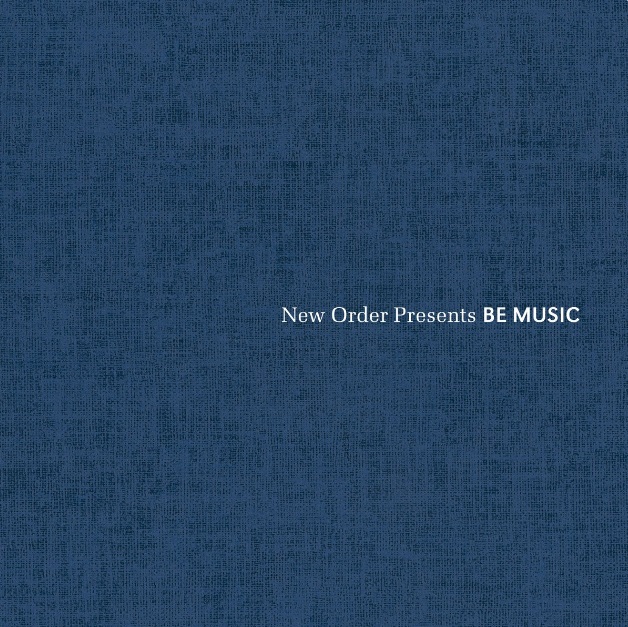 Despite their success, NEW ORDER still got their hands dirty in helping to produce a number of acts for Factory Records and other associated labels such as Factory Benelux, Les Disques Du Crépuscule and Rob's Records.
Be Music was the moniker of NEW ORDER's publishing and eventually used to cover studio production work by all four members of the band.
'NEW ORDER Presents Be Music'
gathers a selection of these varied recordings which involved either Bernard Sumner, Peter Hook, Stephen Morris, Gillian Gilbert or combinations thereof.
It includes electro club tracks released between 1982 and 1985, as well as more recent remixes and productions. This is a lavishly boxed 36 track 3CD affair that documents variations on the NEW ORDER theme before solo projects like ELECTRONIC, REVENGE, THE OTHER TWO and MONACO took over. There's even the inclusion of the JOY DIVISION era 'Knew Noise' by SECTION 25, produced by Ian Curtis and Rob Gretton in 1979 which explores the doomy sub-PiL post-punk style of the period.
Beginning the package on Disc 1, QUANDO QUANGO's percussive 'Love Tempo' sets the scene. Bernard Sumner said: "Producing was a really important sideline, it's OK doing it because although all the groups are skint, you learn a lot and you're helping somebody". Mike Pickering's pre-M PEOPLE electro-funk outfit certainly groove under Sumner's guidance and the Anglo-Dutch interpretation of the form sounds accessible but unusual even today. The less immediate 'Tingle' is also included on the collection.
Another one of Bernard Sumner's productions with A CERTAIN RATIO's Donald Johnson featured the late MARCEL KING, a member of SWEET SENSATION who won 'New Faces' and had a No1 in 1974 with 'Sad Sweet Dreamer'; 'Reach For Love' couldn't have been more different. Layered with synths and bassline programming with an infectious machine rhythm, Shaun Ryder remarked that if the song had been released on a label other than Factory, it would have been a hit!
It's B-side 'Keep On Dancin' is also present and comes over as a cooler electrified take on SHALAMAR, while the beefier New York remix of 'Reach For Love' by Mark Kamins and Michael H. Brauer is a nice bonus.
While 52ND STREET's trailblazing 'Cool As Ice' was solely produced by Donald Johnson, Sumner contributed the synth basslines programmed using a Moog Source; it was a trademark feature on many of the NEW ORDER frontman's productions. The hybrid of authentic Manchester soul and New York electro-influences was not surprisingly a cult success across the Atlantic. Indeed, also in the collection is the electro-funk workout of 'Can't Afford', a Stephen Morris production that's even more New York than Manchester.
Much starker, 'Looking From A Hilltop' from Blackpool's very own post-punk doom merchants SECTION 25 was prompted by founder member Larry Cassidy's assertion that "you can't be a punk all your life". In a move not dissimilar to Gillian Gilbert joining NEW ORDER, Cassidy recruited his wife Jenny and sister Angela to join his brother Vin in the band to realise this game changing manifesto. Produced by Sumner with remix input from Johnson, the collage of clattering drum machine accompanied by ominous synth lines and hypnotic sequenced modulations still sounds magnificent.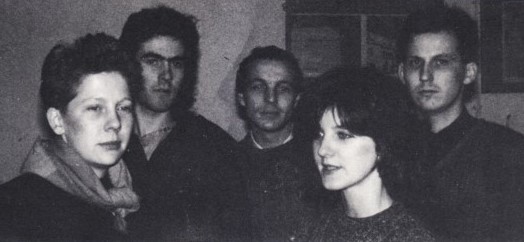 Meanwhile, 'Reflection' from the parent 'From The Hip' long player is a surprise but welcome inclusion to the set. Almost chirpy when judged against SECTION 25's earlier output, the tighter sequencing and drum machine programming from Sumner totally transformed the band.
Following along almost similar lines, 'Fate/Hate' by Hull combo NYAM NYAM was one of Peter Hook's Be Music productions and its mighty Moroder-esque template proved that the bass Viking knew his way around the dancefloor despite his more rock inclined sympathies. 'Fate/Hate' certainly deserves to be as lauded as 'Looking From A Hilltop'.
The inclusion of the now rare Bernard Sumner remix of THE BEAT CLUB's 'Security' makes the purchase price alone of 'NEW ORDER Presents Be Music' worthwhile. This was the first ever release on Rob's Records, the imprint of the late Rob Gretton, famed manager of NEW ORDER. Sumner's additional remix and production saw an overhaul of the original version, with the addition of his own crucial vocal contribution giving it an unsurprisingly NEW ORDER-like feel along the lines of a more fully realised 'State Of The Nation'.
More widely available, the full length version of 'The Only Truth' by PAUL HAIG is possibly the best NEW ORDER song that NEW ORDER never recorded. Although Haig demoed the song to an almost complete standard, there is no doubt that the extra bass, percussion and programming laid down by Johnson and Sumner are the necktie to go with Haig's shirt and suit. The result is a brilliant cross between 'Blue Monday' and 'Temptation', and almost as long!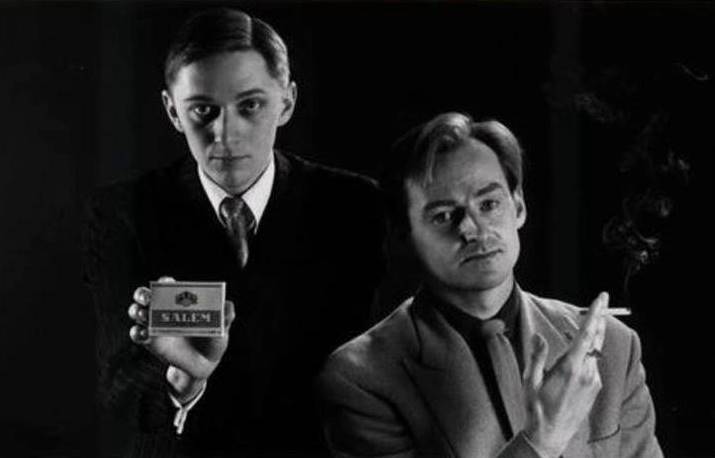 The Be Music journey moves to Berlin where renowned remixer Mark Reeder made his home in 1978, having become fascinated by the artistic diversity of the city.
Reeder often sent records to Bernard Sumner from the emerging electronic club scenes and this influenced his whole outlook on music. So a studio union between the pair was inevitable.
This came with Reeder's band SHARK VEGAS and their 1986 Factory Records release 'You Hurt Me'. Produced by Sumner and characterised by the type of disco sequence programming that made NEW ORDER famous, in a bizarre way it sounded like a relative of 'Reach For Love', the infectious groove offset by Alistair Gray's dispassionate vocals.
Italian band SURPRIZE's 'Over Italia' was originally part of the 'In Movimento' EP issued on Factory Benelux in 1984. Another Dojo / Be Music co-production, the Bologna combo's ska and dub influences make this track an interesting curio, although there is no real hook within the repetition.
While Disc 1 has more of a bias on Bernard Sumner, Disc 2 on focusses on Stephen Morris. It has to be said, this second instalment of classic and new recordings is more mixed. THICK PIGEON (led by singer Stanton Miranda) and their 'Babcock + Wilcox' is a 1984 production by Stephen Morris and Gillian Gilbert that sort of passes by. However, 'Bootsy (Swingfire Mix)' with a remix from THE OTHER TWO is one of A CERTAIN RATIO's better tracks.
But FACTORY FLOOR's '(Real Love)' produced by Morris is undoubtedly polarising. Some say it is genius, others a load of repetitive bleeping to an incessant four-to-the-floor beat! 'Another Hilltop' though is fabulous, a squiggly reworking by Morris with Bethany Cassidy taking her mother's role in this update of the SECTION 25 classic; and it wins hands down over FACTORY FLOOR by virtue of being a song.
As the playlist progresses, there's the treat of a frantic 2011 instrumental from THE OTHER TWO entitled 'Inside' which features the KRAFTWERK 'Uranium' sample used on 'Blue Monday', while 'The Hunter' by MARNIE is given a deep metronomic dance reinterpretation.
On FUJIYA & MIYAGI's 'Daggers', as can be expected from the man who wanted to be a drum machine, Stephen Morris' remix is rhythmically strong while THE OTHER TWO remix of 'Oh Men' by TIM BURGESS offers a Germanic flavour and some lovely cascading synth tones. There's another 9 minutes of FACTORY FLOOR in 'A Wooden Box' before the second CD concludes with two takes on LIFE's 'Tell Me', a female vocalled alternative pop number released as FAC106 in 1984.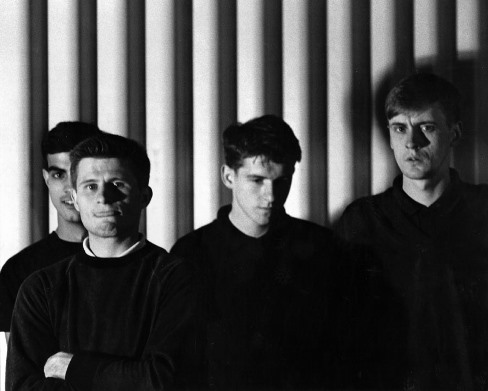 Disc 3 collects together some assorted band contributions and a number of Peter Hook productions. Previously known as just 'Theme', 'Lavolta Lakota Theme' was composed as gig intro music for LAVOLTA LAKOTA and comes over as a menacing drum machine driven cousin of 'Murder', layered with timpani samples to aid the apocalyptic drama. Of STOCKHOLM MONSTERS, the brassy new wave of 'All At Once' produced by Hooky is enjoyable but very much of its time.
Led by a vocoder, ROYAL FAMILY & THE POOR's 'Motherland' is pure art angst, while completing a quartet of Hooky helmed studio creations on Disc 3 is AD INFINITUM's cover of 'Telstar'. Not exactly the greatest reinterpretation in the world, FAC93 was originally rumoured to be NEW ORDER in disguise and while this curio certainly had a number of distinct elements like Hooky's bass and an Oberheim DMX, the exercise was actually a project fronted by Lindsay Reade, the former Mrs Tony Wilson. But her intended new original lyrics for 'Telstar' were vetoed by The Joe Meek Estate, so a version with more abstract vocals was released instead.
Not a NEW ORDER production but featuring percussive assistance from Stephen Morris, 'Theoretical China' by TUXEDOMOON's Winston Tong had an all-star cast including ex-PUBLIC IMAGE LIMITED bassist Jah Wobble and MAGAZINE's Dave Formula who also co-produced with ASSOCIATES' Alan Rankine. Tong later recorded some more fully realised material for his excellent 'Theoretically Chinese' album, but this neo-title song is a good introduction to his electropop phase.
One nice surprise is RED TURNS TO 'Deep Sleep'; produced by Stephen Morris, the song originally released as FAC 116 still sounds fresh and has dated better than a number of the offerings at the beginning of Disc 3.
With sequence programming by Sumner, 'Sakura' documents SECTION 25 entering the electronic world in 1982. Around this time, NEW ORDER went the full sequencer route having previously triggered synthetic pulses on 'Everything's Gone Green' and 'Temptation'.
The end result was the 20 minute 'Video 5-8-6', constructed using a home built a Powertran 1024 Sequencer to control a Powertran Transcendent 2000 synth while clocked off a Clef Master Rhythm, effectively an expanded Boss DR-55 Doctor Rhythm. An ominous sign of the future, it was the first NEW ORDER recording not to feature Peter Hook but ultimately lay the blueprint for 'Blue Monday' and more…
Whether you are a fan of NEW ORDER and the legend of Factory Records or would like to discover some lesser known but brilliant electronic pop jewels, this terrific collection is a must.
Accompanied by comprehensive, well-researched liner notes from the ever reliable James Nice that include a quote from ELECTRICITYCLUB.CO.UK's 2011 interview with Stephen Morris, there really is something for everyone in this vast set documenting an adventurous period in music.
---
With thanks to James Nice at Factory Benelux
'NEW ORDER Presents Be Music'
is available as a 36 track 3CD boxed set or 12 track double gatefold vinyl
http://www.factorybenelux.com/new_order_presents_be_music_fbn60.html
http://peterhook.get-ctrl.com/#/
---
Text by Chi Ming Lai
17th February 2017