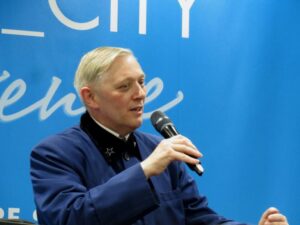 The 2016 ELECTRI_CITY_CONFERENCE had the bonus of a second MARK REEDER interview conducted by ELECTRICITYCLUB.CO.UK's Chi Ming Lai.
The scheduled speaker MARTYN WARE had unfortunately been taken ill, so Reeder kindly stepped in. The day before, he had already spoken in his charmingly fluent Mancunian lilted German about 'B-Movie: Lust & Sound In West Berlin 1979 – 1989'
.
In this insightful documentary, he narrates about the music, art and chaos of the divided city before its infamous wall came down. Now best known as a remixer, MARK REEDER relocated to Berlin after he left Manchester in 1978 to explore his passion for German electronic music such as KRAFTWERK, NEU! and TANGERINE DREAM.
His enlightening hour long chat covered topics such as his time as Factory Records German representative, living in Berlin, his MFS trance label and working with acts such as JOHN FOXX, PET SHOP BOYS, DEPECHE MODE, MARSHEAUX, BLANK & JONES, QUEEN OF HEARTS and NEW ORDER.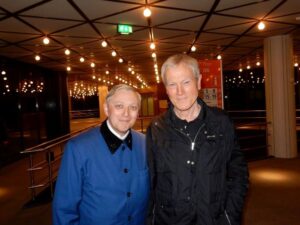 The discussion formed part of the 2016 ELECTRI_CITY_CONFERENCE's weekend long programme of talks and live music to celebrate Düsseldorf's electronic music legacy.
Also participating were DANIEL MILLER, CHRIS LIEBING, JOHN FOXX, STEVE D'AGOSTINO, RUSTY EGAN, CHRIS PAYNE, MARSHEAUX, ERIC RANDOM, JIMI TENOR and JORI HULKKONEN.
As a climax to the 2016 event, JEAN-MICHEL JARRE will be performing in the city on SATURDAY 22ND OCTOBER at the ISS Dome and giving a pre-show talk.
---
MARK REEDER's remix collections 'Five Point One'
and 'Collaborator'
are released by Kennen and Factory Benelux respectively
'B-Movie: Lust & Sound In West Berlin 1979 – 1989'
is released by Edel as a DVD and Blu-ray; the soundtrack album is also available as a 2CD, double vinyl LP and download
https://www.facebook.com/markreedermusic
http://www.b-movie-der-film.de/
http://www.electricity-conference.com/de/
---
Text by Monika Izabela Goss
20th October 2016