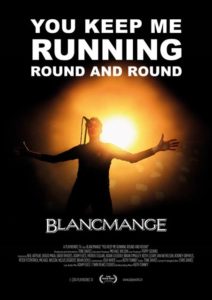 'You Keep Me Running Round & Round' is an original film by Playworks.tv exploring the life of Irish electronic music enthusiasts during the fledgling days that corresponded with the Synth Britannia revolution across the water. It recently won an Award of Merit from IndieFest, while it has been nominated for the 'Best Music Documentary' category at UKMVA 15.
In 1982, BLANCMANGE released their debut album 'Happy Families' and thirty years later, it was re-imagined as 'Happy Families Too'. The documentary centres on the recollections of a number of men (…and yes, they are ALL men 😉 !) from the Dublin electronic scene attending BLANCMANGE's first ever gig in the Irish capital during the subsequent tour.
It is the story of their journey, waiting three decades to see one of the bands who helped ignite their love of electronic music. The synth heads gathered include personnel from assorted local acts such as EMPIRE STATE HUMAN, POLYDROID, KUBO, THE CASSANDRA COMPLEX and CIRCUIT3. And they are all a passionate bunch who can tell their drum machines from their tape recorders, unlike some so-called electronic music journalists.
Their entertaining monologues are inter-dispersed with excellent live footage of BLANCMANGE from that Dublin gig, with 'Feel Me', 'Blind Vision', 'Waves', 'Living On The Ceiling' and 'I Can't Explain' all figuring. The fact that the songs featured are all in full-length form is one of the documentary's major strengths. This is a relief after all the song butchering and fast editing that has occurred in Channel 4 music programmes aimed at attention deficit inflicted youngsters over the last few years.
In 1982, there was very little electronic music in Ireland. Rock was God with the nation focussed on U2, THIN LIZZY or traditional music. It was a time when there was no YouTube and very few people even had a VHS recorder. So finding an electronic pop record imported from the UK was the Saturday adventure for a discerning synth inclined teenager.
Around this time, BLANCMANGE had just signed to London Records and began recording the songs that would eventually form 'Happy Families'. While 'Living On The Ceiling' was to become the hit that brought BLANCMANGE into many teenagers' homes, the pivotal track was its predecessor 'Feel Me'.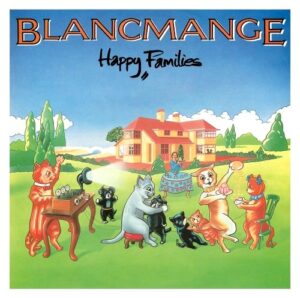 On how the song came about, Neil Arthur told ELECTRICITYCLUB.CO.UK: "Stephen Luscombe came round with this cassette and on it was this rhythm which was the backing of 'Feel Me'. It was a great bassline and we blasted it in the studio through these big speakers and I did this kind of ad-lib vocal. I had this idea that went 'feel me now – feel the pain – feel the strain'… simple rhyming, repetitive words".
One key point made in 'You Keep Me Running Round & Round' is that synthpop is about synthesizers, and that there is no other music form that has such a broad spectrum of possibilities within one track.
It ultimately has a sensibility that not only encompasses shiny pop but also the avant-garde and is often coupled with dark lyrical matter. "With the line 'Your hand's in the pocket – pocket of a friend', it was just to get people thinking that the song was going one way but then to say 'what do you feel?', 'what do you think?'… for me, it's just a song to be interpreted or misinterpreted any number of ways" remembered the BLANCMANGE frontman, "It's like 'Here comes a love song – there goes a banister', what could it be? It could be a sexual reference, it could be a reference to relationship intensity. It's not exactly a very melodic vocal line so the intensity had to build throughout. On reflection, I always thought it was more David Byrne than Ian Curtis, but there was never any intention" 
Using synthesizers was about control as well and not needing a drummer! Arthur recalls: "We didn't own any of the synths we used for 'Happy Families'. We hired a Roland Jupiter 8, an ARP sequencer and a Korg MS20 plus a Linn LM-1 Drum Computer which Stephen and I programmed up".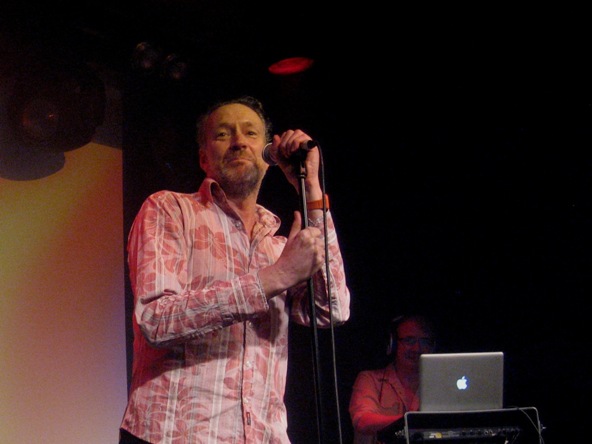 And it was also about unlimited creativity and unconventional thinking: "The catch on the bassline of 'Feel Me' is having that pick-up on the sixteenth beat coming into the one… that was the thing that got me when Stephen came in with that. It was put together with a TR808 initially using the cowbell as the trigger to the synth. That was replicated using the Linn with the bass part being the Jupiter and Korg. David Rhodes' E-bowed guitar melody is doubled with a keyboard"
But of course, many in the documentary did not have access to this kind of technology at first, but the use of cheaper synths as a starting point allowed for punk's DIY ethic to be applied. It was the same for BLANCMANGE before they were signed and the approach they had to take for their first release 'Irene & Mavis'.
"Everything then had been recorded on a Sony cassette machine; we had another cassette machine purely for playback with decent speakers on it" recalled Arthur on those fledgling days, "We would take a line-out and feed it into a mono input and do the other track live at the same time. Or we would overdub by playing in the room and having the backing track playing from the extension. We combined that and a borrowed 4 track machine with varispeed on it"
The one term that keeps reoccurring in 'You Keep Me Running Round & Round' is "synthpop"… yes, that's synthpop, pop songs with synthesizers, NOT "dance" or "electronica"! There is an unashamed embracement of synthpop by all concerned.
Now while the Acid House and dance revolution is briefly touched upon towards the end and helped make electronic music credible enough for music hacks to want to write about it, it largely took songs out of the equation.
And let's face it, those club-oriented excursions were generally pointless without the use of substances!
But course, with the return of the synthesizer in an avant pop context, it's not about harking back to the past, but looking forward to the future. On reworking 'Feel Me' for 2013, Neil Arthur said to ELECTRICITYCLUB.CO.UK: "My new version is more stripped down. There's so many VST plug-ins you can put on top of things. Unless your ideas are good, it's not worth it. I tried to remember what it was like in that room when I first heard that rhythm Stephen had put together. David came in to play his great guitar on it again. The vocals are my daughter, myself and a vocoder… I wanted to keep it really simple. Hopefully it still works. At least doing 'Happy Families Too', I wasn't going to tear myself apart over the songs… they are written for better or for worse"
In all, 'You Keep Me Running Round & Round' is an enjoyable hour of music history, presented in a refreshing, intelligent manner. Indeed it is the antithesis of those 'I Love The 80s' type cheesefests that often portray synthpop in the worst way possible, as something to be derided and mocked.
In fact, it would make rather good viewing on BBC4.
---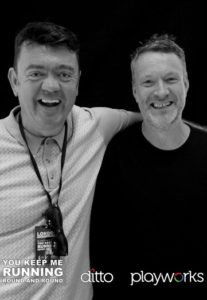 With thanks to Patti Carbonell, Poppy Seekins  and Tone Davies at Playworks.tv
Additional thanks to Neil Arthur and Peter Fitzpatrick
For further information on 'You Keep Me Running Round & Round', please visit www.ditto.tv/ditto-is-running-round-and-round/ or email campfire@playworks.tv
https://www.facebook.com/BlancmangeMusic/
---
Text and interview by Chi Ming Lai
12th September 2015, updated 17th October 2016