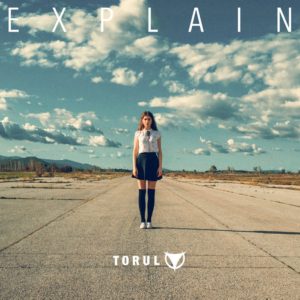 After three albums fronted by the charismatic Jan Jenko, it was all change in 2016 for TORUL on the appropriately titled 'Reset', with the introduction of new vocalist Maj Valerij.
To trail a new album coming later this year, the Slovenian combo are back with a brand new single 'Explain'
which showcases some grouchy bass guitar syncopating off a solid beat. Over smatterings of weeping electronics, Valerij explains to his listeners that "She's coming again in my dream". In the mysterious visual accompaniment directed by Aleš Bravničar, a disused airfield is used as a backdrop for its leading lady Tina Kopušar to roam in search of life, or is it?
Valerij smokes a pipe intently and stares her out; is he a ghost from a bygone conflict or disaster? The aeronautical relics from The Cold War rusting from abandonment might be a clue… but as bandmates Torul Torulsson and Borut Dolenec make cameos, it's difficult to fathom! Explain!
With Valerij now fully ensconced into the fold, it would appear that TORUL have survived the departure of Jan Jenko, with 'Explain' capturing the intensity of their previous work, a template that was inspired by the likes of THE CURE and TEARS FOR FEARS who the band have covered on previous albums.
The download bundle comes with three remixes, the best of which comes from Germany synthpop trio BEBORN BETON who add a rather wonderful pulsating electronic disco feel to proceedings.
---
'Explain'
is released by Infacted Recordings, available as a download bundle from https://infactedrecordings.bandcamp.com/album/explain
http://www.torul-recordings.net/
https://www.facebook.com/torul
---
Text by Chi Ming Lai
17th February 2018