When Roland Orzabal and Curt Smith went into the studio to record 'Suffer The Children' as their debut single as TEARS FOR FEARS, it was producer David Lord who introduced them to synthesizers plus crucially, keyboard player and later, collaborator Ian Stanley.
The Bath pair had been members of NEON which featured future TEARS FOR FEARS drummer Manny Elias as well as Pete Byrne and Rob Fisher who later found success in America as NAKED EYES with a synthpop cover of 'Always Something There To Remind Me'.
Orzabal and Smith then achieved moderate success in Spain with the smartly suited Mod band GRADUATE via a hit single 'Elvis Should Play Ska', co-produced by Tony Hatch.
But like many at the time, they were tiring of the band format and recording as a duo, a demo featuring 'Suffer The Children' and 'Pale Shelter' secured an initial two single deal with Mercury Records who also had THE TEARDROP EXPLODES on their roster.
Arty and angsty, Orzabal and Smith had become fascinated by Arthur Janov's Primal Therapy and had named themselves after his theories which resolved to overcome childhood traumas through re-experiencing specific incidents and fully expressing the resulting pain during therapy.
While not a commercial success, 'Suffer The Children' with its OMD-like chorus and closing child vocal refrain was well received, so hopes were pinned on 'Pale Shelter', produced by Mike Howlett whose studio touch had brought OMD into the charts.
However, the duo were unhappy with the New Zealander's more technological approach, preferring a looser feel and found an ally in Chris Hughes, producer of ADAM & THE ANTS who also doubled as one of the former Stuart Goddard's drummers under the stage name of Merrick.
A&R man David Bates believed in his signings and TEARS FOR FEARS were given one more chance with the resultant 'Mad World' hitting paydirt. Lyrically fraught with a wonderful percussive tension, 'Mad World' magnificently combined synthesizers, preset rhythms and conventional instruments.
It set the scene for the debut album 'The Hurting'
but when it was released in Spring 1983, it disappointed some who had followed the band from the beginning. Not only were all four singles to date included but so were two of the B-sides.
Meanwhile, two of the album's key songs 'Memories Fade' and 'Start Of The Breakdown' sounded weak compared to the more powerful Linn Drum driven assisted arrangements previewed on an excellent BBC Radio 1 session for Kid Jensen in late 1982 which exuded far more tension; these finally secured a release in the deluxe boxed set edition of 'The Hurting' in 2013.
This wasn't to be the first time that the Achilles heel of too much studio pondering would hit TEARS FOR FEARS, but one interesting consequence was that the treated ethnic percussion added to the extended end section of 'Memories Fade' was sampled by Midge Ure and used on 'Do They Know It's Christmas?' by BAND AID.
With the help of hits like 'Change' and a re-recorded 'Pale Shelter', 'The Hurting' was a big success and put them next to the exciting talent that was emerging from the UK like DEPECHE MODE, TALK TALK, A FLOCK OF SEAGULLS, BLANCMANGE and CHINA CRISIS. But they stole defeat from the jaws of victory with a ponderous interim single 'The Way You Are' towards the end of 1983. By their own admission, they had been listening to too much JAPAN and were stuck on Planet Sylvian… it was time for a rethink.
At this point, Smith was the accepted face and lead singer of TEARS FOR FEARS but that would steadily alter on their second album 'Songs From The Big Chair'
. 'Mothers Talk' was a reasonable comeback featuring Orzabal's lead vocal but the duo were still not happy. Their perceived failing made them more determined; With East / West tensions at a high following the Soviet Union's invasion of Afghanistan plus the tit-for-tat boycotts of The Olympics Games, The Cold War and the Reagan / Thatcher love-in was to inspire two of TEARS FOR FEARS biggest hits.
'Shout' was a battlecry against the proliferation of nuclear weapons. Using sequencers and drum machines as the backbone, the process was aided by more prominent and rockier guitar towards the climax, along with a gutsy lead vocal from Orzabal and thundering drums from Chris Hughes. The song took an age to record and mix but produced a single of epic proportions at over six minutes.
On the other hand, 'Everybody Wants To Rule The World (originally titled 'Everybody Wants To Go To War') was more straightforward as a conscious attempt at an American drive-time hit with its fabulous topline, chorus and middle eight. Both songs became US No1s.
Another US Top 10 came with 'Head Over Heels', part of an album segue with 'Broken', a track that had been a more mechanically recorded B-side but now given a blistering treatment on the conceptual second side of 'Songs From The Big Chair', which was closed with the lengthy but brilliant art piece 'Listen'. The combination of synthpop, FM rock and prog ensured 5 million sales in the US and a further 2 million in the rest of the world.
They indeed ruled the world but as with many successful acts of the period, TEARS FOR FEARS got lost in the own bubble. Orzabal began to question the band's authenticity and this was heightened when he saw Oleta Adams singing in a bar while on a break during the American leg of the 'Big Chair' tour.
During the recording of the anticipated follow-up The Seeds Of Love
, Smith found himself isolated during the recording sessions as Orzabal strived for perfection. Orzabal had co-written a number of songs with live keyboardist Nicky Holland, but the use of a Fairlight and endless session musicians being brought in like Pino Palladino, Manu Katché and even Phil Collins became a distraction in the search for a more organic touch; Ian Stanley left the recording and returned a year later only to find Orzabal still working on the same song!
Incorporating Adam's soulful tones into the TEARS FOR FEARS line-up, 'Woman In Chains' was a fine musical statement on patriarchy, but was ironically used during a glamourous beach sequence on 'Baywatch'. However, the lead single 'Sowing The Seeds Of Love' was more polarising, an anthemic rewriting of 'I Am The Walrus' which provoked either love or disdain.
Smith did the lead vocal on 'Advice For The Young At Heart, a good tune that perhaps got lost in its understated backing that made it come over more like CHINA CRISIS, but following another world tour to pay off the alleged debt of over $1 million incurred in recording costs, Smith bowed out as their management went bankrupt .
Resilient and some might say, bloody minded, Orzabal (like Andy McCluskey did with OMD) continued the TEARS FOR FEARS brand as a solo venture, and while the venture yielded further UK hits like 'Laid So Low' and 'Break It Down Again' co-written by the late Alan Griffiths, fans generally did not regard it as TEARS FOR FEARS.
It was around this period that Orzabal recorded covers of 'Ashes To Ashes' and 'Creep', perhaps indicating he was going through some kind of musical existential crisis. And a 2000 solo album 'Tomcats Screaming Outside' all but confirmed even to Orzabal that it was not TEARS FOR FEARS without Smith. While Smith himself also ventured out solo and as MAYFIELD, time eventually healed the fall out as Orzabal lightened up and the two old friends began speaking to each other again.
The eventual 2004 comeback record 'Everybody Loves A Happy Ending' was a disappointment and not a success with the original release on Arista pulled by the band before its release after promos were sent out; an eventual sanctuary was found at Gut Records in the UK, but the experience ensured that in 2017, there has still yet to be a follow-up.
Despite this, TEARS FOR FEARS continued touring but the band's legacy and reputation was unexpectedly elevated by the cult film 'Donnie Darko' released in 2001.
A dark psychological drama starring a then-unknown Jake Gyllenhaal, the original cut began with 'Head Over Heels' in the opening sequences. Meanwhile a stripped down piano based cover of 'Mad World' arranged by Michael Andrews and sung by Gary Jules became the film's focal point on the soundtrack.
It affirmed Orzabal's qualities as a great songwriter and since then, the work of TEARS FOR FEARS been deservedly re-evaluated and as a result, demand for them has a live act has escalated.
In the last few years, Orzabal and Smith toured with SPANDAU BALLET down under while they have also opened for THE KILLERS and HALL & OATES to steadily rebuild the profile of TEARS FOR FEARS; this long wait has been vindicated with a sell-out UK tour for 2018 and the promise of new material.
A new single 'I Love You But I'm Lost' shows the classic anthemic TEARS FOR FEARS sound is still present, loud and clear to make amends for the 'Everybody Loves A Happy Ending' disaster, while absorbing more recent influences like ARCADE FIRE. Meanwhile, the more sedate 'Stay' signals more organic intent despite an autotuned vocal from Smith.
The new compilation 'Rule The World' gathers most of the hits, but is missing some singles like 'Suffer The Children', 'The Way You Are' and 'Laid So Low' which however unrealised, were crucial in shaping TEARS FOR FEARS' creative development.
With 'The Hurting' having been many listeners entry in synthpop and modern acts like MARSHEAUX covering 'Suffer The Children', while other bands such as SMASHING PUMPKINS and MGMT have cited the band as an influence, is it now the time for TEAR FOR FEARS to reclaim their position and rule the world again?
---
'Rule The World: The Greatest Hits'
is released by Universal Records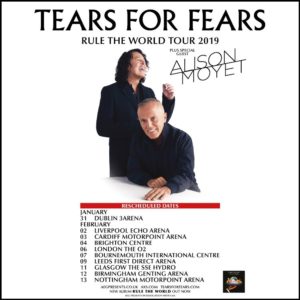 TEARS FOR FEARS rescheduled 2019 UK and Ireland tour with special guest ALISON MOYET includes:
Dublin 3Arena (31st January), Liverpool Echo Arena (2nd February), Cardiff Motorpoint Arena (3rd February), Brighton Centre (4th February), London O2 Arena (6th February), Bournemouth International Centre (7th February), Leeds First Direct Arena (9th February), Glasgow SSE Hydro (11th February), Birmingham Genting Arena (12th February), Nottingham Motorpoint Arena (13th February)
https://facebook.com/TearsForFears
https://twitter.com/tearsforfears
https://www.instagram.com/tearsforfearsmusic/
---
Text by Chi Ming Lai
20th November 2017, updated 18th April 2018