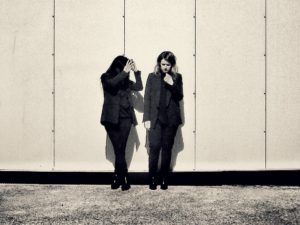 MARSHEAUX have recorded a cover of TEARS FOR FEARS 'Suffer The Children'.
TEARS FOR FEARS' first single was written by Roland Orzabal reflecting the Bath duo's interests in Arthur Janov's Primal Scream therapy to deal with the traumas of childhood; a re-worked version appeared on their classic 1983 debut album 'The Hurting'. The enticing reinterpretation is accompanied by a suitably moody black and white video filmed in Berlin; watch carefully for Sophie and Marianthi's fleeting cameo appearance…
The mood of the innocent childlike vocal refrain in the bridge of the original is maintained throughout MARSHEAUX's version. The contrast of a wispy female lead vocal paradoxically adds extra resonance to the weighty poetry of 'Suffer The Children'.
MARSHEAUX chatted to ELECTRICITYCLUB.CO.UK about the genesis of 'Suffer The Children' while also discussing some of their favourite covers and ones which didn't quite work out…
'Suffer The Children' is an interesting song for you to cover, what inspired this?
We were on our way back from our vacation last year and were listening to 'The Hurting' album in the car. We were thinking of covering DEPECHE MODE's 'Get The Balance Right' but then suddenly the CD player played 'Suffer The Children' and we changed our minds. Whenever we listen to it, it always brings JOY DIVISION in our minds, sounding like what would have happened if they'd decided to play electronic music.
The lyrics of 'Suffer The Children' are quite heavy for a pop song. How did you find trying to relate to them?
True, the lyrics are heavy for a pop song. These emotions are coming both ways, from parent and child. You can take the place of both, as a kid and as a parent.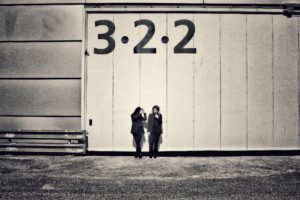 What did you consciously do to make this cover as different from the original as possible?
First of all the vocals are female. Immediately the song softens its dark edges and becomes more poppy. The production is modern and all the samples that we used are from synths and applications like Circle, Alchemy, Synthmaster and Massive.
The guitar solo has been recreated with a synth? How did you achieve this?
We have used a bass from the Korg MS-20 and put it through flanger, distortion and a Boss BC-1X bass compressor pedal.
Your version also reveals the song's OMD inspired roots?
There is always an OMD inspiration in the full MARSHEAUX catalogue *laughs*
This is actually widely known. If you listen to the original TEARS FOR FEARS version though, you can sense the OMD similarities there too.
Where do you think TEARS FOR FEARS sit next to bands like DEPECHE MODE, OMD and ERASURE?
'The Hurting' is a masterpiece. It stands next to other great albums like THE HUMAN LEAGUE's 'Dare', ABC's 'The Lexicon Of Love', OMD's 'Architecture & Morality' and YAZOO's 'Upstairs at Eric's'. Every single track could have been a perfect single.
The strange thing with TEARS FOR FEARS is that each album by them represents musically and culturally, a different period for the band. Maybe it is because they had big gaps in between albums or maybe their concepts, motives and targets were different each time.
They became huge in the USA with 'Songs From The Big Chair', and maybe lost their street cutting sense and their artistic value (you know the whole Arthur Janov's background with 'primal therapy' on 'Suffer The Children') but this doesn't belittle the value of their songs.
Even the singles from their Beatles-ish album 'Seeds Of Love' are amazing. They surely can stand next to DEPECHE MODE, OMD and ERASURE. They are one of the great bands we have passionately loved and still do. Their lyrics are always incredible. "Memories fade… but the scars still linger", it's so wonderful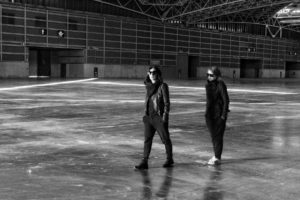 MARSHEAUX have some great covers. Which ones do you feel have been the most satisfying artistically for you?
THE LIGHTNING SEEDS 'Pure' is a favourite for both of us, as well as BILLY IDOL's 'Eyes Without A Face' which was the most successful one. Imagine, this last one was supposed to be bonus track on 'Breakthrough' single but Out Of Line, our record company back then, didn't like it and didn't want to include it as a bonus in the single.
Choosing a cover can be difficult. Have there ever been any you attempted that didn't work out?
Yes, there were actually two not very fruitful attempts. The first one was THE PRIMITIVES' 'Crash' and the second was PETE SHELLEY's 'Homosapien'!
---
ELECTRICITYCLUB.CO.UK gives its warmest thanks to MARSHEAUX
'Suffer The Children' is released by Undo Records as a download single and available via the usual platforms
https://www.facebook.com/marsheaux/
https://www.instagram.com/marsheaux/
---
Text and Interview by Chi Ming Lai
23rd August 2016, updated 16th February 2021