Out of all the British bands to emerge from the post-punk era, Liverpool's A FLOCK OF SEAGULLS made one of the most lasting impacts on modern popular culture.
Noted by lead singer and keyboardist Mike Score's outlandish hairdo, his distinctive bonce was sent up on 'The Wedding Singer' and 'Friends'. Meanwhile, Samuel L Jackson's "YOU! FLOCK OF SEAGULLS!" line from 'Pulp Fiction' in reference to an assassination target's hairstyle was appropriated by the music press to mock the band!
But A FLOCK OF SEAGULLS have a musical legacy too. In 1983, they won a 'Best Rock Instrumental Performance' Grammy Award for the track 'DNA', at a time when The Second British Invasion had still yet to fully take hold in an America still drunk on TOTO and JOURNEY!
Then in 2005, THE MODERN released a single entitled 'Industry' which bore more than a passing resemblance to 'The More You Live, The More You Love'. According to band member Nathan Cooper, better known these days as KID KASIO, this was purely accidental: "We didn't realise until halfway through the promotional tour for it. We were doing an interview for a little radio station in Sheffield and the presenter pointed it out and played both back to back!!!! We were speechless and a bit embarrassed… the verse for both songs is almost EXACTLY the same!!"
Then bizarrely, the poacher met the gamekeeper!
"We actually supported them years later" remembered Cooper, "we were so embarrassed, we were going to drop 'Industry' from our set! But in the end, I just went up to Mike Score and explained it and said 'I'm really sorry, it was unintentional'. He was really lovely about it". THE MODERN weren't the only ones mining the Seagull Songbook.
In 2007, MARSHEAUX borrowed the main riff from 'Space Age Love Song' for their 'Dream Of A Disco', often thought of as the Greek synth maidens' signature song. Indeed, imitation can be the sincerest form of flattery…
Mike Score unsurprisingly trained as a hairdresser, but music was where his ambitions lay. Joining forces with his drummer brother Ali and bassist Frank Maudsley, they rehearsed as a three-piece and began writing songs along the way. But it was not until after the recruitment of guitarist Paul Reynolds that things began to gain momentum.
By late 1979, Merseyside had become a hot bed of emerging musical talent with acts such as ECHO & THE BUNNYMEN, THE TEARDROP EXPLODES, DEAD OR ALIVE, WAH! HEAT, CHINA CRISIS and OMD. But with their Sci-Fi songs and penchant for dressing up as spacemen, A FLOCK OF SEAGULLS never fitted in with their local contemporaries.
So one could imagine the reaction of Mac The Mouth and Droolian when Mike Score and Co were the the first of the gang to break America when their eponymous debut album reached No75 in the US charts on the back of 'Telecommunication', a Bill Nelson produced song from it, becoming a No1 US Dance hit!
A FLOCK OF SEAGULLS had got their original break when Bill Nelson produced and released their debut single '(It's Not Me) Talking' for his Cocteau label in 1981. But it was with their fourth single 'I Ran' that they first nestled just outside the UK Top40. With an echoing guitar kick, this was futuristic synthesized rock along the lines of ULTRAVOX that crucially became a US Top10 in the Billboard Hot 100.
The embracement from America came via MTV; Mike Score's memorable back combed hair style and the band's unusual appearance appealed to a college demographic which was tiring of permed long hair and blue denim. With a sound that combined enough conventional rawk guitar to have mainstream appeal while adding a spacey sheen with prominent synths, A FLOCK OF SEAGULLS were onto a winning formula.
Produced by Mike Howlett, who also steered OMD, BLANCMANGE and CHINA CRISIS to chart success, 'A Flock Of Seagulls'
 was a concept album of sorts about an alien invasion that featured 'I Ran', 'Space Age Love Song' and 'Telecommunication', plus other great tracks such as 'Modern Love Is Automatic, 'Messages' and the Grammy Award winning 'DNA'.
Also produced by Howlett except for the album's closer '(It's Not Me) Talking', 'Listen'
released in 1983 made an even bigger impact, thanks to the song many consider to be A FLOCK OF SEAGULLS' crowning glory, 'Wishing (I Had A Photograph Of You)'.
With a percussively clanky backbone and using just black keys for its infectious melody line, it was the big home hit that A FLOCK OF SEAGULLS has been waiting for. Further singles 'Nightmares' and 'Transfer Affection' were good but did not reach quite the same heights, although that mattered little as at this point, the quartet were one of the most heavily rotated acts on MTV.
Their third album 'The Story Of A Young Heart'
in 1984 was the beginning of the artistic and sales decline, although the lead single' 'The More You Live, The More You Love' was classic A FLOCK OF SEAGULLS in the vein of 'Space Age Love Song'.
By the time of the fifth long player 'Dream Come True'
, Reynolds had left the band as the remaining threesome settled into their new base of Philadelphia, but A FLOCK OF SEAGULLS had lost that distinctly British edge that made them so appealing to the US in the first place.
'Heartbeat Like A Drum' was a passable watered down digital pop song of a period when British acts like OMD and THE HUMAN LEAGUE were chasing the American dollar, but the Hi-NRG paced 'Who's That Girl (She's Got It)' was poor and the beginning of the end. By 1986, the Score brothers had fallen out and A FLOCK OF SEAGULLS had disbanded.
The legacy of A FLOCK OF SEAGULLS has now been bolstered by a new compilation on Cherry Pop with the self-explanatory title of 'Remixes & Rarities'
. Featuring most of the band's singles in radio edit and extended format, it also acts as a document to some of the more hidden experiments of the band, and how popular music was changing under the spectre of MTV and club culture.
There were rumours that while 'Dream Come True' was being recorded, A FLOCK OF SEAGULLS were turning into a Mike Score solo act. Two lengthy instrumentals 'The Last Flight Of Yuri Gagarin' and 'Rosenmontag' that featured on the flip of 'Nightmares' certainly give the impression that this was starting to be the case, even back then. Having not been included on Cherry Pop's album reissues, this pair of collage curios certainly haven't been missed… also not much cop is the rather badly put together 'Single Medley'.
Much better though are the nine minute version of 'Wishing (I Had A Photograph Of You)', an edit of its B-side 'Committed' and the extended remix of 'Never Again (The Dancer)' which comes over like OMD but with more guitar.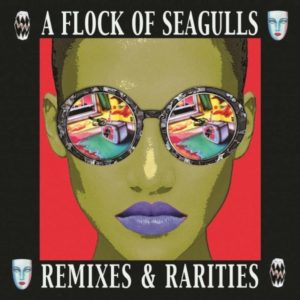 The 'Full Moon Mix' of 'The More You Live, The More You Love' fairs less well, being one of those horrid dub styled reworks that were prevalent from 1984 onwards and which featured very little of the actual song!
An assortment of live versions fill the remainder of this compendium and these recordings act as a reminder that despite the exposure on MTV, it was actually A FLOCK OF SEAGULLS' ability as a live band and a willingness to tour as support to the likes of bigger acts such as GENESIS, THE POLICE and THE GO-GO'S in the US that cemented their success. A FLOCK OF SEAGULLS continue to play live today with Mike Score being the sole remaining original member.
While he might no longer have his hair or his Scouse accent, 'Remixes & Rarities' is evidence that despite how they were derided in their own country and have been sent up by popular culture, A FLOCK OF SEAGULLS have a significant number of great songs in their back catalogue that worldwide audiences still want to hear.
And not many bands actually get to achieve that…
---
With thanks to Matt Ingham at Cherry Red
'Remixes & Rarities'
is released by Cherry Pop as a double CD set on 24th March 2017, pre-order from https://www.cherryred.co.uk/product/remixes-rarities-deluxe-2cd-edition
The albums 'A Flock Of Seagulls'
, 'Listen'
, 'The Story Of A Young Heart'
and 'Dream Come True'
are all still available on CD via Cherry Pop https://www.cherryred.co.uk/artist/a-flock-of-seagulls/
http://www.aflockofseagulls.org
https://www.facebook.com/seagullsrunning
https://twitter.com/seagullsrunning
---
Text by Chi Ming Lai
11th March 2017