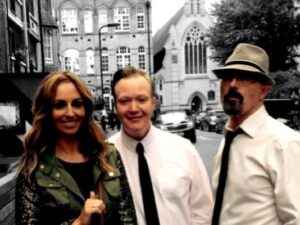 Since their well-received live appearance at Düsseldorf's ELECTRI_CITY_CONFERENCE in 2015, Dublin's TINY MAGNETIC PETS have been on an upward trajectory.
With the city emerging as a haven for synth talent, the threesome of Paula Gilmer, Seán Quinn and Eugene Somers have made their most of their head start with luminaries such as Rusty Egan, Andy McCluskey and Wolfgang Flür providing their support.
Having already issued one album 'The Return Of The Tiny Magnetic Pets' and the 'Stalingrad' EP, 'The NATO Alphabet' released last year was undoubtedly their best body of work to date. From it, there was the accessible sub-NEW ORDER pop of 'Everybody Knows' alongside the Dublin goes to Düsseldorf instrumental 'Klangfarben'. Meanwhile, the reggae inflections of 'Not Giving In' and 'No One At The Safe House' were evidence of a willingness to experiment with rhythm structures. TINY MAGNETIC PETS kindly took a quick break from rehearsals to chat with ELECTRICITYCLUB.CO.UK
How would you describe the creative dynamic of TINY MAGNETIC PETS?
We're friends first, so we work together with mutual respect – plus we all know the boundaries…
What influences do each of you bring to the table?
We're all DAVID BOWIE freaks.
Paula: MOBY, GOLDFRAPP.
Seán: LA DÜSSELDORF, KRAFTWERK, HARMONIA, UNDERWORLD, BRIAN ENO, PINK FLOYD, THE CHEMICAL BROTHERS, THE MONKEES, KING CROMSON, JOHN FOXX era ULTRAVOX, JEAN-MICHEL JARRE, TANGERINE DREAM.
Eugene: THE SMITHS, DEPECHE MODE, THE BEAT, GARY NUMAN, RADIOHEAD, THE SPECIALS, ORBITAL
The earlier TMP material was perhaps more minimal, what was the genesis of your more expansive current sound?
The first album was created within very strict parameters: we have a load of vintage instruments from the 60s and 70s so we only allowed ourselves to use instruments and recording techniques that would have been around in the 70s, so no side- chaining compressors, no multi-comping vocals to make a performance – Paula always gets it in one go! We had James Byrne from VILLAGERS on drums on the album but then VILLAGERS signed to Domino and took off leaving us without a drummer.
The more expansive sound came about when Eugene joined as he's also a synth player and he brings different influences to the mix, plus we established who we are with 'ROTTMP' so we kind of knew what we sounded like this time 'round.
'The NATO Alphabet' appears to be the release has received the most acclaim, how would describe your satisfaction with it as a body of work?
We're very proud of it. The 'Stalingrad' EP and Rusty Egan's mash-up of 'Control Me' opened the doors for us in the UK and Germany where we played our first shows outside Ireland at Electro London and Electri_City in Düsseldorf. We were so buzzed by the reception we got from everyone that we took that buzz into the studio.
It was a great experience but also daunting, because we had expectations this time but getting e-mails of encouragement from Wolfgang Flür, Andy McCluskey and the omni-present Rusty Egan just set the vibe. We had a lot of fun doing 'NATO…'
So how would a song like 'Everybody Knows' have come together in the studio?
Every song has a different genesis. 'Everybody Knows' was unusual in that it started with the synth solo and the tune just mushroomed from there.
You've experimented with different formats live, having tried both acoustic and electronic drums; what were the pros and cons of each, and how did you settle on how TMP should sound within a concert context.
We all tend to be of one mind on this one: small venue – electronic percussion only, big venue – full drum kit and electronic percussion. On-stage the sound of the live kit provides such an energy but it has to be mixed out front properly otherwise the live kit can overpower the electronics – which we don't want. We've very dyed-in-the-wool electronic musicians! It's great when you listen to artists who use both, like ULTRAVOX, VISAGE, GARY NUMAN, OMD, SPARKS etc who do that mix of acoustic & electronic well. Then again Klaus Dinger only used live drums…
Choosing a setlist was described by Warren Cann of ULTRAVOX as like four people trying to paint with the same brush at the same time. How will you choose what you will play at Synth Wave Live and what songs are your favourites?
In our case two people! Paula and Eugene usually decide the set list and Paula comes up with the visuals. We like to do a slow start and build it up to a climax. The more uptempo numbers tend to be the most fun to play live because we're hyped up on stage, but I think everyones' live favourite is 'Semaphore'.
It's over 10 minutes long and shifts in mood and has been compared to LA DÜSSELDORF, but new songs like the slow set opener 'Here Comes The Noise (Pink)' have a great live feel.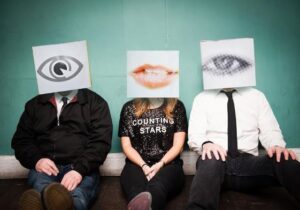 What's next for TINY MAGNETIC PETS?
We're currently ensconced in our studio finishing our new album and possible third EP plus as you know, we've been working with Wolfgang Flür which is great. The man has a great ear and is a true gent. We also want to get on as many stages as possible this year as that's where we really live.
---
ELECTRICITYCLUB.CO.UK gives its warmest thanks to TINY MAGNETIC PETS
Special thanks also to Una Fagan
'The NATO Alphabet EP' is available on CD and download via https://tinymagneticpets.bandcamp.com/
https://www.tinymagneticpets.com
https://www.facebook.com/tinymagneticpets/
https://twitter.com/TinyMagneticPet
---
Text and Interview by Chi Ming Lai
9th March 2017