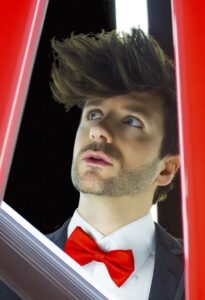 KID KASIO is Nathan Cooper, once of THE MODERN who supported HEAVEN 17 at The Scala.
Signing to Universal via their Mercury subsidiary, brilliant songs produced by Stephen Hague such as 'Jane Falls Down' and 'Sometimes' showcased their electro potential. Indeed, 'Jane Falls Down' reached No32 in the UK charts in 2005.
However, a well-documented incident involving the next single 'Industry' led to a parting of ways with their label and necessitated the revised moniker of MATINEE CLUB. While the eventual album 'Modern Industry' was released in late 2007 on Planet Clique, the band's promise was never quite fulfilled with only sporadic live performances during their twilight years.
But now in a much more sympathetic musical environment and with HOWARD JONES very much as the template, KID KASIO's retro but contemporary flavoured pop sound on his debut album heralds a new era for one man and his synth. 'The Reason' is candy flossed danceathon, sort of like HJ's 'Life In One Day' mashed-up with the soundtrack from Kevin Bacon film 'Footloose' while other previously previewed numbers 'Not For Turning' and 'Living My Life' are aspirational, riff laden ditties with catchy choruses reminiscent of DURAN DURAN.
Of the album's other ditties, the wonderful 'I Miss You' resembles LA ROUX syncopating to 'Forbidden Colours' with an autotuned Nathan on lead while 'One Heart' is a terrific classic electro tune with pitch bent synths and clattering drum machine. And only some steel drums are missing from the bouncy holiday flavoured 'Telephone Line', its funky bassline recalling LES RYTHMES DIGITALES' 'Jacques Your Body'.
ELECTRICITYCLUB.CO.UK had the pleasure of speaking to Nathan Cooper about the KID KASIO project in a break during preparations for his forthcoming 'Kasiotone' album launch party.
This is your first full album project since THE MODERN / MATINEE CLUB, how has the journey been to go solo?
There wasn't really another option for me. I'd been in bands since I was 12 and although I'd had many great experiences that came from being part of a group, there was always a niggling doubt in my mind that the reason things hadn't worked out was because I'd always done what other people wanted. I felt I had never voiced my opinions strongly enough and backed my own ideas with enough conviction.
I was always asking; "what if I had done it my way?" which is a bit unhealthy really.
I kind of had to try it for myself so I could stop blaming other people. Now if things go wrong it's much easier because I just say; "ok, I only have myself to blame, I'll learn from that and move on!" It's much easier!
There are many things I miss too. Writing is far easier in a group. If you write something crap, everyone tells you and you move onto the next thing. As a solo artist I have absolutely no way of knowing something's rubbish. I could literally be working on something that's terrible for like weeks and not even realise it's awful!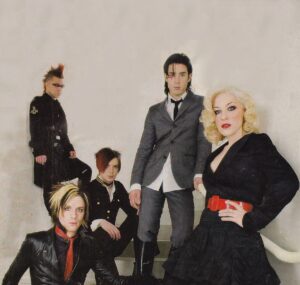 What would you feel was your proudest moment with THE MODERN / MATINEE CLUB?
Signing a deal with Universal felt like the end of years and years of struggle for me and Chi Tudor-Hart, the other founding member of THE MODERN.
I'd been in bands and writing music for 15 years previous to that; myself and Chi had been struggling in the pop wilderness for 10 years with various groups and acts. We'd literally tried everything!! We'd done techno, euro-pop, boy-bands, rap; we even dabbled in the Britpop thing when that was big.
We'd done massive tours of schools and under 18s! Finally, I guess in about 2001 we decided to stop trying to jump on every bandwagon and form THE MODERN and just start making the music we had always loved. Luckily, it kind of coincided with the Electroclash thing happening and people started paying attention. Signing the deal felt like we had finally paid our dues!
There were a few great gigs too. Playing Ibiza Rocks with KAISER CHIEFS and doing Reading and Leeds festivals was amazing. Working with Stephen Hague who produced PET SHOP BOYS, ERASURE and NEW ORDER was another highlight.
I think for me personally, my proudest moment was sitting in a house in Peckham and turning on the Radio1 Top 40 countdown on a Sunday and hearing our first single enter the charts. That was a childhood ambition fulfilled, even if we did only go in at No35!
Are you able to discuss any of your frustrations during that period and the attempts to regain momentum after the 'Industry' single?
Basically a couple of weeks after being signed, everyone who had played a part in signing us and believing in us was sacked! Universal and Mercury in particular suddenly underwent a massive overhaul and everything changed. We were promised so much exposure, TV, magazines, a big budget video and suddenly all the people that were working for us were gone, and all the exposure etc went to a new band they had just signed called THE BRAVERY.
The first single staggered into the Top 40 after literally no exposure whatsoever and we knew that if the next single failed, we'd be dropped. Because of that frustration, I think our management then kicked into overdrive and made some seriously bad decisions, which resulted in us eventually being disqualified from the charts.
We were all just completely shell shocked. Suddenly we were without a deal again and the whole situation became much harder. It's much harder to operate in a group when things aren't going well and we began to blame each other and bicker internally within the group. In hindsight, it was really sad because I think we were a good group and had some good songs. We're all still great friends, which is the most important thing.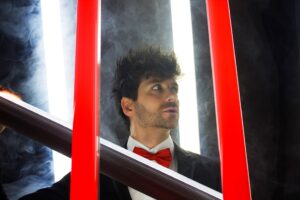 KID KASIO is more obviously synthpop than you've been before?
I've always loved the term synthpop!
It just wasn't a very popular term for many years; you had to whisper it in hushed tones between about 1990 and 2009! In every band I've been in, I've always been the one pulling in the pop direction.
So when I finally decided to do a solo project, it was free reign to be as pop as I wanted. You won't find any instrumentals or dark experimental tracks on my album. I'm all about the songs.
Who have been your main influences on the album?
Being in bands for so many years, there were always certain influences I was allowed to play on when writing, and others I was most definitely not. So I could come to the table with a song that was influenced by NEW ORDER, DURAN DURAN, JAPAN or perhaps OMD and that was fine. HOWARD JONES, ERASURE, NIK KERSHAW were a definite no no! So I had all these ideas for songs in that style which never saw the light of day.
My influences are always rooted in 80s music because I play synths, and that's the era when synths dominated popular music. So I go through different stages of being influenced by different bands from that era. In THE MODERN / MATINEE CLUB, all my influences were from 1979-1982. Now with the KID KASIO project, I'm onto about 1984 so it's SCRITTI POLITTI, HOWARD JONES and THOMPSON TWINS! I'm just discovering FM synthesis and I really want a Fairlight.
The environment does appear to be much friendlier now to someone who wants to make this kind of music?
That's the other reason I've been more honest about my influences with the KID KASIO stuff. Six or seven years ago pre-THE KILLERS, you were just about allowed to like JOY DIVISION and that was as close as you could get to liking anything with synths in it. Now kind of since LA ROUX, I guess it's perfectly fine for bands like HURTS and MIRRORS to rate bands like OMD, HEAVEN 17 and YAZOO, I'm just taking it to the logical next step; I'm predicting the zeitgeist and its got HOWARD JONES and SCRITTI POLITTI all over it! Synthpop goes funk! It's the logical next step; everything moves in cycles, you heard it here first.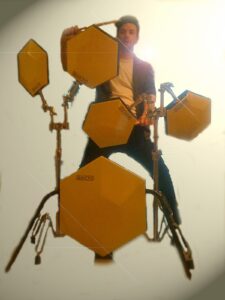 You've acquired quite a few vintage instruments for the album, what ones have you been using?
I've really got into the big Simmons drum sound for this album. I actually bought a Simmons kit off the drummer from THE MODERN and sprayed it yellow! That'll be coming out to gigs with me. My two staple synths which I use more than anything are the Roland Juno 60 which I've had since I was 14, and the Crumar Performer string synth which is on almost every chorus on the album. I think I used the SH101 for bass on two songs too. I bought a Prophet 5 this year which has been my most extravagant purchase; unfortunately for most of the album I had to use the Pro 52 plug-in because it kept going out of tune, so I'm getting it fixed.
My surprise find has been a Korg Poly 800 which a friend found in a skip years ago, I got it working this year and it's actually surprisingly good for lead sounds. That makes two or three appearances on the album. Adrian Hall who mixed the album gave me a DX7 so I'm in mid 80s FM synth heaven now!
But it must be easier to use plug-in software now though?
There are some synths I don't think I will ever be able to own like the ARP 2600 and the Yamaha CS80, so I use those plug-ins quite a bit. It really depends on what sound I have in my head when I'm recording. I'll normally try the analogue synths first and then if I can't find what I'm after, I'll try a plug-in. The problem with plug-ins is rather than manipulating the sound as I do on an analogue synth, I will literally go through all 500 presets to make sure I have the best possible sound. For a perfectionist like me, that can be quite time consuming.
The videos you've made as an introduction to KID KASIO have been very much a tribute to past eras. Do you worry that some critics who might feel you are just being a revivalist?
I have loads of ideas for videos that don't look 80s but unfortunately, they all require big budgets. When you have absolutely no budget, sometimes the best way to give it an air of quality is to make it look 'retro'. Also I would hope that the fact that my videos have clearly been made on a shoestring lend them a kind of lo-fi DIY air that might ingratiate them to the 'taste makers' that would normally dismiss that type of music as un-cool or a guilty pleasure.
I think the majority of music now is a regurgitation of something that has come before. Luckily for me, the 80s is the fashionable era to mimic at the moment. I don't think you can really be a revivalist unless you were there and I'm not that old! I just take elements just as JAMIROQUAI revived the 70s in the 90s, THE STROKES revived new wave in the early part of the last decade and HURTS etc are reviving the 80s now.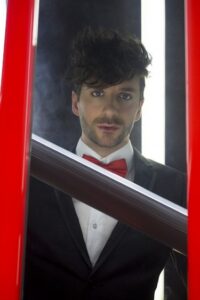 'Not For Turning', 'Living My Life' and 'The Reason' are lyrically very optimistic in the face of adversity?
'Not For Turning' was the first song I wrote for the KID KASIO project so it has that air of optimism lyrically. It represents a new journey, where I'm going to do things my way.
I guess 'Living My Life' has a similar sentiment, it's saying "this is what I'm doing, I don't care what anyone thinks".
Weirdly, my main influence when writing that was a song called 'Higher Love' by Steve Winwood, it has this amazing air of optimism about it and I kind of wanted to capture that. I really couldn't tell you what 'The Reason' was about!
Which of the newer tracks are your favourites on this album and why?
As a solo artist, it's incredibly hard to work out which songs are good or not, it only takes one person to say to me "that song is crap" and I will instantly agree with them!
The songs that are my favourites are the ones that other people have said they mean something to them that is kind of what you strive for as a songwriter. I guess when I get them out live it will become even more apparent which ones work best.
At the moment there's a song called 'I Miss You' which I like because it's been working well live and one called 'Over & Over' which I wrote when I was 19 so it kind of means a lot to me.
Who do you think this album will appeal to?
I would like to think that if the songs were mixed by Max Martin and sung by KATY PERRY, they would appeal to everyone. But because I've produced them they way I have and I sing in a particular way, it limits my audience slightly. From the response I get on Twitter, I'd say it'll appeal to anyone who likes synth music, anyone who likes good European pop, and probably anyone who like the 80s so hopefully that'll cover half the population!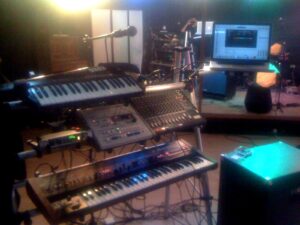 How is the live incarnation of KID KASIO coming along?
It's so exciting, the whole band is excited, and it's sounding huge. My set up is ridiculously elaborate but I've found a way of having an old sequencer trigger the backing tracks on a laptop and send MIDI notes to my hard tune voicebox and trigger visuals on a projector at the same time too. I've also got these huge fluorescent lights off a building site.
I also persuaded a drummer to play a yellow Simmons kit which is no easy task believe me. I'm going to take the Juno 60 out with me and I've purchased a Korg RK1 keytar to play some of the lead lines on. It's going to be a lot of fun.
Which of the newer electronic pop acts do you feel a kinship towards?
I'm feeling a particular bond at the moment with the bands with male vocals. There's so many electronic acts with female vocals that the market feels saturated. I'm with HURTS and MIRRORS all the way. I saw HURTS at Brixton and they were amazing.
What are your hopes and fears for the future?
My only hope is that I can one day make a living from music, it's getting harder and harder for musicians. When I was younger, I decided to follow music and my brother decided to become an actor, he's managed to make a living from pursuing what he's good at. I would like to be able to do that too, I'm pretty sure 2012 is the year that that will become a reality.
---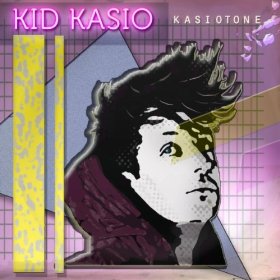 ELECTRICITYCLUB.CO.UK gives its sincerest thanks to Nathan Cooper
'Kasiotone'
will be released on 30th January 2012 via the usual digital retail outlets such as iTunes and Amazon.
http://www.facebook.com/kidkasio
https://www.instagram.com/kidkasio/
---
Text by Chi Ming Lai
14th January 2012