The Year Of Capacitors
It was a year which saw classic and new stand side-by-side as comrades in arms for the synthesizer.
In possibly the event of the year, April's 'Back To The Phuture ­- Tomorrow Is Today' at London's Troxy saw godfathers GARY NUMAN and JOHN FOXX supported by the best new UK synthpop act for many years, MIRRORS.
The Brighton quartet reappeared in the summer over on the South Bank when the Vintage Festival Electronic Phuture Revue gave us a celebration of synthpop cool with performances by ONETWO, RECOIL, THOMAS DOLBY and HEAVEN 17. Speaking of the latter, they premiered 'The Luxury Gap' at The Roundhouse in 3D sound no less while their production alter-ego BEF presented 'Music Of Quality & Distinction Live'.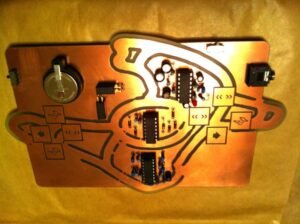 Meanwhile, Mute Records celebrated their influential legacy with a weekender also at London's Roundhouse featuring ERASURE, YAZOO and THE ASSEMBLY in the same set, plus acts such as RECOIL, NITZER EBB and LAIBACH.
With an electro documentary weekend before Easter on the Sky Arts TV channel featuring GARY NUMAN, DURAN DURAN, JEAN MICHEL JARRE, NEW ORDER and the late ROBERT MOOG, electronic music's cultural legacy was being recognised the world over.
Indeed, GARY NUMAN's Inspiration Award from Mojo magazine finally acknowledged those trailblazing Synth Britannia years. There were complaints by one well-known blog however about wrinkly electropop but without these pioneers who changed music, where would we be today?
As KRAFTWERK's Ralf Hütter said: "From all over the world comes inspiration. We have been very lucky, because the music we envisioned, the ideas we had of The Man Machine and electro music, have become reality and technology has developed in our direction and electro is everywhere".
Shouldn't the imperial phase of Synth Britannia and its earlier Germanic influence therefore be celebrated in the way that senior blues musicians have been revered within the world of rock 'n' roll?
Missing from the Mute evening's proceedings as a collective were DEPECHE MODE who gave the world a U2 cover and a second instalment of their remix collection as part of their year's work.
One rework that provoked enormous debate was Alan Wilder's improved rework of 2009's 'In Chains' which added speculation as to whether he would be rejoining the band. Certainly, it would induce some much needed creative tension that has mostly been missing from DEPECHE MODE since the start of the noughties.
But one act truly excelling in the darker side of electronic based music was IAMX who continued to conquer Europe while remaining largely ignored in the UK. Martin Gore could seriously learn from Chris Corner about how to make melodic, accessible music that doesn't compromise artistically and retains a gritty edge. Meanwhile, Gore rekindled a working relationship with Vince Clarke on a techno project under the banner of VCMG.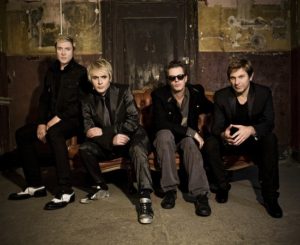 Monday 21st March was an interesting day as it saw the release of albums by DURAN DURAN, THE HUMAN LEAGUE and JOHN FOXX. As concert celberity Mr Normall amusingly recalled in his Facebook status "this is 2011, not 1981"!
At least two of those albums were the best and most immediate bodies of work from those artists for many years. The bar has certainly been raised for acts such as ULTRAVOX and VISAGE who both announced forthcoming new albums.
BLANCMANGE made their welcome return with Neil Arthur's sense of humour as sharp as ever but sadly, he was unable to be joined for the live shows by his bandmate Stephen Luscombe due to illness. One hopes Stephen is making a good recovery.
MIRRORS showed their promise and delivered the superbly seamless long player 'Lights & Offerings'. While the band themselves admitted it may have been a touch derivative, it was enjoyed by a small but loyal fanbase who embraced their whole intelligent pop noir aesthetic.
However, just as they were about to make a breakthrough, a second high profile tour supporting OMD in Germany was cancelled along with an appearance at Bestival. Then founder member Ally Young announced he was leaving the group. The situation has been likened by some observers to when Vince Clarke left DEPECHE MODE. Of course, the end result of that was both parties mutated into highly successful acts and ELECTRICITYCLUB.CO.UK is hopeful something similar may occur here.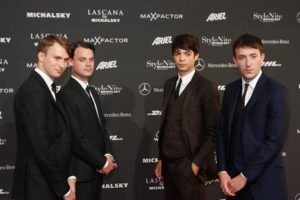 Certainly an excellent new darker tune called 'Dust' from the remaining trio indicates MIRRORS are not finished yet!
The similarly smartly attired HURTS continued their domination of Europe and while not as adored in the UK, they still did the business touring wise with sell-out shows at Somerset House and Brixton Academy with KYLIE MINOGUE making a surprise guest appearance at the latter.
Of the ladies, BETH DITTO went superbly electronic with her debut solo EP while CLAUDIA BRÜCKEN went jazz for the soundtrack of 'LA Noire', but not before celebrating the electronic part of her career with a fine retrospective Combined and a fantastic show at The Scala which saw a three quarters reunion of PROPAGANDA plus special guests ANDY BELL and HEAVEN 17.
Another acclaimed German chanteuse BILLE RAY MARTIN returned with her new project THE OPIATES and an album 'Hollywood Under The Knife' while LADYTRON released a definitive Best Of '00-10′ and a new album 'Gravity The Seducer'. The latter was a glorious, lush masterpiece of aural subtlety which was not universally embraced by their fanbase but is likely to become a cult favourite in the future.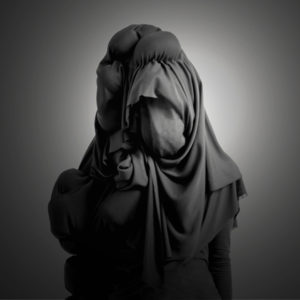 Meanwhile, the spectre of FEVER RAYs Karin Drejer-Andersson lurked, both musically and politically, within several darker female fronted combos such as AUSTRA, THE HORN THE HUNT and GAZELLE TWIN.
The brooding unsettlement of this Hauntronica (or witch house as it was sometimes referred) won favour with some while JOHN FOXX named GAZELLE TWIN's 'The Entire City' as his album of the year. However, this fairly uncompromising strain of electro wasn't for everyone although it was definitely more preferable to dubstep, the trendy new dance form that even the usually club friendly Chris Lowe of PET SHOP BOYS was having trouble embracing!
But Nordic influences weren't just about tonal gloom and witchery. Greek maidens MARSHEAUX adopted some FEVER RAY styled percussive moods on their only song of the year 'Can You Stop Me?' but remained synthpop while American duo NIGHTLIFE borrowed SALLY SHAPIRO's sweeter template.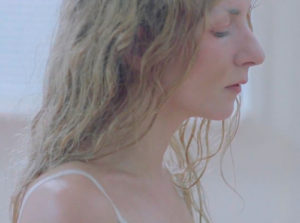 Over at The Finland Station, producer JORI HULKKONEN's PROCESSORY project delivered an 18 track electronic Sci-Fi concept album entitled 'Change Is Gradual'. TIGER BABY from Denmark returned with the dreamy single 'Landscapes' while from Sweden, both THE GIRL & THE ROBOT and EMMON delivered enjoyable new material. There was also the mysteriously kooky IAMAMIWHOAMI but best of all from the region were THE SOUND OF ARROWS with the cinematic crystalline pop of their debut album 'Voyage'.
At the pure pop end of the spectrum, LADY GAGA plotted her next move into world domination with new album 'Born This Way'. With religious lyrical imagery were very much in evidence throughout, this was her 'Like A Prayer' with a Eurocentric sound being very much the dominant factor in the music. With her ear firmly on the inventive UK music scene, GOLDFRAPP, HURTS and MIRRORS were commissioned to deliver remixes of 'Judas'.
LITTLE BOOTS returned with a bouncy house number called 'Shake' while SUNDAY GIRL had her album delayed again and didn't appear to know whether she wanted to be a singer or a fashion designer. Her pop thunder has now potentially been stolen by the similar raspy timbres of LANA DEL REY whose pair of remixes by NIKONN became favourites with many electro enthusiasts.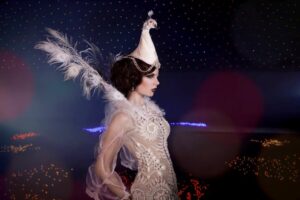 Embracing couture but with her head fully focussed on the music, QUEEN OF HEARTS brought some intelligent sparkle to electropop. With mentions in The Guardian and The Times, her superb EP 'The Arrival' realised the potential that was apparent in her earlier girl group days.
Several acts introduced by ELECTRICTYCLUB.CO.UK in 2010 gained prestigious supports slots as a sign of their steady progress. SHH were billed with former BLACK BOX RECORDER vocalist SARAH NIXEY, THE VANITY CLAUSE opened for a solo ANDY BELL performance while Electro Weimar songstress KATJA VON KASSEL did the same at two of ERASURE's shows in Germany.
VILLA NAH were due to play the biggest gig of their career with DURAN DURAN but Simon Le Bon's illness, which also caused the postponement of the entire UK tour in May, unfortunately put paid to that.
So it could be said that "Synthpop's Alive" and this was exemplified by Essen based American act MAISON VAGUE who gave the world probably the best wholly independent release of the year.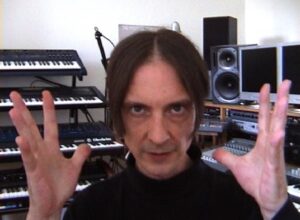 Clark Stiefel's wonderful cross of GARY NUMAN and DEVO was the work of a man brought up in the avant-classical world with hands-on experience of vintage Moog and Buchla modulars.
Using the concept of "living in a dream since 1983", despite the vintage influences, it was electronic music as imagined by the eccentricity of Oscar Wilde crossed with the thoughtful demeanour of late classical composer Franz Liszt.
Over the year, American based electronic acts were starting to come to the fore with XENO & OAKLANDER, SOFT METALS, TARA BUSCH, HIGH PLACES and THE MYSTIC UNDERGROUND all gaining notable acclaim.
A question that has to be asked though is whether there is too much synth based music at the moment? Interestingly, THOMAS DOLBY and SARAH NIXEY moved away from the electronic world and released new albums that had a more personal, organic quality. Some observers were complaining about "synthpop by numbers" and "Synth Britannia throwbacks", but as OMD's Andy McCluskey once said on that very programme, if there was a magic button for a hit single, he'd have pressed it more times than anyone else.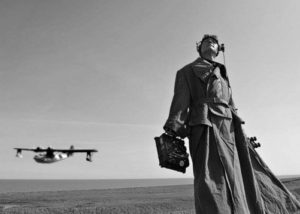 While improvements in technology have made it much easier for the public at large to make music and interesting noises, not everyone has the ability to write proper songs. Not only that but the iPod/notebook generation have been listening to compressed mp3s on tinny speakers for such a long time now that they have no grasp of dynamics.
This has hampered many new acts who have taken to doing everything themselves and as a result, produced some average pieces of work.
There is nothing like a second opinion and creative tension to help a new piece of music along. And it is this willingness to understand the cores of songwriting, production and arrangement that ultimately separates the good from the bad, and ultimately the outstanding from the good.
---
ELECTRICTYCLUB.CO.UK Contributor Listings of 2011
MIKE COOPER
Best album: MUERAN HUMANOS Mueran Humanos
Best Song: VELVET CONDOM Rouge City
Best Gig: KRAFTWERK at Die Alte Kongresshalle, Munich
Best Video: LADYTRON Mirage
Most Promising New Act: MUERAN HUMANOS
---
STEVE GRAY
Best album: GARY NUMAN Dead Son Rising
Best Song: TENEK What Do You Want?
Best Gig: Back To The Phuture – Tomorrow Is Today at The Troxy, London
Best Video: DURAN DURAN Girl Panic!
Most Promising New Act: QUEEN OF HEARTS
---
CHI MING LAI
Best album: MIRRORS Lights & Offerings
Best Song: VILE ELECTRODES My Sanctuary
Best Gig: Back To The Phuture -Tomorrow Is Today at The Troxy, London
Best Video: TIGER BABY Landscapes
Most Promising New Act: QUEEN OF HEARTS
---
NIX LOWREY
Best Album: SANDWELL DISTRICT Feed Forward
Best Song: JOHN FOXX & THE MATHS Summerland
Best Gig: KRAFTWERK at Die Alte Kongresshalle, Munich
Best Video: LADYTRON Mirage
Most Promising New Act: MUERAN HUMANOS
---
RICHARD PRICE
Best album: MIRRORS Lights & Offerings
Best Song: JOHN FOXX & THE MATHS Shatterproof
Best Gig: HEAVEN17/BEF Weekender at The Roundhouse
Best Video: QUEEN OF HEARTS Shoot The Bullet
Most Promising New Act: QUEEN OF HEARTS
---
JOHAN WEJEDAL
Best album: AUSTRA Feel It Break
Best song: MIRRORS Into The Heart (Greek Girls Are Not Easy extended remix)
Best gig: AUSTRA at Stockholm Debaser Medis
Best video: EMMON Ghost Dance
Most promising new act: LOUISE (ex-THERMOSTATIC)
---
Text by Chi Ming Lai
31st December 2010