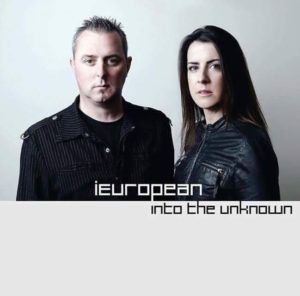 The claim that DEPECHE MODE are the flag bearers for electro-blues becomes somewhat redundant with 'Into The Unknown', the debut album from iEUROPEAN.
Originally the solo project of Dublin musician Seán Barron, a one-time member of EMPIRE STATE HUMAN, the idea had initially been to feature guest singers or contributors on each track.
The first track to be unleashed in late 2014 was the wonderful 'Activity of Sound' featuring Wolfgang Flür, formally of KRAFTWERK.
But it was when Ruth Lalor was asked to contribute vocals for one of Barron's tunes that iEUROPEAN morphed into becoming an electronic duo with a unique twist. Coupled to Barron's Mittel Europa synths are Lalor's soulful, bluesy vocals, schooled under the influence of Billie Holliday and Lena Horne. Thus this long player really is a musical journey 'Into The Unknown'.
Layered with classic synth strings, Lalor makes a grand entrance on 'Sweet Paranoia' augmented by Barron's bass sequences before a faithfully devoted drum loop kicks in. A worthy variation on the theme of DEPECHE MODE's 'In Your Room'? You bet!
A solo Ruth Lalor composition 'Falling' sees the lady sing the blues over an enticingly minimal but technological framework including some digital guitar in the latter stages; incidentally, the track is co-arranged by Robert Arkins who also played aspiring band manager Jimmy Rabbitte in 'The Commitments' movie. Meanwhile 'Fire Out' ups the pace for a brooding slice of stark electronic pop that bubbles into something very hot!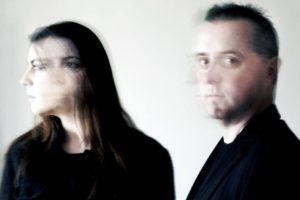 'Don't Lose Control' sees the rhythm construction harden as Lalor's voice is laid bare, with a particularly raw edge to the larynx in the chorus.
While the vocal is coloured in shades of blues, the backing turns distinctly European grey in the final minute and a half as it unexpectedly journeys east towards Der Rhein.
'I Will Follow' is not a cover of the U2 song but follows the template of the moodier numbers that CAMOUFLAGE do so well, although Lalor's presence offsets the chill. Meanwhile, some eerie electric ivories and detuned sonar shape the solemn 'Requiem' as steadfast marching drums and percolating arpeggios punctuate the lonely atmosphere.
Another song written by Ruth Lalor, 'Sweet Dreams' appears it might have been of a more traditional conception, but Barron's synth interventions take it into another world, territory that perhaps YAZOO might have entered had they got to their fifth album. The filmic drama of 'Bring On The Rain' is perhaps the most trip-hop derived number of the album, with the muted trumpet and cimbalom textures usually associated with the genre.
'We Are Brothers' starts as the being most conventional sounding song on the album with elements of THE CURE before it gets more obscure, with some twisty turns in its chordial structure. Written by Barron with his former EMPIRE STATE HUMAN bandmate Aidan Casserly and Alan Arkins, Barron takes a turn at a duet with Lalor, while Clive Pierce from HARD CORPS joins in on the middle eight.
After all the digital six string on 'Into The Unknown', real guitar makes an appearance on 'World Of Fantasy' courtesy of Mark Joseph Healy, the sweeping synths and organic counter-melodies adding an almost folk laden resonance for a fitting closer. A hidden track sees Lalor's vocals totally isolated for a spirited acapella of 'Sweet Paranoia'; it is nothing short of mesmerising…
Overall, 'Into the Unknown' is a fine showcase of an Emerald Isle blues voice alongside authentic Eurocentric electronics. It's quite a contrast, but the end result is rather wonderful.
'Into The Unknown' uses the following hardware and virtual instrumentation: Ekosynth, Roland TB303, Yamaha CS1X, Korg PolySix, Roland JX305, Roland Jupiter-8, Korg DW-8000, Korg DV-800, Arturia Minimoog, Steinberg Hypersonic, Steinberg Virtual Guitarist, ARP 2600V, Native Instruments Absynth 5, Native Instruments Battery, Stereophonics Stylus rmx, Stereophonics Omnisphere 2, Edirol Orchestral, Edirol Super Quartet, Waves Element Stereo, Broomstick Bass, Fabfilter Twin2, Jupiter 8V2, PRO-52, PRO-53, RealStrat, Rob Papen – Real Guitar, Rob Papen – Blue, Rob Pagen – SubBoomBass, LinPlug Albino 2, Arturia Analog Factory, Surge, Cakewalk Z3TA+2, Poly-ANA
---
'Into the Unknown' is released on CD by The People's Electric on 21st April 2017, pre-order now from http://www.thepeopleselectric.com/shop/products/bfa2cc74-81b7-4905-a7ed-88c4afc25596
https://www.facebook.com/iEuropean-149564838461817/
http://thepeopleselectric.com/ieuropean
---
Text by Chi Ming Lai
Photos by Ruth Maria Murphy
13th March 2017