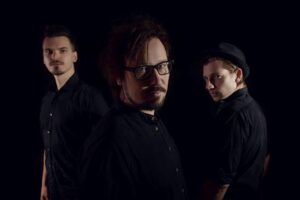 Earlier this year ELECTRICITYCLUB.CO.UK reviewed 'The Measure', the newest production from the Slovenian trio TORUL.
Their debut album 'Dark Matters' was released in 2010 but it was their third album 'Tonight We Dream Fiercely' from 2013 that was their breakthrough; featuring the single 'Glow' and a menacing cover of TEARS FOR FEARS's 'Mad World'.
A tour supporting Bristol's very own MESH that year also cemented their reputation as an exhilarating live act. Their rather good fourth album 'The Measure' is still being THE played record.
Eclectic, loaded with quality alternative tunes and superb production, it is all layered competently to create the canvas for Jan Jenko's gripping vocals. It doesn't disappoint and with the songs like 'Difficult To Kill' having been featured on a number of influential radio shows, the band is continuing to grow its popularity in the UK and Europe.
Torul Torulsson, Borut Dolenec and Jan Jenko spoke about the album and all things TORUL.
What prompted the title of 'The Measure'?
Torulsson: The simple idea came from the lyrics of 'The Balance', which is asking "What's the level of your happiness, what do you need, what you're giving — simple questions, hard to answer, where's the balance, what's the measure?" I liked the title for being so open, and maybe listeners will get something more about it from the rest of the lyrics. As a band, we are always trying to figure it all out – where to go next, what's there for us, who will listen to us; I think once one stops being curious and excited, the magic may be gone.

You use a variety of approaches and techniques in songwriting. What's the main inspiration?
Torulsson: Well, there is no pressure in between the albums, we try to mark each period of our existence with a new album.
So there's always a clean sheet before we start working on a new album, even though there haven't been any longer breaks in between. I'm glad to see there is still interest for albums as a complete art form, especially in alternative music genres.
The main inspiration… well, I could say that having a blank sheet in front of you before creating something is still very intriguing, very exciting, as you can go wherever you want or feel. All the options basically lay in front of you… you just have to dive into it and of course, try to enjoy the process.
What makes this album different from its predecessor?
Torulsson: People say 'The Measure' is more compact, the sound fuller, maybe it's easier to dance to… a lot of songs have that kinetic element. The melancholy stays, well that's who we are, but it's not too sad or a depressed album, it's longing for a new hope, for love, understanding and symbiosis. Even inside the band, we are always learning how to function, as we are three different people, with different skills and different backgrounds.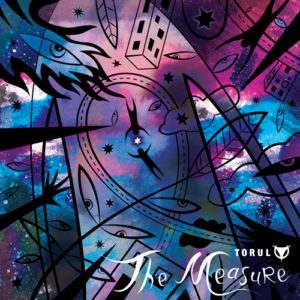 Which have been the particular favourite songs from 'The Measure' for you?
Jan: The first encounters with 'Discrepancy', 'Hearts', 'Difficult To Kill' and 'All' were memorable on a different scale than others. Not to rate songs with numbers, there was just a different pleasant emotional chemistry.
Dolenec: 'All', because it makes me feel the things that life in this unfair era mostly tries to supress.
Torulsson: As an author and producer of the album, I find this really hard to answer.
There were also some other songs that didn't make it to the album, which means that I must have liked all of them in some personal way and they brought up some happy moments when I was working on them.
Many artists clearly inspire TORUL and that is audible on your recordings. Who has influenced you most and why?
Torulsson: The variety of the inspirations is quite vast. Besides listening to various music genres, I was (and still am) also much into techno /electro / tech-house scene and also IDM, so more clubbish vibes. So here's where the love for the beats and bass comes from. I love music that has a strong rhythmical impact, although this is not the rule of a thumb.
To name some music that had influence on me, without any order: early stuff from THE CURE, THE XX, IRIS, THE JESUS & MARY CHAIN, SIOUXSIE, DEPECHE MODE, GLASS CANDY, KRAFTWERK, DREXCIYA, Detroit stuff, some early ANTHONY ROTHER, SUUNS, TORTOISE, PIXIES, APHEX TWIN, DJ HELL, DMX KREW, PLASTIKMAN, some rare Italo disco stuff, M500, LADYTRON, THE YOUNG GODS, MASSIVE ATTACK, NYPC, COCTEAU TWINS… some Gigolo records stuff… and so on 🙂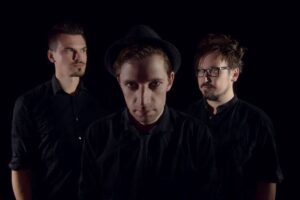 The tour with MESH must have been something to behold, how did that come about?
Torulsson: Well there was an idea that we could be a perfect match, it came from our booking agencies. And so it was. We were very well accepted as an opening band, but also our chemistry was right – we had a lot of fun on the tour together! We've made nice friendships, laughed a lot, MESH also let us extend our performance for ten minutes whenever that was possible! So, yeah, it was an excellent match in that way.
Did you feel at home while in the UK?
Torulsson: I personally was a tad insecure about it. Having had some great gigs in Germany, we hadn't really expected much in the UK, because we knew almost no-one would know about us there! But to our surprise, it was much better than that – while it was true most of the crowd never heard of us then, we got some attention and met some really nice people, who we still see following us and spreading the word! This is really cool. I hope we can play in the UK again anytime soon, but we'll see.
Dolenec: The sushi was better than at home and there was actually more sun in UK than back at home 🙂 We learned a lot about what it means to be prepared well for the gigs, because our soundchecks in the UK were a totally opposite experience then the soundchecks in Germany or at home. It was fun to realise that we were actually able to perform a proper gig, with a good energy and without a proper soundcheck. We somehow anticipated that the venue crew would be late 2 to 3 hours, so in Manchester and in Newcastle, we had just a few minutes for a line-check and then we already had to start the concert. We needed this experience, it is how we grow and we would love to come back to UK as soon as possible.
Jan: Yes. Home is where the energy sums up to a pleasant experience. The shared emotions were uplifting and memorable.
The new single is 'The Balance'. What is that one about and how did you conceive the video?
Torulsson: I think it has quite simple and self-explanatory lyrics, so we're not really into explaining them further on top of that. But in short, it's about searching for one's own balance all the time, looking for a good combo of things in our lives that could make us happy and… well, balanced. It's these times of chaotic events and imbalance of everything in the world, we are asking ourselves, how one finds his own happiness, reduces stress and co-existence in this world. Dolenec and I came up with many ideas for the video, but the one that you can see now has turned out to be the best…
Dolenec: Producing our own videos within our DIY Initziative production group is an important part of TORUL project. We always take time and do a lot of brainstorming when creating the story for the next video. For most of the videos, we usually come up with at least a few different scenarios but then we choose one that suits the song best and is somehow compatible with our current production capabilities. We still have a handful of scenarios in stock. With 'The Balance', I have to admit that it was not an easy process because we had a very limited time available for the whole production. In the English language I think there is an expression: "belling the cat" ie to perform a very dangerous or very difficult task. It's taken metaphorically from a fable about a mouse who proposes to put a bell on a cat, so as to be able to hear the cat coming; 'The Balance' was all about "belling the cat". In the middle of the process, we had 4 or 5 different scenarios but the whole production would be too difficult to create a proper video within DIY Initziative.
Torulsson and I knew that we have to invest a lot of time in the pre-production process in order for it to be well thought of and well organised. We didn't have time to complicate. It was really some kind of symbiosis between the two of us and later on we also included Darko Štante – the director, Iztok Medja, the DOP and all the others. The only time we could rent a slot at the Daktari club in Ljubljana was on March 1st from 3 am to 11 am. All of the crew was great, almost everything was in balance and the energy during shooting was just beautiful. We couldn't do it the way we did if there was a single person missing. The challenge was also to book all of the crew for 5 days before the day we had the video-shooting, and to shoot the whole video material in only 6-8 hours we had to use 4 cameras at a time. So you can imagine that the editing process was also all about "belling the cat".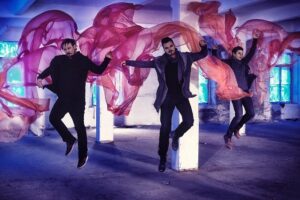 Other than LAIBACH, Slovenia doesn't strike the UK electronica fan as your common synth breeding place, what is the music scene like there?
Torulsson: Slovenia might be too small to form the real 'scene', some real global movements. Well, there are some small scenes, I'm mostly talking about the alternative scene and some club scenes, mostly DJ and event-based.
But the opening and closing of clubs and other venues happens really often here – it's hard for a venue to keep up with a constant program as there may be not enough visitors for every event. However, there are many individuals who are trying to pave their way to the international scene, which isn't a very easy thing nowadays. So yeah, there is a creative force, but who and when will see the light is impossible to predict now. But there already are or have been some big bands or individuals from Slovenia, such as BORGHESIA and UMEK.
Any plans on trying to conquer the US?
Torulsson: Um, well not at the moment, but that could change in the future. We can't do it alone, but we are looking for options. I really can't say much about that, but we will be exploring this in the future probably.
The German electronic scene is the one of the most celebrated in Europe, is that a statement you'd be in agreement with?
Torulsson: It's kind of a fact. Germany is quite open to a vast amount of music genres, lots of them based on electronica. I'd say there is enough of a critical mass and interest from people so that many artists have a chance to introduce their work. Nowhere is perfect really, but I think that Germany is close to it, hosting artists from all over the world all the time. If there's another UK in Europe regarding the size of the scene, it must be Germany.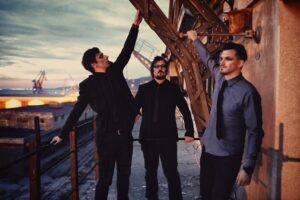 In the era of soft, digital synths, do you still reach for analogue, the real thing?
Torulsson: Of course, whenever there's a need and a chance. We've worked with synths such as the MS-20, ARP Odyssey, Teisco, Roland TR and TB series, Junos and Jupiters, Yamaha CSs and many others. But also a lot of soft synths and other plug-ins have become very very good in the last seven years. I am very fond of Diva, for example, and Korg Legacy collection, but also use a variety of other, sometimes strange and interesting free plugins. Also, the plugin sound processors have improved; for example I love the Elysa stuff, it's amongst my favourites. I'm coming from the all-hardware background, having started with Atari ST + synths and samplers and an analogue console, but I've embraced the possibilities of a digital environment quite fondly.
What next for TORUL?
Torulsson: We are not rushing. Although we've been quite productive in the last years, we want our music to spread constantly, but slowly, at the right pace, only wishing for people to really dig into it and feel our story, our specific sound, and we would like to continue exploring, what we can do and where else we can go. Certainly there's much more to come.
---
ELECTRICITYCLUB.CO.UK gives its warmest thanks to TORUL
'The Measure' is released by Infacted Recordings, available in CD and download formats
http://www.torul-recordings.net/
https://www.facebook.com/torul
---
Text and Interview by Monika Izabela Goss
Photos by Torsten Geyer and Nina Kovačič
16th May 2015