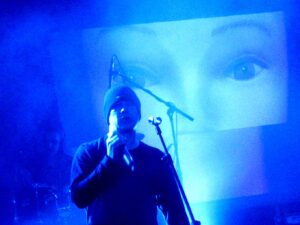 Bristolian electro-rock duo MESH ended their successful European tour in style with a rousing show at the O2 Academy in London's Islington district.
The affair was an intimate multi-media extravaganza based around their latest album, 'Automation Baby'. An impressive collection of songs ranging from schaffel anthems to sensitive Morricone-esque ballads, 'Automation Baby' could well finally get MESH wider recognition in the UK.
The European alternative live circuit has been founder members Mark Hockings and Richard Silverthorn's bread and butter since their first EP 'Fragile' in 1994.
Indeed, like GARY NUMAN fans who have switched their allegiances to JOHN FOXX & THE MATHS for their synthesizer fixes, so then disillusioned DEPECHE MODE followers may well drift over to MESH in the coming months as Messrs Gahan, Gore and Fletcher finally turn into that stadium blues band which they have been threatening to do for a while.
But opening the evening's great support bill were TORUL, a promising trio hailing from Ljubljana in Slovenia. Towering singer Jan Jenko exuded a dark but soulful vocal range with a dynamic stage presence to match while the sonics varied from industrial rock to EBM and danceable synthpop not unlike another new trio, Sweden's TITANS. Although their sound had an inherently doomy shade, their performance was exhilarating. There was an extra treat in a menacing rendition of TEARS FOR FEARS' 'Mad World' to supplement the already enjoyable set. Definitely a band to look out for in the future… even a prolonged guitar solo at the end didn't dampen the appreciation of those watching.
Meanwhile, Berlin's DE/VISION have had a long standing kinship with MESH and the two acts have often shared the same bill over the years, much to satisfaction of their fanbases. Steffen Keth gyrating moves found favour tonight with the large female contingent in the audience while the whole crowd treated DE/VISION like joint headliners. Since their breakthrough somophore album 'Unversed In Love' in 1995, their industrialised paeans have maintained a cult following over the last two decades and certainly tonight, Keth and musical partner Thomas Adam (now augmented by a live drummer) showed no signs of waning in their enthusiasm.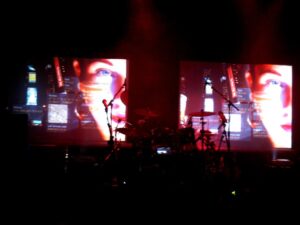 The stage sprang into technological life as screens and projections set the scene for MESH's arrival. In a novel approach to live presentation, each song was introduced by a computerised female voice. Thus "Automation Baby – track eight" ie 'Adjust Your Set' began proceedings with its mechanical rhythms loosened up by live drummer Sean Suleman.
The evening's accompanying films very much enhanced the show with appropriate images such as monochrome footage of fan mania and celebrity culture for 'Never Meet Your Heroes' and wads of tenners for 'You Want What's Owed to You'. It may have been perhaps a bit obvious but the spectacle worked and aptly illustrated the theme of detached virtual relationships dominating 'Automation Baby'.
MESH are known for their synthesized anthems and the first of those came with the superb 'Crash' from 'We Collide', the automotive metaphors very much in keeping with MESH's regular lyrical gists on the conflict within the human condition.
The neo-rave of 'Just Leave Us Alone' was another tremendous highlight, the crowd pogo-ing with delight to the Eurodance flavour on offer. 'How Long?' and the 'Automation Baby' track itself also provided other cornerstones to the evening.
DEPECHE MODE comparisons are always inevitable with MESH; however, what they actually have in common with Basildon's finest though is not so much the synth / guitar / industrial rhythm template but an ability to arouse passion and loyalty through their music.
And in 'Taken for Granted', MESH now have their own 'Never Let Me Down Again'… in fact, all that was missing was the cornfield wave but in its place came an acappella terrace chorus that continued from the moment the band left the stage after the main part of the set until their return for the first encore. Launching into the powerful 'Born To Lie', the crowd had their hands in the air for a satisfying slice of gothic glam before heading onto the final straight with 'Friends Like These'.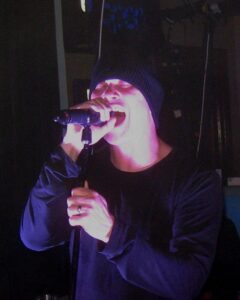 But it was not actually over because for the second encore, there was a surprise as Silverthorn, Suleman and live keyboardist Richard Broadhead took their positions minus their singer. Hockings then suddenly appeared at the back on the venue under a stark spotlight for a wonderful 'You Couldn't See This Coming'… and you couldn't!
He was in fine voice, as he had been throughout the evening, providing his angsty but accessible tones over the emotive, orchestrated soundtrack. Nearly twenty years on, MESH are at the height of their powers having produced possibly their best album yet in 'Automation Baby' and one of their best live shows too.There are not many bands at any level that have managed that so long into their career. So go check them out… what are you scared of?
---
MESH 'Automation Baby' is released by Dependent on CD and download
DE/VISION are to release a live DVD and album via Pledge Music
TORUL's new album 'Tonight We Dream Fiercely' is available now on Infacted Recordings as a CD and download
http://www.facebook.com/pages/DEVISION/24741337633
http://www.torul-recordings.net/
---
Text and Photos by Chi Ming Lai
24th April 2013