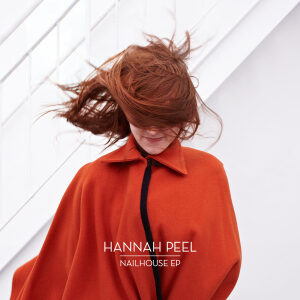 Following touring with JOHN FOXX & THE MATHS, Hannah Peel has finally produced what many of her new found admirers hoped she would do… she has recorded a beautiful synth friendly song.
While not quite KRAFTWERK, the song entitled 'Harbour' features electronic sweeps and synthesized percussion alongside assorted guitar textures, piano and harp.
The dreamy soundscapes combined with Miss Peel's sweet voice make it sounds a bit like LITTLE BOOTS doing a lush ballad.
Whatever, the end result is gorgeously enjoyable. Accompanied by a suitably nautical themed video filmed on location on Canvey Island and directed by The Mitcham Submarine, 'Harbour comes from her brand new EP 'Nailhouse', named so after the Chinese neologism for homes belonging to people who refuse to make room for development and are thus referred to as "stubborn nails".
Hannah Peel has been a busy lady with the Orkney Isles inspired project THE MAGNETIC NORTH and also contributed to the new JOHN FOXX & THE MATHS album 'Evidence'. As well as recording the follow-up to her debut album 'The Broken Wave', she will soon be rejoining the JOHN FOXX & THE MATHS' live band for their tour of the UK supporting OMD.
The tour reconnects her with the electronic pioneers from The Wirral; she covered 'Electricity' for her debut EP 'Rebox' while her composition 'Organ Song' was sampled for the OMD track 'Bondage Of Fate' on the 2010 OMD album 'History Of Modern'.
---
The 'Nailhouse' EP is available on limited edition white vinyl and as a download via the usual digital retailers
Hannah Peel plays with JOHN FOXX & THE MATHS for a headline show at Brighton Concorde 2 on 7th June 2013 supported by VILE ELECTRODES
http://www.facebook.com/hanpeel
http://blog.johnfoxxandthemaths.com/
---
Text by Chi Ming Lai
25th April 2013