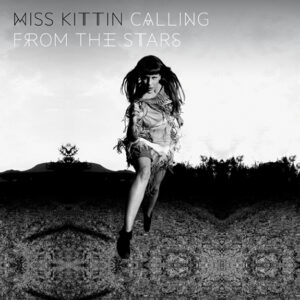 For her third solo album, the one-time Queen of Electroclash MISS KITTIN has ambitiously issued a new double opus entitled 'Calling From The Stars'.
Grenoble born Caroline Hervé first found fame in the electronic revival of the early 21st Century, working with THE HACKER, FELIX DA HOUSECAT and GOLDEN BOY although she did not actually release a solo record until 2004's 'I Com'.
Her most recent album 'Two' was in 2009 and her second collaboration with THE HACKER. But for 'Calling From The Stars', she has recorded alone within the cocoon of a closed mezzanine in her flat.
She said: "I think I wanted to write very simply this time… I'm not writing with so many metaphors any more – it's actually very hard just to write simple things. I just wanted to write very good, strong melodies."
The collection begins well with the compelling minimal synthesized templates of 'Flash Forward' and 'Come Into My House', both percussively vibrant with pulsing bass and danceable rhythms. 'Come Into My House' has the particular bonus of what sounds like an electronic cat being sucked though a vacuum cleaner! New single 'Bassline' though is a little steadier while the 'Calling From The Stars' titled track is spaced out with primitive string machine washes, MISS KITTIN nonchalantly and charmingly deadpan.
Heading back into rawer techno, 'Life Is My Teacher' captures some hypnotic rhythmical atmospheres. Vocalising in English and Japanese, 'Maneki Neko' is trademark Kittin, its chorus not wholly unlike 'Rippin Kittin', her cult club smash with GOLDEN BOY in 2002.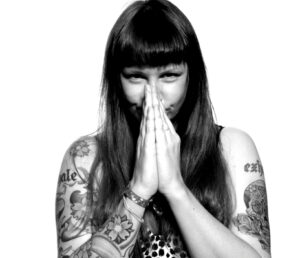 Much more mechanical though is 'Tears Like Kisses' but something completely unexpected is her cover of REM's 'Everybody Hurts'. Musically, it sounds like an outtake from ERASURE's 'Other People's Songs' collection and is at odds with the remainder of 'Calling From The Stars'.
This effectively begins the more sedate half of the album although much of the material is actually far too lively and percussive to be considered ambient. But it's not particularly dancey either!
'Only You' presents a drifting electronic soundscape with Ms Hervé scatting the song's title in a DOT ALLISON stylee. On the following track 'Cosmic Love Radiation', the sequencer pattern drives the track along quite obtrusively while again, the title is again repeated vocally… it's as if she has forgotten to write any words!
Of course, KRAFTWERK have made a career out of this trick, but those used to MISS KITTIN's witty lyrical observations on tracks such as 'You & Us', '1982' or 'Frank Sinatra' may be disappointed with this approach. 'Ballad Of The 23rd Century' is a potential science fiction series theme and quite pretty in places but as this second part of the album progresses, there are fewer vocals and more lengthy bursts of experimentation; 'Sunset Mission' for example does turn into a bit of a laser gunfight while 'I Don't Know How To Move' collages piano, voice samples and reverbed snaps with a repeated squelch mantra over its seven and a half minutes.
But like with that other double album out at the moment, THE KNIFE's 'Shaking The Habitual', 'Calling From The Stars' is a very challenging listen to attempt in its entirety on one sitting. MISS KITTIN's offering is perhaps more immediate at the beginning but ventures into more abstract territories that may reap rewards on return visits. It is certainly a brave project and for that, MISS KITTIN should be commended.
---
With thanks to Debbie Ball at Create Spark
'Calling From The Stars' is by released wSphere Records
MISS KITTIN's 2013 European Tour includes:
Barcelona Razzmatazz (30th April), London XOYO (1st May), Brussels Les Nuits Botanique @ L'Orangerie (3rd May), Berlin Berghain (8th May), Paris Le Trianon (17th May)
---
Text by Chi Ming Lai
26th April 2013