Up until 2008, for many fans of electronic music, ALISON MOYET had completely disappeared off of the radar. But it was the re-connecting with Vince Clarke and accompanying tour of YAZOO material that helped vividly remind how an act had helped shaped the future of female-fronted synthetic music.
The tour, with it's stripped back to (electronic) basics of Clarke's laptop and controller keyboards could be seen to have re-energised Moyet's interest in synthesizer-based production. The artist herself though has denied this, saying that it was a desire to work with "a more unpredictable palette" rather than the more "generic" approach of traditional production values.
With this, her eighth album, there is a real sense of creative freedom and from recent interviews with Moyet, a feeling that she was tired of succumbing to record company pressure to fit a demographic/stereotype that was no longer comfortable to her.
'the minutes' is a collaboration with Guy Sigsworth, a producer/musician with an enviable production and songwriting CV including ROBYN, SEAL, BOMB THE BASS, BJORK and MADONNA. The album itself, however, isn't a full-on return to the totally electronic pastures of YAZOO – there are guitar textures and more traditional sounds at work here (Sigsworth also worked extensively with ALANIS MORISSETTE), but the framework/backbone of the tracks is resolutely electronic.
Followers of Moyet will already have an idea of what to expect as two tracks from the album were previewed prior to its release, the first 'Changeling' as a free download and then the lead-off single 'When I Was Your Girl'. The former gives a feel for the style and atmosphere of the album – 'Changeling' being a very twitchy, yet dynamic production, from a guitar-led intro moving into dubstep-influenced drum/synth programming, yet 'When I Was Your Girl' showcases a much more conventional pop-rock sound, which in the context of the album makes it stick out slightly from the rest of its companion songs.
However, both tracks are shot through with the kind of dark, nostalgic lyrics we have come to expect from Moyet and the yearning vocal on the latter could quite easily be seen as an older sister to 'Nobody's Diary', whilst 'Changeling' mourns both a loss of innocence and expresses dissatisfaction with modern life and it's multitude of pressures.
What initially strikes about the album is that as well as crafting a credible musical landscape with a pop sensibility, Sigsworth has coaxed an incredible dynamic range out of Moyet from the soft, ambient vocal textures on the opener 'Horizon Flame' to the more strident/familiar stylings of 'When I Was Your Girl'. With 'Apple Kisses' there is a fantastic mix of jazz-inflected vocals and octaved electronics, the track is also not ashamed to showcase and celebrate its' melodies with a climatic musical outro.
This track leads into one of the most overtly synthetic tracks on the album: 'Right As Rain' with its house 4-4 kick/stabs and fidgety elastic bassline. There are almost echoes of EVERYTHING BUT THE GIRL here with the opening vibe of the track, but again the musical palette is rich with plenty of twists and turns to prevent the track turning into generic dance-floor fodder. 'Love Reign Supreme' gently dips its toes into Drum n Bass territory but on Moyet's terms… with a dynamic ebbing and flowing feel, light, compressed verse drums giving way to a full-on contemporary-sounding chorus.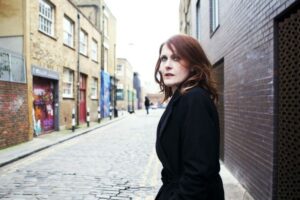 'All Signs of Life' takes things one step further, after a gentle, floating introduction, the song kicks into life with an overall sound that wouldn't be out of place on either a NETSKY or a LONDON ELEKTRICITY song with anthemic stabbing synths, half-time drums and (finally) 175 bpm outro kick/snare interplay. 'Filigree' is probably the most YAZOO-sounding of all of the tracks on show here, a slow-paced but lush song with beautiful, warm monophonic analogue synths.
Orchestral string flourishes take the track to another level as Moyet's wordplay paints a strange, otherworldly picture with the "I fell into a cinema" line… one wonders how the fans of Moyet's more traditional work will accept this album as it's light years away from the point she got to with 2007's 'The Turn', yet the feeling is that most will embrace it as a tremendous return to form and applaud her decision to follow this sound and direction.
With 'the minutes' and the partnership with Guy Sigsworth, Moyet has seemingly found her muse in the way that electro-pioneer John Foxx did with Benge – cultivating an album which doesn't feel forced or panders to any particular musical movement, yet still sounds modern. In summary the album is a triumph, making it must have come with risks, yet they are ones which many fans would have wished Moyet had taken earlier, the opening lyric "Suddenly the landscape has changed…" an entirely appropriate way to kickstart the rebirth of one of this country's finest female artists.
---
Special thanks to Duncan Clark and Rhianon Davies at 9PR
'the minutes' is released as a CD and download by Cooking Vinyl on 6th May 2013
ALISON MOYET's UK and Irish 2013 tour includes:
Cork Opera House (30th September), Belfast Waterfront Hall (1st October), Dublin Olympia Theatre (2nd October), Glasgow Royal Concert Hall (4th October), Edinburgh Usher Hall (5th October), Gateshead The Sage (6th October), Sheffield City Hall (8th October), Rhyl Pavilion Theatre (9th October), Coventry Warwick Arts Centre (10th October), Northampton Derngate Theatre (12 October), Ipswich Regents Theatre (13th October), London Royal Festival Hall (15 October), Cambridge Corn Exchange (16th October), Folkestone Leas Cliff Hall (17th October), Bristol Colston Hall (19th October), Cardiff St. David's Hall (20th October), Brighton The Dome (21st October), York Barbican Theatre (23rd October), Salford The Lowry (24th October), Liverpool Philharmonic Hall (25th October), Nottingham Royal Centre (27th October), Birmingham Symphony Hall (28th October), Southend Cliffs Pavilion (29th October), Bournemouth Pavilion Theatre (31st October)
http://www.facebook.com/AlisonMoyet
https://twitter.com/alisonmoyetnews
---
Text by Paul Boddy
30th April 2013