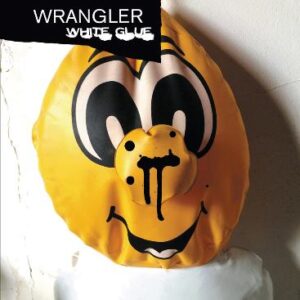 After the release of their debut album 'LA Spark' in 2014, 2016 has seen a ramping up of activity in the WRANGLER camp, with June's modular synth remix album 'Sparked' being shortly followed by a new collection of 9 tracks which make up 'White Glue'.
There was also a high profile support slot for the band when they recently appeared at The Royal Albert Hall supporting US singer John Grant which has now blossomed into a forthcoming live collaboration between the two. For those unfamiliar with the make-up of the band, WRANGLER comprises Stephen Mallinder (ex-CABARET VOLTAIRE), Phil Winter (TUUNG) and Benge (JOHN FOXX & THE MATHS).
When played back-to-back with 'LA Spark', its successor is less dense texturally (there are fewer string chords) and features far more complexity in its interlocking of monophonic synthesizer parts. As with its predecessor, the order of the day is primarily linear, hypnotic electronics/sequencers with Mallinder's vocal used as more of a textural instrument rather than a topline melody. The usage of Benge's smorgasbord of vintage analogue synths with their slightly wonky tuning gives the album an edgy and unstable feel in places which suits the generally dark nature of the material.
Album opener 'Alpha Omega', with its dual note bassline starts off like a deconstructed analogue version of 'Enjoy the Silence' with a sound not dissimilar to that of one-man modular freak SOLVENT. Vocoders are used to mask Mallinder's vocal here – "Alpha Omega, a favour for a favour…" and contribute to the robotic nature of the sound. At 2:42, things even turn a bit synthpop with a catchy 10 note riff coming out of nowhere to join the sequenced backing track.
'Stupid' sees a higher, almost falsetto vocal from Mallinder over a texture of interlinked hypnotic monophonic synths. The track's rhythmic heart could almost be described as "funky" and the modulated synths which punctuate throughout the track combine to create a fantastic robotic electrofunk feel.
'Clockwork' with its title and 'Computerwelt' sound palette gives an obvious nod to KRAFTWERK whilst 'Stop' easily has the standout lyric here, with its anti-consumerism mantra: "Stop spending money that you don't have / Stop buying sh*t that you don't need!" As well as a generalised statement, the couplet itself could easily be applied to a few synth nerd trainspotters who get bitten by the bug and can't stop investing in new modules (although Benge wouldn't consider himself one of these!). The outro musically scaled synth line on 'Stop' adds in a touch of GARY NUMAN for good measure.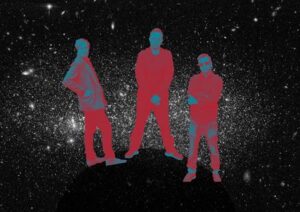 'Real Life' takes the listener to a futuristic motorik/robotic dance floor, referencing Acid House but without the over-obvious 303 clichés. It also introduces some welcome musical and tonal shifts which help differentiate it from most of the more linear pieces here. The best way to describe album closer 'Colliding' would be if AIR had originated in Düsseldorf rather than Versailles – the track has flanged Solina-style strings, vocodered vocals and the kind of lead melody sound that would have happily sat on the second side of 'Autobahn'.
'White Glue' tends to work best when listened to as a whole, the combination of Benge and Tuung's electronics with Mallinder's vocal wash gives the listener the feel of a continually moving synthetic soundscape. For some listeners there may not quite be enough melody here as some of the vocal parts are melodically flimsy to say the least. But for fans of Benge's work with JOHN FOXX & THE MATHS and Mallinder's with CABARET VOLTAIRE, there is a plethora of synthetic delights to enjoy.
All in all, 'White Glue' is a worthy follow-up to 'LA Spark' and the upcoming collaboration with JOHN GRANT is sure to help bring the band to an even wider audience.
---
'White Glue'
is released by Memetune in CD, vinyl and digital formats on 23rd September 2016
WRANGLER perform a collaborative set with JOHN GRANT at The Barbican in London on Saturday 22nd October 2016 as part of Rough Trade 40, more information at http://www.barbican.org.uk/music/event-detail.asp?id=20075
https://www.facebook.com/mallinderbengewinter/
https://twitter.com/wearewrangler
---
Text by Paul Boddy
19th September 2016