Since her debut album 'The Broken Wave' in early 2011, HANNAH PEEL has undergone something of a transformation.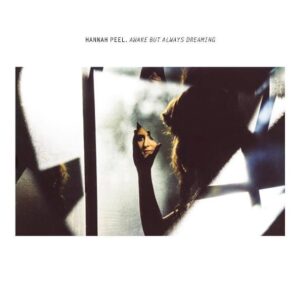 Her collaborations with JOHN FOXX & THE MATHS and BEYOND THE WIZARDS SLEEVE have seen more electronic elements absorbed into her own traditional template where the piano, violin, trombone and music box have been her instruments of choice.
The title track of her interim EP 'Fabricstate'
saw analogue synthesizers take an increasing role with a blistering solo amongst the organic instrumentation.
But on her 2014 seasonal single 'Find Peace'
, Peel went the full hog with a dreamy cacophony of electronics and percussive mantras.
'Awake But Always Dreaming'
is Peel's long awaited second album and it is an adventurous electronically textured experience, taking its lead from artists like THE BLUE NILE and KATE BUSH while Delia and Daphne also linger in the background.
Themed around memory and the effects of dementia, the album's opening gambit 'All That Matters' is marvellous slice of driving synthpop with sparkling arpeggios, staccato voice samples and uplifting bursts of symphonic strings. A mantra to live in the moment, Peel said the song was: "A constant reminder that no matter what life throws at you, to not forget about the ones who will always care, the ones who are standing waiting to welcome you back, the ones who will forever look after you and say simply, they love you. At the end of the day, that's all that matters, caring and being cared for. Yet to love and not be loved is one of the saddest things of all."
A spacey ambience provides the steadfast setting for 'Standing On The Roof Of The World' before whirring synths alter the mood. Meanwhile, on the LITTLE BOOTS styled electropop of 'Hope Lasts', our heroine plays around with some great counter-melodies for a sumptuous statement of faith.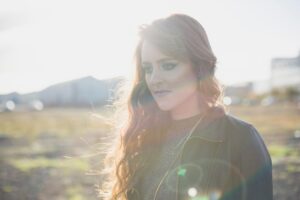 A pretty piano introduces 'Tenderly' with a combination of exquisite strings and synthesized noises constituting the rhythmic passage.
Continuing along a similar palette, a sparse percussive motif holds down the very personal 'Don't Take It Out On Me' as drones and low slung bass build to add to the absorbing drama.
Meanwhile, on the widescreen ballad 'Invisible City', tinkling ivories smothered in reverb provide the structure while the emergent orchestrations recall the blurry overtones of BRIAN ENO's 'Just Another Day'.
The second half signals the more experimental aspect of the album; in an interview with ELECTRICITYCLUB.CO.UK, HANNAH PEEL said: "the running order is quite specific in terms of how it goes into the rabbit hole of the brain and the darker side. The instrumentals and tracks with no lyrics represent how people lose their speech and hallucinate, so with that second side which is more psychedelic and the repeating of lyrics, I made sure certain elements were brought out…"
'Octavia' is an abstract art piece that reflects aspects of Peel's MARY CASIO project with cascading woodwinds and brass combining with a buzzing barrage of electronics, not dissimilar in vein to GOLDFRAPP's earlier material on 'Felt Mountain'. Following a short burst of piano, more strident notions kick in and it all starts to sound like PHILIP GLASS reinterpreting something off OMD's 'Dazzle Ships'!
The experimentation continues with the comparatively song-based eight minute title track; a twisted electronic adventure with 'Fourth World' vocal textures, percussive bleep collages blend in with passages of synthphonic strings seemingly trapped in a nearby radio.
A mournful piano shapes 'Conversations', the most Bush-like offering on the collection, as the search for further memories goes on. Lonely and heartfelt, its sonic representation of loss sets the scene for the challenging expedition of 'Foreverest'.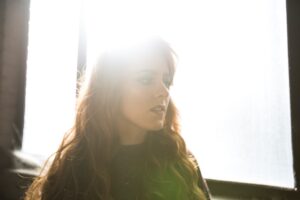 Symbolism for life's mountain to climb, it's a delightfully odd fusing of unsettling swoops and windy soundscapes coupled to bursts of clattering offbeats.
Linked by a claptrap, the second half of this sub-nine minute progressive epic develops into a salvo of mechanical noise while some VANGELIS-derived interventions also drift in.
A beautiful music box assisted cover of Paul Buchanan's 'Cars In The Garden' ends the album and confirms HANNAH PEEL's affinity with THE BLUE NILE. A harmonic duet with Hayden Thorpe of WILD BEASTS whose song 'Palace' Peel covered on 'Rebox2', it makes for an emotive closer as gentle synths wallow in and out of the consciousness. With 'Awake But Always Dreaming' being a record about memory, it poignantly captures "the luminous and beautiful formation of memories and the devastating loss or slow, insidious damage to the mind".
Producer and collaborator Erland Cooper has done a masterful job of merging traditional instruments with the electronics on this artistically ambitious album. If HANNAH PEEL's debut was 'The Broken Wave', then 'Awake But Always Dreaming' could be considered 'The Tenth Wave'; as KATE BUSH described 'The Ninth Wave' concept on 'The Hounds Of Love' as a person's "past, present and future coming to keep them awake", the comparison is not unreasonable.
An impressive body of work that will startle even her new followers who have come on board via her work with JOHN FOXX, 'Awake But Always Dreaming' sees HANNAH PEEL at her most experimental yet. And it's an achievement she can be very proud of.
---
'Awake But Always Dreaming'
is released on 23rd September 2016 by My Own Pleasure on download, vinyl and CD, pre-order at http://hannahpeel.tmstor.es/cart/product.php?id=29367#sthash.lv0m8noE.dpuf
https://www.facebook.com/HannahPeelMusic
---
Text by Chi Ming Lai
22nd September 2016