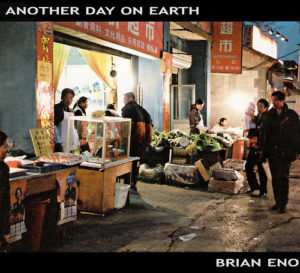 Released in 2005, 'Another Day On Earth' was BRIAN ENO's first full vocal offering for many years although there had been the 1990 collaboration with JOHN CALE 'Wrong Way Up' and 1991's disappointing, partially voiced, solo effort 'Nerve Net'.
It displayed an emotional connection with the second, more esoteric side of his highly regarded 1977 album 'Before & After Science', in particular songs such as 'Spider & I' which was later covered by DEPECHE MODE's Martin Gore for his 'Counterfeit 2' album.
Recorded over four years, on the gap between vocalised albums Eno explained to Sound-On-Sound magazine: "Song-writing is now actually the most difficult challenge in music". Although often regarded as a synthesizer pioneer working notably with ROXY MUSIC and DAVID BOWIE, Eno's experimental approach often centred around being a non-musician and working to limitations of the instruments being used, be they "simplistic keyboards", guitars with strings tuned to the same note or found sounds like typewriters.
This methodology often extended to the techniques of the players themselves. On the 1974 track 'Put A Straw Under Baby' from 'Taking Tiger Mountain (By Strategy)', Eno famously employed the Portsmouth Sinfonia, a classical combo who were noted for not being able to technically play their instruments. This suitably achieved a naïve string palette for the song's almost nursery rhyme feel. With his noted allegiance to the avant garde and use of his Oblique Strategies cards, his philosophy was to use all methods, whether musical, technological, motivational or concrete to achieve a final outcome, as opposed to purposely sounding electronic.
After 'Before & After Science' (which incidentally was partly engineered by the legendary Conny Plank), Eno concentrated on acclaimed ambient instrumental output such as 'Music for Airports', 'Another Day On Earth', 'Thursday Afternoon', 'The Shutov Assembly' and 'Neroli' for his solo work.
While 'Deep Blue Day' from 'Apollo: Soundtracks & Atmospheres' was famously used in the toilet scene of the drug drama 'Trainspotting', 'Neroli' in particular drew harsh criticism.
One observer noted 'Neroli' made 'Thursday Afternoon' seem like thrash metal while Q Magazine said: "Eno makes a muted synthesiser go bong for a couple of minutes short of an hour!" During this period, Eno's song based interests were confined to production work for bands such as TALKING HEADS, U2 and JAMES. Eno's influence on U2 in particular was startling, encouraging them to tone down their more overtly rockist leanings and coating their work with his self-programmed Yamaha DX7.
The organic intro of songs like 'Where The Streets Have No Name' was clearly rooted to 'An Ending (Ascent)'
from 'Apollo: Soundtracks & Atmospheres'… U2 would ape Eno's Berlin period with DAVID BOWIE on 'Achtung Baby' and 'Zooropa' before then going the full Eno-esque hog with the polarising PASSENGERS project in 1995.
And on 'Another Day On Earth', it was the Eno-steered U2 who were the immediate reference for the album's wonderful opening track and calling card 'This'. Based around a distorted percussive loop, minimal harmonic guitar by Leo Abraham shimmered around the song's surreal synthesizer textures. The infamous William S Burroughs cut-up technique was employed to formulate some of the lyrical content via a computer programme while a repeating "this" sample sent the listener into a beautifully induced state. The majestic middle eight was also something to savour.
Eno's dry vocal style was an acquired taste. Profoundly English and always in tune but almost non-descript, it was this that probably contributed to Eno's reluctance to use it over the years. However with voice colouring technology having moved beyond the vocoder in the 21st Century, Eno now had an opportunity to play more with overall atmospheres while incorporating a larynxed hookline. The vocals on the album as a result were quite deliberately abstract: "There's just enough voice in there to make you hear it as a song, making it a bluff, a deceit" he pronounced.
This was most apparent on the dreamy sparseness of 'And Then So Clear' where using the gender-changing function on a Digitech Pro-Vocalist box, Eno was pitch-shifted up an octave for quite a spacey, yet humanoid effect. Additional human touches were provided courtesy of Korg's Kaos pads. There was more inventive playfulness in the vocal department with the processed neo-acapella of 'Bottomliners'.
The sparse ambience of 'A Long Way Down' and its tinkling ivories over backing generated by the Koan software used on 1997 album 'The Drop'
kept up this exploratory stance while 'Going Unconscious' recalled the artful demure of LAURIE ANDERSON courtesy of some vague monologue by Inge Zalaliene.
A number of the tracks on 'Another Day On Earth' recalled his many collaborative adventures in previous years. 'Caught Between' drifted between MOBY and PASSENGERS 'Beach Sequence' with its beautiful piano and guitar while 'Passing Over' harked back to Eno's Germanic period with CLUSTER.
Held down by a synth drone, the resigned 'Just Another Day' maintained the meditative qualities of the album despite being beat driven.  Featuring percussionist J Peter Schwalm who Eno recorded the 'Drawn From Life' album with, it was proof that rhythm could be constructed without being imposing.
This drifting quality was also apparent on the electro-nautical journey of 'Under', a recognisable cousin of 'And Then So Clear'. Those who wished to hark back to Eno's early solo works got what they wanted with the melancholic folkisms of 'How Many Worlds'. Recalling the 'Taking Tiger Mountain (By Strategy)' album, this thematic link was particularly apt with the busy Chinese street market on the cover of 'Another Day On Earth and the observations on Chinese Communism (seven years before JAPAN's 'Tin Drum'!) of the former.
And further highlighting Eno's political and social concerns, a musically incongruous item closed the album but it was appropriately impactful; the unsettling 'Bone Bomb' was a narrative collage voiced by Airlie Cooke with a suicide bomber contemplating their death and their bone becoming shrapnel…
'Another Day On Earth' was a pastel palette reflecting on the human condition over beautiful audioscapes that could have been the follow-up to 'Before & After Science' had the technology been available then. In this hectic world, it still is a satisfying and thought provoking listen providing auditory relief and gentle reflection.
---
'Another Day On Earth'
is still available on CD via Opal Music at Amazon
---
Text by Chi Ming Lai
3rd October 2013