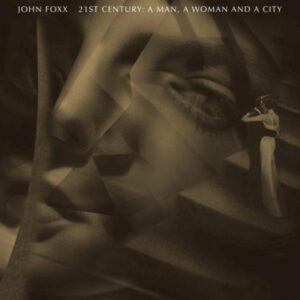 "I always seem to write about a man, a woman and a city. It's because I am an urban creature most of the time": JOHN FOXX
'21st Century: A Man, A Woman And A City'
is a new compilation that gathers JOHN FOXX's song based work from since the turn of the millennium. After a hiatus between 1986 to 1995, Foxx has since been extremely prolific, dividing his time between a number of pop-oriented, ambient and soundtrack projects. The first section of this collection is laid out chronologically, beginning with Foxx's material recorded with Louis Gordon, his main collaborator on his comeback.
'A Funny Thing' from 2001's 'The Pleasures Of Electricity'
sounds particularly interesting in today's context, with the jazzier, deep house inflections being quite different from how Foxx is now. But songs like 2005's beautifully treated 'Never Let Me Go' confirmed that Foxx still had that inventive spark.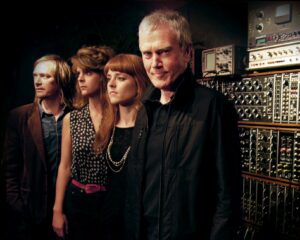 But it was when Foxx teamed up with synth collector extraordinaire Benge to form JOHN FOXX & THE MATHS that he became fully re-engaged in the electronic pop realm which he helped to pioneer. Using an array of vintage synthesizers, the feisty growl of 'Catwalk', the serenity of 'Interplay' and the electro-folk of 'Evergreen' all possessed a mechanised charm while simultaneously providing some vital correlative warmth. The parent album 'Interplay'
was possibly Foxx's most complete and accessible body of work since 'Metamatic'.
Continuing with the mathematical solution, from the swift follow-up 'The Shape Of Things'
, the fantastically motorik 'Tides' came over like an electronic NEU! Meanwhile from the third Maths album 'Evidence'
, the title track in collaboration with THE SOFT MOON was a surreal slice of post-punk psychedelia, like Numan meeting Syd Barrett! But the most complete track Foxx produced in this period turned out to be the grainy, pastoral elegance of 'Evangeline' with Finnish producer Jori Hulkkonen.
The main act of '21st Century: A Man, A Woman And A City' concludes with two previously unreleased songs by JOHN FOXX & THE MATHS; both are highly worthy inclusions. 'A Many Splendoured Thing' features pristine pulsing sonics with crisp percussive taps a la 'The Man Machine'; it's Foxx goes to Kling Klang.
But 'A Man And A Woman' throws in a less rigid formula with some loose, hand played electronic percussion and the enchanting voice of Hannah Peel. It's an interesting departure that even features some subtle acoustic guitar flourishes by Isobel Malins. Continuing on the six string theme, 'Estrellita' from the 'Mirrorball' album with COCTEAU TWINS' Robin Guthrie appropriately provides an esoteric musical interlude, before the compilation's appendix of assorted collaborations and remixes.
Although not a song written by Foxx, his and Benge's serene reinterpretation of GAZELLE TWIN's 'Changelings' highlighted not only the synthesized magic of the partnership, but also how the influence of Foxx was interwoven seamlessly into the Brighton-based songstress' art.
Following JOHN FOXX & THE MATHS' rework of 'Dresden', the reciprocal arrangement delivers a previously unreleased OMD remix of 'The Good Shadow'. Working around its shimmering arpeggio, Paul Humphreys adds more of the beautiful Synth-Werk that made OMD's last album 'English Electric' such a return to form. Meanwhile, the ADULT. Remix of 'The Shadow Of His Former Self' naturally takes on a more punky, techno stance.
Originally a solo track from 'The Shape Of Things', 'Talk' has now become a collaborative platform for Foxx to explore different approaches from a singular idea with other kindred spirits; on '21st Century: A Man, A Woman And A City', two of these are included.
The first is the previously released 'Talk (Beneath My Dreams)' version with Matthew Dear; Foxx provides the cascading bass laden intro before Dear adds a steadfast four-to-the floor beat and a deep sinister voiceover, which could be mistaken for a pitch-shifted Foxx.
But the second version is a brand new, long-awaited collaboration with GARY NUMAN. Numan's take on the track is meaty. Retitled 'Talk (Are You Listening To Me?)', it predictably screams alienation and fully exploits his haunting trademark overtures, courtesy of some blistering Polymoog from Benge.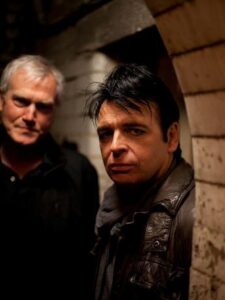 The end result is like a wonderful audio mutual appreciation society: "John Foxx has been a hero of mine for my entire adult life" said Numan, "It was a real honour to finally have the chance to contribute to one of his tracks… it was every bit as creative, unusual, demanding, and rewarding, as I always expected it to be".
Foxx is currently in the studio working on new music. Like SPARKS, JOHN FOXX has been so prolific over the years that it can be challenging to keep up with all his releases. But as much as some of his hardcore following have expressed dismay at countless reissues and compilations, Foxx's work is still under-appreciated, even within the more general circles of electronic pop music.
So for many, '21st Century: A Man, A Woman And A City' will be an opportunity to catch up with the more accessible side of his work from the last 16 years. For those still not entirely convinced of Foxx's contribution to the synthesized music world, '21st Century: A Man, A Woman And A City' acts an ideal entry point into some of his best electronically focused work since 'Metamatic'
.
---
With thanks to Steve Malins at Random Music Management
'21st Century: A Man, A Woman And A City'
is released by Metamatic Records as a CD and download on 27th May 2016. A limited deluxe CD+DVD edition is also available and features 11 videos filmed in Tokyo by Macoto Tezka, featuring music by JOHN FOXX & THE MATHS
https://www.facebook.com/johnfoxxmetamatic/
https://twitter.com/foxxmetamedia
---
Text by Chi Ming Lai
4th May 2016, updated 29th May 2016