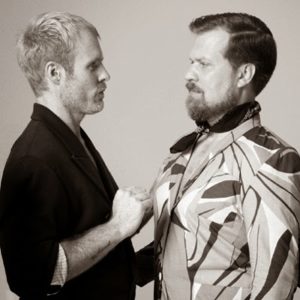 Every once in a while, you get a song that is close to electronic pop perfection; 'I Try To Talk To You' by HERCULES & LOVE AFFAIR featuring the expansive baritone vocals of JOHN GRANT is one of them.
The former is the moniker of Andy Butler, a purveyor of meaningful disco house music that is pop music and best known for the magnificent track 'Blind' voiced by Antony Hegathy.
Meanwhile the latter is the 2014 Brit Nominee whose solo albums 'Queen Of Denmark' and 'Pale Green Ghosts' received much critical acclaim.
'I Try To Talk To You' is from the new HERCULES & LOVE AFFAIR album 'The Feast Of The Broken Heart' which was released on 26th May 2014 and combines the best of classic New York electro disco and grand piano theatrics with an emotively soulful vocal.
The courageous lyrics find Grant recalling when he discovered he was HIV positive. "I asked John to dig deep with his lyrical contribution" recalled Butler, "I had no idea he would dig so deep". The end result is a strangely uplifting, wonderful electropop record that imagines Jim Morrison getting on down in The Danceteria circa 1982!
Grant contributes vocals to a second, more house flavoured track 'Liberty' on the album and will play a special orchestral tour of the UK in November 2014. Meanwhile, HERCULES & LOVE AFFAIR play a variety of live dates throughout Europe.
---
'I Try To Talk To You' is released as a single by Moshi Moshi on 9th June 2014
https://www.facebook.com/herculesandloveaffair
---
Text by Chi Ming Lai
30th May 2014