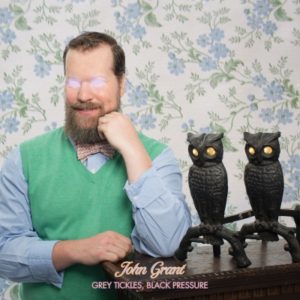 DAVID BOWIE, AIR, NINE INCH NAILS, YAZOO, GARY NUMAN… now that that diverse roll call has hopefully piqued your musical attention…
The new JOHN GRANT album takes elements from each and throws it all into a melting pot with a topping of mordant / sardonic lyrics which at points, either shock or genuinely make the listener laugh out loud.
On what is his third long player, Grant has added another layer to the modus operandi which he developed on 'Queen Of Denmark' and 'Pale Green Ghosts'.
Number one – monophonic / dark synthpop and number two – downtempo soft-rock AIR / PINK FLOYD styled songs remain present and correct, but the contributions of keyboardist Bobby Sparks have meant that there is a more playful, funkier edge to many of the pieces here. Ever present throughout though are the confessional and acidic lyrics which help to keep a cohesive feel, even when styles lurch wildly from one song to next without much in the way of warning.
Bookended at either end of the album are spoken word quotations from the First Epistle of Saint Paul to the Corinthians: "Love is patient, love is kind. It does not envy, it does not boast, it is not proud". 'Intro' recalls YAZOO's experimental 'I Before E After C' with its layers of vocals and the choice of text (deliberately) contrasts sharply with that of Grant's own lyrical approach.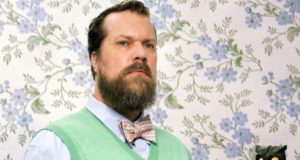 First full song and title track 'Grey Tickles, Black Pressure' takes no prisoners with Grant (who is HIV positive) wishing he was around in the promiscuous 70s so that he could have "got a head start in the world of disease"; additionally he discusses whether haemorrhoid creams are targeted at him and the fact that although his illness is serious, there are "children who have cancer" and "I can't compete with that".
Now if you can get past that lyrical whammy of an opener, a cornucopia of musical riches await… 'Snug Slacks' features funky synths and classic clavinets, Kaoss Pad-style effected vocals and an overall dry production style which is quite different to the lush sound which was present through much of 'Pale Green Ghosts'. Most casual teenage listeners will be frantically reaching for Wikipedia when they're confronted with a list of names including Joan Baez, Charlene Tilton and shock performance artist GG Allin which all get a name check in the song.
'Guess How I Know' is very NINE INCH NAILS in its conception, a quiet-loud dynamic with a filthy distorted guitar and vocal combo punching through on the chorus. A delightfully unhinged synth solo is featured in the middle 8 before Grant bids farewell in several languages during the outro to the song.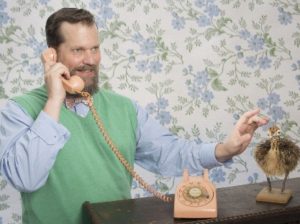 The intro of 'You and Him' sounds like UNDERWORLD's Karl Hyde jamming with THROBBING GRISTLE before a Garage Punk Rock-style chorus takes the song to another level. Again the lyrics (especially in chorus) are particularly unhinged: "You and Hitler ought to get together, learn how to knit and make matching sweaters". This track follows the character assassination route which was present on 'Pale Green Ghosts', where Grant bear his feelings about an ex-lover in an all-too public arena.
'Down Here' with its acoustic guitars brings a respite from the more in-your-face elements present at the start to the album. A meandering bass synth lifts the chorus for a song that at initial face value is pretty traditional until a woodwind solo pops up unexpectedly in the middle and during the outro. Grant is blatantly unafraid to experiment with unconventional sonic textures and that is one of the joys of this album.
'Black Blizzard' is the most electronic and genuinely dark track here, starting with a cut-off filtered sequencer part and programmed drums, and peaking with a chorus with fast, skittering hi-hats. Were it not for the synthetic nature of the song, lyrically it could easily soundtrack a 'Game of Thrones' episode, but mentally picture the added bonus of GARY NUMAN doing a walk on part towards the end with a Polymoog Vox Humana solo.
The lead single 'Disappointing' is a wonderful 21st Century Love Song with a shopping list of things / places / objects which pale in comparison with Grant's love interest in the song. Based around a cheeky rework of YAZOO's 'Situation' bassline, the song also features Tracey Thorn from EVERYTHING BUT THE GIRL on guest vocals, whilst channelling the spirit of Bowie's 'Ashes To Ashes' in its pay-off chorus. Grant's baritone verse vocals again recall Karl Hyde in a track which is the clear highlight here.
Towards the end of the album, 'No More Tangles', a wish for a simple life, cribs its concept and some of its lyrics from a shampoo, whilst 'Geraldine' recounts the story of Broadway actor Geraldine Paige who often had the reputation of being underused, despite being a consummate professional in her field. The closing piece is 'Outro' which brings the work full circle, this time with a solo child voice reading another piece from Corinthians.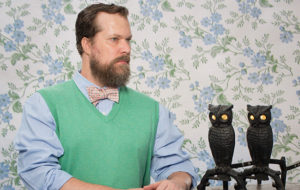 If there's a criticism of the album, it's that some of the ideas are stretched a little thin and too many tracks follow the woozy downtempo soft-rock template which AIR used on 'The Virgin Suicides' album. The overall production style also feels a lot drier and abrasive sounding than the expansive feel cultivated on 'Pale Green Ghosts', but this is probably nitpicking in the overall context of the work.
In an age of music where the life is often all but squeezed out of it, Grey Tickles, Black Pressure' is full of personality and the sound of someone actually PLAYING a synth, and in many tracks actually taking a solo, is very refreshing.
For fact fans, the album title combines the Turkish for "nightmare" with the Icelandic for "midlife crisis" and although that sounds like a doomy proposal, the end result is far more up than it should be, resulting in a body of songs that require repeated consumption before fully taking hold of the listener.
Newcomers to Grant's work who wish to explore more of his electronic side are also recommended to dip into much of 'Pale Green Ghosts' to sample a truly maverick artist who provides a welcome alternative to the sheer volume of vacuous pop around at the moment.
---
'Grey Tickles, Black Pressure' is released by Bella Union
JOHN GRANT 2015-2016 live dates include:
Dublin Vicar Street (9th November), Dublin Vicar Street (10th November), London Hammersmith Eventim Apollo (12th November), Brighton Dome (13th November), Glasgow Royal Concert Hall (26th January), Belfast Mandela House (27th January), Cork Opera House (28th January),Coventry Warwick Arts Centre (1st February),Cambridge, Corn Exchange (3rd February), Southampton Guildhall (4th February), Leeds Town Hall (5th February), Liverpool Philharmonic Hall (7th February), Manchester Hall (8th February), Gateshead Sage (10th February), Sheffield Octagon Centre (11th February)
https://www.facebook.com/johngrantmusic
---
Text by Paul Boddy
Photos by Michael Berman
14th October 2015