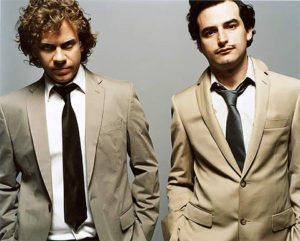 When London based electronic disco duo HEARTBREAK first appeared, they prided themselves on being "kind of how the 80s would sound today if the 90s hadn't got in the way". 
Fronted by the charismatic Argentinian vocalist Sebastian Muravchik and backed by Chester-born producer Ali Renault's dramatic heavy metal electro where guitars were substituted for a Roland SH101, they somehow managed to mix BLACK SABBATH with Italo Disco.
This incongruous cocktail came together in a sinister but joyous manner that would "make the world dance with tears in their eyes, like bi-polar maniacs on the brink of an ecstatic panic attack!".
Anthemic songs such as 'Destroy All Power' and 'My Tears Electro' put HEARTBREAK alongside WHITE LIES, LITTLE BOOTS and LA ROUX in the promising synthy school of 2008, with the duo touring with the latter two. However, despite these well-received live performances, HEARTBREAK went into hiatus with just one album 'Lies'
to their name.
But in keeping with their best known song 'We're Back', Sebastian Muravchik and Ali Renault have announced an unexpected return with a reunion gig at The Moth Club in London's Hackney for Hypnotic Tango with ITALOCONNECTION, the production team featuring Italo legend Fred Ventura.
The duo kindly chatted about what has been happening over the last few years within the HEARTBREAK camp and what they might have planned for the future.
One of the influences in HEARTBREAK was Italo Disco which is now being reappraised in a more positive light with documentaries like 'Italo Disco Legacy'. How did you come to discover and love it?
Seb and Ali: It was always there, from childhood. It was big both in Italy where Ali lived and in Buenos Aires as well, where Seb is from. But then of course Ferenc drew attention to it through the CBS and then IFM, and here DJ Casionova made us realise this was more than music, it was a mission. It was always there and always will be; to quote Casionova: "Italo is forever".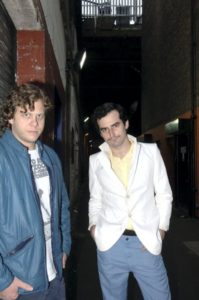 Your signature song 'We're Back' is proving to be quite prophetic?
Seb and Ali: In many ways, yes. Back then there were a few nights in the country pushing the sound, but it was mostly ignored in the UK, as it had been for decades since its inception. These days it seems to be a fairly well established scene.
For instance Fred Ventura is a regular visitor here these days, and we'll be lucky enough to share the bill again with him on the 15th.
Salvatore also managed to finally DJ here a few times before his extremely untimely passing – credit the classic Cyber Dance crew for a lot of this.
There was a certain hypocrisy towards Italo Disco in the UK despite it being an important aspect of PET SHOP BOYS and NEW ORDER?
Seb and Ali: You bet. Italo in the UK carries political weight, in a similar understated way to how Disco was political in the US during the 70s. I think in that sense it is more relevant now than it ever was before.
Another element of HEARTBREAK was the heavy electronic sound and also being very energetic live…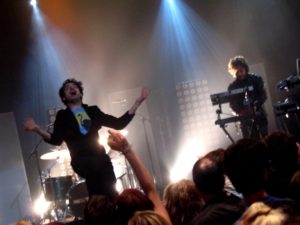 Seb and Ali: Metal was and is very important to us as an influence in a variety of ways.
We called it Metallo, but you know, as soon as we define our work as something we seem to immediately move in a different direction.
Nevertheless, from classic metal like Sabbath and so on through Thrash and into Death Metal, themes, energy and attitude influence what we do – we also greatly admire the scene's endurance and its uncompromising artistic stance.
Why did the HEARTBREAK hiatus happen in the first place?
Seb and Ali: Love tore us apart.
What did you both do during the break?
Seb: I wrote and produced the SNS album and toured with the band, and also did some acting in the occasional soap opera in Buenos Aires when the political climate allowed it (it's too risky at the minute, but it was fine for quite a few years before). I have also done some academic work and research on photography and screenwriting, and recently started a third wave of work with Movimiento Improbable, looking a lot into early electronic and tape music, and classic tango of course.
Ali: I went back to concentrating on solo projects under my aliases Ali Renault and Cestrian as well as starting a new EBM influenced project called PARASOLS. In 2013, I started a new label Vivod, now 22 releases in and started my own Radio Show on Intergalactic FM, Vivod Radio 3 years ago. Other than that, I've been gigging around Europe taking my live set around but mostly DJ-ing.
Looking back to 2008-2009, it was a crazy time… you had a lot of good press, were collaborating with LITTLE BOOTS on the song 'Magical', remixing for SUGABABES + SAINT EITENNE and doing the NME tour with LA ROUX, what do you remember of it?
Seb and Ali: Intense highs, deep lows, considerable joy, considerable pain. But above all, great gigs all round.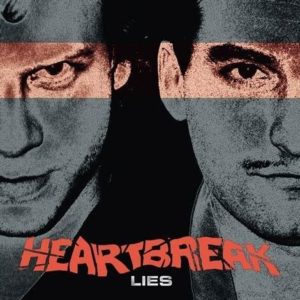 How do you reflect on the recording of the 'Lies' album? Which tracks do you think still stand up today?
Seb and Ali: 'Regret' is our favourite – something special happened there; but also 'We're Back' and 'My Tears Electro'.
'The Deadly Pong of Love' has actually grown on both of us and we love it even more than we did back then. 'Robot's Got the Feeling' does as well, everything basically, except maybe for 'Give Me Action' which hasn't aged too well we think.
'My Tears Electro' was a song on the 'Deceit' EP, what was that inspired by?
Seb and Ali: Hope against hope, belief in the impossible, and the overwhelming sadness underlying any fight worth fighting. HEARTBREAK in a way was about turning anger and despair into love and lust for life. All of it simultaneously strengthened and undermined by what we consider our own lines of flight.
You did a cover of 'Loving The Alien' for the 'Life Beyond Mars – Bowie Covered' album but of course, he's sadly no longer with us…
Seb and Ali: He was an excellent songwriter, a fact sometimes overshadowed by the visual aspect of what he did (which was very strong as well of course), and the overall myth he projected so effectively. His post-modern stance on identity is influential to Seb, and so is his early work as a lyricist, but we cannot say his sound at any particular stage bears relevant influence to HEARTBREAK's, production-wise.
The 'Anthonio' song Sebastian did with Richard X over the ANNIE backing track was good fun and rather authentic…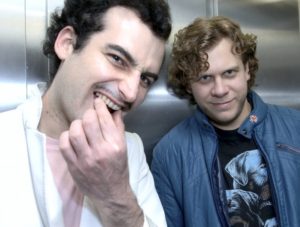 Seb: I'm really thankful to Richard X for the opportunity to explore that singing register and expression, something I've always wanted to do.
It was a fun idea and I've learnt a lot from working with Richard on that and another bit of vocal recording for SNS he once helped me with.
I am better as a singer because of that experience. I hope someday somehow I get to work with him again.
How do you feel about how the music business landscape and social media has changed since 'Lies' came out in 2008?
Seb and Ali: Best time for music ever. As a business, streaming shows amazing potential. Vinyl costs could be covered by streaming profits, but we also hail the return of the cassette tape, all potentially enhanced by the streaming model's democratising wealth. In terms of social media, we like the accountability it brings and how it might help to a degree do away with the harmful ghosts that smother the music world in smoke and mirrors, purifying the listening experience and music culture in general. I think it can empower fans and help them through some of the psychological hardships associated with following the work of their favourite artists.
So are HEARTBREAK back for the long haul and will there be new material?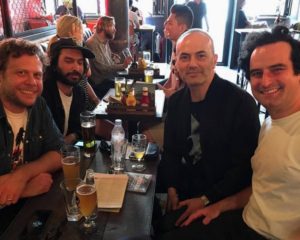 Seb and Ali: We'll do the Moth Club gig, see how that goes and take it from there. But we're in a good place right now. This gig to us is a celebration of what HEARTBREAK was, an honest mission full of love at a time where that was (and now probably remains) fairly rare among electronic bands, but also a celebration of a great friendship that we thought had broken down for good and never thought we'd be able to rebuild. Being friends again is a bit of a miracle to be honest, which we value greatly. The idea is that, whatever we do next, this time the friendship comes first.
Your comeback performance will be at The Moth Club in London with Fred Ventura's ITALOCONNECTION, what have you planned for that?
Seb and Ali: Blood and tears.
---
ELECTRICITYCLUB.CO.UK gives its warmest thanks to HEARTBREAK
'Lies'
released by Lex Records is still available as a CD, vinyl LP or download from the usual online retail outlets or direct from https://shop.lexrecords.com/collections/catalogue/products/lies
HEARTBREAK play The Moth Club, Valette Street, Hackney, London E9 6NU as part of Hypnotic Tango on Friday 15th June 2018 with ITALOCONNECTION + IL BOSCO, Facebook event page at https://www.facebook.com/events/228357584413240/
https://www.facebook.com/Heartbreak-14224761975/
https://myspace.com/heartbreak1
---
Text and Interview by Chi Ming Lai
31st May 2018